---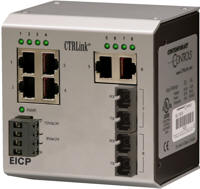 Contemporary Controls Introduces New Low-Cost, Compact Switch for Industrial and Commercial Applications
Downers Grove, Illinois (July 23, 2004) - For engineers with budget constraints, the EICP series of Ethernet switches provide the solution for industrial applications. Joe Stasiek, Sales Manager for Contemporary Controls, says by proper component selection, the EICP has the same form factor and Plug and Play functionality of its wide temperature cousin, the EISX, but made more affordable for industrial temperature applications. "Especially those applications requiring a small footprint and a temperature range between 0° to +60° C," says Stasiek. Both copper and fiber models in the EICP series are available. Just standard and straight-through cables are necessary to connect copper ports to NICs or another hub. Eight auto-MDI/X ports are available on the EICP9-100T for attaching local devices, or for use as an uplink port. The ninth port has a conventional MDI/X port and a MDI port that can be used as an uplink port to allow cascading to another hub without the need of a crossover cable.
For more information on both products please visit web site: www.ccontrols.com.
---
Onicon Introduces F-2200 Vortex Flow Meter
ONICON's F-2200 vortex flow meter delivers accurate, cost effective direct mass flow measurement of saturated steam. Operating as a loop powered 4-20 mA device, each F-2200 contains an internal precision temperature sensor and the necessary algorithms to provide density compensation. This eliminates the need for expensive external flow computers.
Contact ONICON for more information at www.onicon.com
---
Dwyer Instruments Introduces Series DH Digihelic® Differential Pressure Controller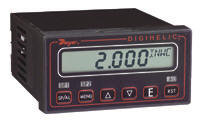 The Series DH Digihelic® Differential Pressure Controller is the ideal instrument for pressure, velocity and flow applications, achieving a 0.5% full scale accuracy on ranges from 0.25 in. w.c. to 100 in. w.c. The Digihelic® provides a 4-20 mA process output, 2 SPDT relays with adjustable dead bands, and selection of pressure, velocity or flow operation.
The Digihelic® Differential Pressure Controller delivers simplified programming via a menu key. Users can select from a multitude of options, including: security level; set point or set point and alarm operation; auto or manual alarm reset; English or Metric engineering units; K-factor adjustment for use with various Pitot tubes and flow sensors; and circular or rectangular duct size for volumetric flow operation. The Digihelic® offers the flexibility to operate from either 120/220 VAC or 24 VDC. Modbus® Communications is standard with every unit. In addition, units are compact, housed in a 1/8 DIN enclosure.
For more information visit www.dwyer-inst.com
---
Contemporary Controls Introduces EISK Switch
Downers Grove, Illinois - The overwhelming industry penetration to Ethernet has driven Contemporary Controls to introduce an Ethernet switch for industrial automation systems. The EISK switch (the Skorpion) is purpose-built for special needs - convenient installation, simple and reliable operation, low-voltage input power and above all, low cost. The compact and rugged EISK5-100T addresses such needs. This Skorpion switch provides five 10/100 Mbps shielded RJ-45 ports and each port supports the auto-negotiation protocol in order to select data rate, duplex and flow control. All five ports are auto-MDI/X compliant; therefore, any port can operate as an uplink port to another switch, eliminating the need for crossover cables in the field. All these features require no operator intervention, making the Skorpion switch beyond doubt Plug and Play.
New Ethernet Media Converter Extends Fiber Optic Distance to 15 km
Downers Grove, Illinois - Contemporary Controls announces a new addition to the media converter family in the CTRLink line. The EIMC-100T/FCS extends fiber distance to 15 km in full-duplex mode, making the single-mode fiber connection via SC-style connectors. This device is ideal for engineers looking to go beyond the traditional 2 km multimode fiber distance when converting between copper and fiber in industrial applications. Up to this point, two other media converters could only achieve 2 km in full-duplex mode - the EIMC-100T/FT and the EIMC-100T/FC versions. These two models pass 100-Mbps data between 100BASE-TX and 100BASE-FX (1300 nm) segments: The EIMC-100T/FT makes the fiber optic connection via ST-style connectors, whereas the EIMC does so via SC-style connectors. The characteristics of the EIMC-100T/FCS can lead to reduced installation time and increased productivity. Features include PnP technology, miniature size, easy DIN-rail installation and wide-range, low-voltage AC or DC power sources.
For more information on both products please visit web site: www.ccontrols.com.
---
The Watt Stopper's Photosensor Offers Advanced Daylighting Control and Hassle-free Set-up

SANTA CLARA, CA - The Watt Stopper's new LightSaver LS-301 Dimming Photosensor offers an advance in daylight-responsive dimming with set-up, commissioning and user adjustments performed via handheld remote. These features simplify the set-up process, eliminating adjustments at the photosensor and enabling the installer to observe the adjusted control response immediately.
The LS-301 is a ceiling mount, low voltage indoor photosensor accompanied by infrared, handheld remote controls. The photosensor features an internal photocell that reports daylight and electric light illuminance via a spectral curve that matches the photopic curve. As the daylighting contribution increases, the lights dim down. The use of a sliding setpoint control algorithm ensures highly accurate dimming control. The product works with 0-10 VDC electronic dimming ballasts. The LS-301 is suitable for a wide range of applications, including classrooms and offices of all types.
For more information visit www.wattstopper.com
---
New EtherTRAK® Combination I/O Module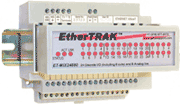 The new SIXNET EtherTRAK® Combination I/O Module (model ET-MIX24880-D) has a "double density" design that provides twenty-four discrete inputs and/or eight discrete outputs, and eight analog inputs in one, compact module. The ET-MIX24880-D joins the family of EtherTRAK I/O modules while providing direct Ethernet and/or RS485 connection, which can be used as a redundant backup communication path.
Use the new ET-MIX24880-D instead of individual modules for each I/O type and save space, reduce installation time, and lower costs. SIXNET refers to the ET-MIX24880-D as "process quality" I/O because of its features that increase performance and reliability . This module has a 16 bit A/D converter for precision measurements and "hot swap" capability for switching or replacing modules in live systems.
Visit SIXNET online at www.sixnetio.com for more information.
---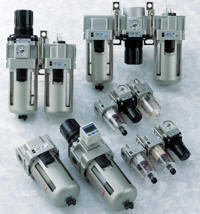 SMC Corp's Next Generation Modular FRL
Tustin, CA - SMC Corporation of America, the world's largest manufacturer of pneumatic automation products has announced the release of the next generation modular FRL series. This new series of modular FRL products feature increased flow rates, larger bowl capacities, improved water removal and more precise pressure control. All of this in a more compact, easier to install package. Port sizes range from 10/32unf (M5x0.8) through 1" in NPT, metric (Rc) and G threads. Standard operating pressures are 0 to 145 psig with proof pressures of 215 psig. Space savings and simplified installation are achieved through a new modular spacer design. The new spacer takes up roughly a third less space. Self-contained screws and gaskets allow for simple foolproof installation and maintenance.
For more information please visit www.smcusa.com
---
---


[Click Banner To Learn More]
[Home Page] [The Automator] [About] [Subscribe ] [Contact Us]