---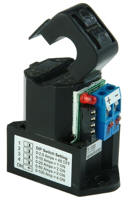 Solidyne CT-100 and CT-100V Current Transducers
Solidyne has done it again by building a split core current transducer with more functionality than their competitors at a fraction of the cost. CT-100 and CT-100V are designed to measure up to 100A @ 50 or 60 Hz. Its unique design allows 4-20mA or 0-5VDC signal output for 5 current ranges. Each selected range via 4 position DIP switch generates 4-20mA or 0-5VDC output signal proportional to the current passing through the clamped split core. The CT-100 and CT-100V's 4 position DIP switch allows you to select between 5 different current ranges; from 0-2.5A, 10A, 20A, 50A and 100A. No more stocking multiple current transducers, this product covers them all! Furthermore, this product has built in current limiting circuitry which does not allow the transducer output to exceed 25 mA so that it will not damage input circuitry of your DDC controller. For more information visit http://www.solidyne.com/search/keyword.php?word=ct-100&submit.x=0&submit.y=0
---
Reliable Controls® X-Port-2™ the Future
Reliable Controls® is pleased to announce the release of the X-Port-2™ converter. Units are now being shipped from Reliable Controls® Headquarters in Victoria, BC, Canada. The new version supports BACnet® protocol, connection and MSet configuration for all controller types, and is firmware upgradeable for future extensions. Release versions of the Catalog Sheet are now on the web for download. The Reliable Controls® X-Port-2™ converter is a convenient BACnet® communication device which provides an extra EIA-232 port to any MACH-Series controller. The X-Port-2™ converter connects to the SMART-Net™ network and transfers information between the Reliable Controls® MACH-System™ and any Reliable Controls® software without compromising any existing SMART-Sensors™ on the network. Power is derived from the controller's SMART-Net port. Visual indication of operation is provided by status LEDs. For more information visit www.reliablecontrols.com
---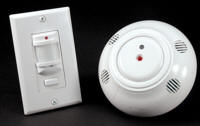 Veris Industries Releases Occupancy Sensor Line
PORTLAND, Ore – June 11, 2007 – Veris is proud to announce the addition of an occupancy sensor line to its product offering. With increasing power costs, occupancy sensors are the ideal solution to reduce energy consumption. The sensors control building lighting circuits by automatically turning them off in vacated rooms, a simple way to have a big impact on energy costs.
The line includes wall switch and ceiling mount versions, employing the latest passive infrared and ultrasonic technology. Install the sensors in an office, conference room, classroom, or restroom. With their ample coverage and versatile features, they're ideally suited for any space. For more information visit www.veris.com
---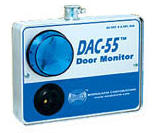 Modularm DAC-55 Door Monitor
The DAC-55 Door Monitor is a patented and functionally integrated device for monitoring doors on walk-in coolers and freezers. Benefits provided include energy savings, automation of certain functions which are normally done manually, training of personnel to close doors, increased operator safety, improved product integrity, and lowered maintenance costs. Using magnetic contacts to sense door status, the DAC-55 combines a time adjustable audible and visual door ajar alarm with remote notification capability, automatic control of compartment lights (replaces light switches), and user configurable automatic interruption of the refrigeration system relative to the status of the door (replaces fan shutoff switches) into a single compact unit. Visit Modularm Corp. on the web at www.modularm.com for more details.
---

The Benjamin ArcLight Paneltm Controllable Circuit Breaker Panelboard
Communicates to ALL Energy Management and Building Automation Controllers.
Uses Ethernet or Serial communications protocols.
The most Flexible addition to new or existing building installations
An Efficient Addition to Your Lighting Controls and Energy Management Systems
For more information visit http://www.arclightpanel.com/
---

Omnitron Systems introduces the new iConverter ® GX/TM2
Omnitron Systems introduces the new iConverter ® GX/TM2 optical access Network Interface Device (NID) for securely managed service demarcation. The GX/TM2 provides scalable traffic management, fault detection and provisioning for carrier-grade Ethernet services. The GX/TM2 is a 1000X Fiber to 10/100/1000 UTP NID with integrated media conversion to provide connectivity to a wide variety of customer equipment interfaces. The GX/TM2 is available in a compact standalone units and a chassis plug-in modules. They feature 10,000 kb jumbo frames, and Small Form Pluggable (SFP) transceivers with Optical Statistics for standard or CWDM applications. Integrated SNMP and IP-less management and provisioning (via 802.3ah management extensions) provides comprehensive equipment configuration, link monitoring and fault detection. IP-less management is an encrypted management channel that enables the collective management of a large number of individual iConverter Customer Premises NIDs with one IP address, and provides an added level of security for the management channel that is not affected by customer traffic on the system. iConverter NIDs can be managed with Omnitron's SNMP-based NetOutlook ® management software, via third-party SNMP software, or Telnet. For more information visit www.omnitron-systems.com
---
Greystone ULP Ultra Low Pressure Transducer
The ULP Ultra Low Pressure Transducer is used to measure differential pressure in the ranges of 0.125"W.C. to 1"W.C. (30 to 250 Pa). It combines precision high sensitivity silicon sensing capabilities and the latest ASIC technology with Dynamic Self Compensation to substantially reduce offset errors due to changes in temperature, stability to warmup, long term instability and position sensitivity. It is ideal for monitoring pressure for air and other clean inert gas and is limited only to those media which will not attack silicon, nylon and epoxy adhesive.The ULP features a selectable uni- or bi-directional pressure range and output signal types for the most flexible applications. An optional on-board relay output, which is field adjustable, allows for an alarm function. Additional available options include an LCD and a static pressure probe. Visit www.greystoneenergy.com for more information.
---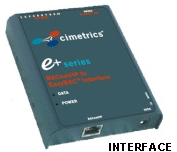 Cimetrics B6095 - BACnet/IP to EasyBAC Interface
Our EasyBAC protocol allows you to communicate via serial using a VERY SIMPLE protocol and the interface talks BACnet/IP (Ethernet). You can create a BACnet/IP enabled product extremely quickly. This solution gives you a turnkey solution which connects to your product using a standard 9pin D serial cable. Visit http://www.cimetrics.com/products/products.php?cat=38 for more information.
---
---


[Click Banner To Learn More]
[Home Page] [The Automator] [About] [Subscribe ] [Contact Us]