---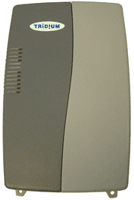 Tridium Introduces the JACE®-202-XPR
New Addition to Embedded Controller Family provides expanded flexibility, functionality, connectivity and energy management

RICHMOND, VIRGINIA-May 18, 2009 Continuing its commitment of bringing communications, connectivity and the exchange of data between end devices and the enterprise, Tridium announced the availability of the JACE-202-XPR, a new embedded controller designed for remote monitoring and a wide range of control applications. The JACE-202-XPR combines integrated control, supervision, data logging, alarming scheduling and network management functions, integrated I/O and optional GPRS modem connectivity with Internet connectivity and Web serving capabilities.

Additional information about Tridium is available at www.tridium.com
---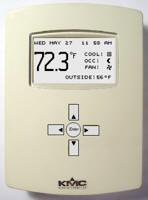 Flexible BACnet Automation with FlexStat
To meet an ever-increasing demand for BACnet automation solutions, KMC introduces the FlexStat™. This integrated controller and sensor offers remarkable flexibility in application. FlexStat is designed for small building automation, unitary equipment control, or as part of a larger BACnet system. It includes built-in applications, selectable through the interface, for standard HVAC challenges such as control of heat pump units, fan coil units, roof top units, & air handling units. However, its flexible offering of inputs and outputs and its programmability make it suitable for virtually any automation scenario. Humidity and occupancy sensing options extend the flexibility. And, the removable backplate ensures easy wiring for a quick installation.

Learn more online: http://www.kmccontrols.com/kmc/spotlight.aspx?page=spotlight2.htm
---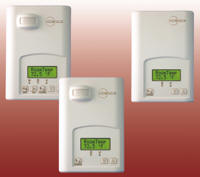 Veris Industries announces Communicating Thermostat and Humidistat Line

Veris Industries a leading supplier of energy and environmental sensor peripherals today announced a partnership with thermostat and humidistat manufacture Viconics to distribute a line of set point devices. The line of thermostat's and humidistat's are suited to provide energy saving climate control in buildings without a central building control system. Veris will offer the following products: VT7200 Series Communicating Zone Thermostats; VT7300 Series Low Voltage Communicating Fan Coil Thermostat; VT7600 Series Communicating and Non-Communicating Roof-top and Heat Pump Thermostat; VT76x7 Series Programmable and Non-programmable Staged Equipment Controller with Space Humidity Control; VH7200 Humidity Controller; VWG Wireless Gateway.
For more information visit www.veris.com
---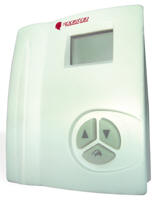 Spartan Peripheral Devices - TE112 Two Stage On / Off LCD Electronic Thermostat 24Vac
The TE112 is a two position on / off, electronic room thermostat with digital display and set point. Two stage SPDT outputs are suitable for heating or cooling control of valves, fans or other two position devices to maintain an accurate room temperature. Auto changeover can be achieved by connecting an SPDT strap-on thermostat to the heating / cooling output to create an automatic summer winter change over. Optional external 10K NTC temperature sensor can be connected to terminals T1 and T2.
For more information visit http://www.spartan-pd.com
---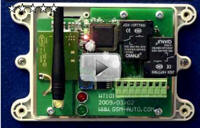 GSM Remote Control - Remote control using a cell phone from anywhere in the world

Open automatic gates, control central heating, engine pre-heaters, aviation engine heaters, irrigation systems, water well pumps, pumping stations, using your cell phone from anywhere in the world

GSM-AUTO have launched a remote control system using the GSM mobile/cell phone network. The GSM-AUTO is a wireless gsm remote control switch that connects to the GSM cell phone network. It is activated by calling its cell phone number, it will reject the call without answering and switch on the device connected to it. There are no call costs incurred when dialling the unit, it will recognise an authorised telephone number calling it and reject the call without answering. It has 2 independent switches, these can be programmed to switch on for a pre-determined length of time whenever the GSM-AUTO is called, alternatively the switches can be permanently switched on or off by sending the GSM-AUTO a sms text message

Website http://www.gsm-auto.com for more information.
---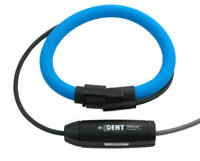 DENT Instruments Launches New RoCoil mV Flexible Current Transformers

DENT Instruments, a global leader in the design and manufacture of power and energy measurement instruments, announced the introduction of the RoCoil mV™ Series of Current Transformers (CTs). These flexible Rogowski Coil CTs offer significant advantages over conventional Split Core or Clamp-On CTs in certain installations. They deliver "installer-friendly" features such as large window size, light weight, wide current range, and mechanical flexibility for mounting in tight quarters. Like its name implies, the RoCoil mV™ produces a millivolt output for use with DENT's ELITEpro and DATApro Series dataloggers, as well as other manufacturers' metering instruments. RoCoil mV™ CTs are available in standard lengths up to 72" and current ranges up to 6000A.

For more information visit www.dentinstruments.com
---
Exemys - TCP / IP Sensors and Transducers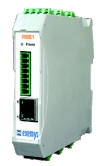 Turn your old sensor or transducer in a smart device with Ethernet TCP/IP communication
• 8 analog inputs (PT100, TC, 4-20mA, 0-10V)
• Din Rail mounting
• Easy use and configuration
• 5 Protocols over Ethernet TCP/IP:
• Modbus TCP
• Web Page
• SNMP
• CSV
• XML


Visit our web site - Serial Servers, Protocol Converters, Analog Acquisition, Media Converters, Internet based supervision.
For more information visit www.exemys.com
---
---


[Click Banner To Learn More]
[Home Page] [The Automator] [About] [Subscribe ] [Contact Us]