Auto-Matrix - BBC-SD™ Full Color Touch-Screen Live Local User Interface
Export, PA February 21, 2008- From the company that brought DDC to the HVAC world as well as the first open protocol, comes another first for the HVAC industry, the BBC-SD (BACnet Building Controller Small Display). A product solely created for a distribution market utilizing the BACnet protocol. The BBC-SD is a compact, addressable, full color, touch-screen network display device capable of interfacing with BACnet products that communicate using the BACnet MS/TP protocol. Easily adaptable to most standard applications, the BBC-SD provides a configurable data interface environment with an icon driven design and can have up to 50 configurable display screens and reference a maximum of 150 points from one or multiple controllers networked on the same BACnet data bus. This means users now have a window into their BACnet system without vendor lock-in.
For an interactive presentation of the BBC-SD, the user manual, a downloadable demo version of SD-PRO, or for more information on distribution availability please visit www.bacnetcontrol.com.
---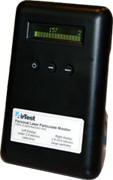 Two products from AirTest Technologies
Low Cost Laser Particle Counter
AirTest is pleased to announce a breakthrough in the cost of affordable particle counting. PM2500 counts the number of particles in two size ranges. One channel counts small particles that tend to stay airborne all the time (1 to 5 microns). The second channel counts larger particles that tend to settle out over hours or minutes (>5 microns). The counts are displayed on the LCD screen of the device and can be interpreted using a chart on the back of the device. Historical readings for the past minutes, hours or days can easily be reviewed at the press of a button. AirTest's PM2500 is (under $200), making it accessible as a everyday monitor or screening tool for individuals, contractors and building owners. Link: www.AirTestTechnologies.com/iaq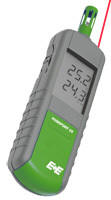 Mold Hunter Hand Held Tool
Most molds begin to grow when surface moisture levels are near the condensation point. The Mold Hunter™ is designed to measure dew point moisture content in the air and at the same time measure the temperature of a surface of a wall, floor pipe or duct using a laser aiming dot. The closer the air dew point is to the surface temperature, the higher the likely hood that moisture in the air may condense on/ or in building components. High moisture content creates ideal conditions for water damage and mold growth. This tool will allow a better understanding of moisture issues in buildings and can be used to quickly identify mold vulnerable areas or if summer cooling dehumidification is adequate to prevent conditions that may favor mold growth. www.AirTestTechnologies.com/iaq
---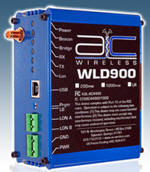 AIC Wireless, is proud to announce the launch of a new era in wireless LonWorks controls.
The WLD Series of wireless LonWork devices are readily available for any building automation, control or monitoring application. The devices are a reliable low-cost alternative to long runs of LonBus for establishing communications to previously unreachable locations, due to the lack of existing communications architecture. The WLD Series wireless devices are shipped ready to install, with a true plug-and-play set-up requiring no special programming or commissioning tools.
Visit http://www.aic-wireless.com/ for more information.
---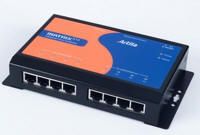 Artila's New Matrix-514 Linux Ready Industrial Embedded Computer - Mini, Yet Mighty, Communication Computer for Automation
TAIPEI, Taiwan -- 25 February 2008 -- Artila Electronics Co., Ltd., an emerging force in the embedded computer solutions field, announced their Matrix-514 Linux-ready industrial embedded computer. Powered by a 180MHz ATMEL AT91RM9200 ARM9 RISC CPU, onboard 64MB SDRAM, and 16MB Flash memory with Linux 2.6 OS pre-installed, the Matrix-514 provides four independent 10/100Mbps Ethernet ports, four RS-232/422/485 serial ports, two USB 2.0 ports, and 21 programmable digital I/Os. An SD socket is also available for up to 2 GB flash memory storage expansion. For more information visit www.artila.com
---
OneRFTechnology TinyOne 433 MHz completes the radio module family
SOPHIA ANTIPOLIS — Feb. 20, 2008 — One RF Technology, experts in low-power wireless and front-runners of European ZigBee technology, has recently completed is successful TinyOne OEM RF module family, thereby allowing engineers the choice of 4 ISM frequencies and 4 different firmware options, including ZigBee networking. Based on the TinyOne module family footprint, the TinyOne Lite 433 MHz offers the customers a low-cost 433 MHz radio solution for industrial applications up to 500 metres. The lower frequency allows the customers to benefit from better propagation through walls even at low output power levels. The TinyOne Lite 433 MHz OEM RF module measures 38 x 21 x 3 mm and is a pre-certified SMD component. Moreover, in addition to the company's standard firmware, the module is available off-the-shelf with the company's unique low-power mesh networking firmware – M-One Stack. More information on the TinyOne Lite 433 MHz OEM RF module can be found at http://www.one-rf.com/en/b433mc-tinylite40.html.
---
New DT Research WebDT Signage Systems Enhance Customer Experience through Convergence of Digital Signage and Kiosks
DIGITAL SIGNAGE EXPO, LAS VEGAS, NV - February 27, 2008 - DT Research™, Inc., an industry leader in the development of information appliances for vertical markets, today announced the expansion of the WebDT Signage System to include 15-inch and 17-inch dynamic displays that integrate self-service hardware elements. The DS1500 and DS1700 each features integration of a media player with a high resolution LCD, with options for a touch screen, fully-integrated magnetic stripe reader and barcode scanner for greater flexibility and enhanced customer experience. Businesses can now simultaneously deploy and manage a wide variety of digital signage, self-service and kiosk applications that can run advertisements, directory assistance, customer service, news and emergency communications from one system. With the WebDT Signage System, companies can create a more personalized customer experience by using the integrated self-service hardware and WebDT Content Manager's real-time web capability and multi-zoning feature to deliver targeted messages and advertising. For more information, visit www.dtresearch.com.
---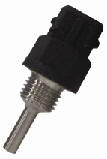 Honeywell Introduces R300 Series Temperature Sensor
Enhanced Accuracy and Reliability in Harsh High-Temperature Environments
MINNEAPOLIS, February 11, 2008 – Honeywell (NYSE: HON) today introduced its R300 Series Temperature Sensor for use in potential EGR (exhaust gas recirculation) applications where operating temperatures can reach 300 °C [572 °F]. The R300 Series Temperature Sensor features enhanced reliability, accuracy and responsiveness which helps optimize fuel economy and engine performance. The purpose of an EGR system on an engine is to reduce NOx (nitrous oxide and nitrous dioxide) emissions by cooling and recirculating exhaust gas back into the engine. The R300 helps the EGR system optimize those NOx emission controls.
For additional information, visit www.honeywell.com.
---
Beckhoff Automation Introduces the New CX1030 High End Embedded PC
MINNEAPOLIS, February 12, 2008 – In order to provide automation and control applications with the most powerful PC-based controllers possible, Beckhoff Automation has announced the new CX1030 Embedded PC. The DIN rail mounted CX1030 is equipped with a 1.8 GHz Intel® Pentium® M processor and is currently the most powerful device in the Beckhoff Embedded PC family. The CX1030 CPU is cooled by a passive cooling module and an easily exchangeable fan cartridge located on the underside of the housing. In addition to the CPU and the chipset, the CX1030 module contains 256 MB DDR RAM (standard), which is expandable to 512 MB or 1 GB. Operating without the use of a hard drive, Beckhoff Embedded PCs boot from Compact Flash. For more information visit www.beckhoffautomation.com
---
Linear Introduces New Family of Distribution Amplifiers, Switchers, Matrix Devices and Extenders for HDMI and Component Video Applications
ORLANDO, Fla. (February 12, 2008) – At the 2008 International Builders' Show this week, Linear LLC, an innovator in home technology solutions for security, communications and entertainment, introduced its new line of Whole-House HD Solutions, including Linear's High Definition Video Distribution products that conform to the HDMI (High Definition Media Interface) standard. The new line of HDTV component products is comprehensive and affordable, giving home entertainment installers and dealers a new resource for their high-definition audio and video equipment needs. For more information about Linear's complete line of access control products, visit the company online at www.linearcorp.com.
---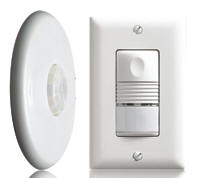 Commercial occupancy sensors from Watt Stopper/Legrand break new ground with sleek, modern design
SANTA CLARA, CA February 2008 – Watt Stopper/Legrand has developed lighting control solutions designed to enhance high-end, modern construction. The company's newest commercial occupancy sensors incorporate sophisticated design details that make them aesthetically pleasing as well as easy to operate. At the same time, each elegant package is manufactured to withstand the rigors of commercial use; both the robust housing and the control electronics are engineered for longevity.
Visit www.wattstopper.com for more information.
---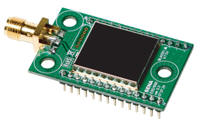 SENA Releases its Latest Bluetooth Class 1 OEM Module
Sena Technologies, Inc. (http://www.sena.com), a leading provider of industrial Bluetooth and networking solutions, announced the release of its latest Bluetooth OEM module Parani-ESD1000. The Parani-ESD1000 is a Class 1 embedded Bluetooth module designed for OEM manufacturers to embed Bluetooth functionality into their products at design level in the shortest period of time and cost effectively. The Parani-ESD1000 supports 100 meters of wireless transmit distance and the transmit distance can be extended up to 1000 meters using optional antennas. It supports Bluetooth v2.0+EDR specification, and various external interfaces such as UART, USB, PCM and I2C. It also supports multiple Bluetooth connections up to three sessions.
---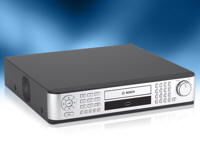 Bosch Introduces New Mid-Range Digital Video Recorders
FAIRPORT, N.Y. Bosch Security Systems, Inc., a full-line manufacturer of security solutions, announced the release of the Divar MR family of mid-range digital versatile recorders (DVRs). Divar MR combines high quality digital recording with flexible alarm handling, camera control and remote management into an integrated video management solution that is easy to install and simple to use. The powerful, yet affordable, range of new DVRs is an ideal solution for schools, retail premises, hotels, apartment buildings and many other applications. For more information about the Divar MR family of digital versatile recorders, visit http://www.boschsecurity.us/divarmr.
---

Tyco - Digital metering system now available with BACnet/IP
A range of low-profile multi-function digital metering systems (DMS), the Crompton Instruments Integra 1630 series, is now available from Tyco Electronics' Energy Division. It has been expanded featuring a new model with Ethernet communication module supporting connection to SCADA systems using the BACnet/IP protocol (ANSI/ASHRAE 135 - 1995 Annex J). Integra 1630 DMS with Ethernet module acts as a BACnet/IP server device and may be queried by a BACnet/IP client device which conforms to the BACnet/IP protocol. For more information visit http://www.crompton-instruments.com/
---
---


[Click Banner To Learn More]
[Home Page] [The Automator] [About] [Subscribe ] [Contact Us]