New BACnet Thermostat from National System Supply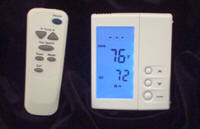 This NEW thermostat line is specifically designed for a BACnet system and can control up to 2 stages of heating and 2 stages of cooling. The heating and cooling modes can be automatically or manually switched as well as the fan on/off action. Now, a heat pump control variation is also available. Typically used in buildings for single zone rooftop units, split systems, heat pumps or hot/chilled water systems. Self-configuring/adjustable baud-rate, built-in compressor short cycle protection, provides 45 read/write, and 15 read only points, and can be ordered with an infrared remote control. Additional thermistor input available. You'd be surprised at the price!!!
For more information visit http://www.nationalsystemsupply.com/
---

Wireless Networks for Industrial Automation, 3rd Edition
Dick Caro
Wireless communications are explored from the factory and process automation viewpoint to help you make clear decisions on the timing and strategy for implementing wireless networks for automation projects. This 3rd edition includes a general update of events that have occurred since the previous edition. Of significance is an overview of new technology, such as ISA100.11a, WirelessHART, and WiFi, including IEEE 802.11n.
Visit www.isa.org/books to order.
---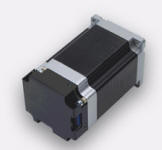 IS23x-MA Intelligent Step Motors Suited for Multi-Axis Applications
Technosoft is proud to announce the new IS23x-MA Intelligent Step Motors, based on the MotionChipTM DSP Control Technology, specially adapted to distributed motion control applications with integrated intelligence. These ready-to-run motors have a cost optimized design embedding stepper motor, power electronics, controller and interface into a single compact unit (61 ÷ 96 x 57 x 57 mm), together with basic local digital and analog I/O signals and PLC functionalities. This structure significantly reduces the motor cabling through the machine and eliminates the usage of external setup analog components.
For more information visit www.technosoftmotion.com
---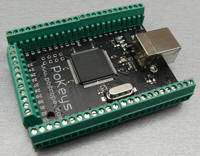 Versatile Keyboard/Joystick Simulator With 55 I/O Lines Needs No Software
Pittsford, NY: PoKeys55T is an easy-to-use, general purpose USB board that combines standard keyboard and joystick simulation, but does not require complex programming knowledge. PoKeys55T provides 55 digital I/O lines which are 5V-tolerant, 5 x 10-bit analog inputs, and a 10-bit analog output. All the I/O lines are controllable with provided software which features both a graphical user interface and an advanced console-type interface. The settings can be stored on-board, so no special software is needed on target system. PoKeys55T can be used for industrial or CNC control, as a custom joystick or keyboard, or a versatile data acquisition board.
For more information visit http://www.saelig.com/pr/pokeys55t.htm
---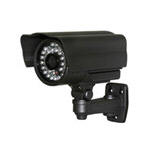 SSC Technology Co., Ltd SSC-W9 Weatherproof IR Camera
SONY/SHARP Color CCD
IR LED: ¢5X30PCS ,IR Distance: 25M
Water Resistance : IP66
Auto White Balance(AWB)
Cable out of Bracket Design
Lens: Board Lens 6mm/F2.0(Optional)
For more information visit www.ssctc.com
---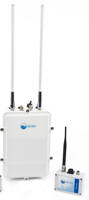 Arch Rock Adds Rugged Version of PhyNet WSN for Outdoor Environments
SAN FRANCISCO, Calif., Oct. 14, 2008 - Arch Rock Corporation has introduced an "outdoor-ready" version of its Internet Protocol-based PhyNet wireless sensor network, geared for use in the growing number of sensing environments where protection from dust, water, corrosion and other harsh conditions is required. PhyNet N4X gives system integrators the flexibility of battery-powered outdoor nodes connected to a web-based data platform for developing monitoring solutions in markets such as urban or municipal networks, high-end agricultural products, EPA Superfund and "brown field" development sites and solar power fields.
For more information, visit http://www.archrock.com.
---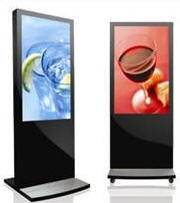 New Digital Signage Solution from DoubleSight Displays
October 1, 2008, Irvine, CA - DoubleSight Displays, a leading manufacturer of LCD Displays is pleased to announce the release of the its new Digital Information Display Family of Digital Signage Solutions. DoubleSight's new Digital Information Display (model DID-46KSKM) is a great Signage Solution for variety of uses. The 46" LCD Display and Tower Design are perfect features for in store marketing, hospitality venues, trade shows or corporate messaging. The free standing Tower allows for convenient placement anywhere electricity is available. The 46" LCD lets your message been seen easily at eye level. Built in components of the DID-46KSKM include a Processor, 1GB Memory and the Software to manage the digital content. Content is easily uploaded via a USB port and transferred to the on board memory for immediate playback, as well as, stored for future
For more information visit www.doublesight.com
---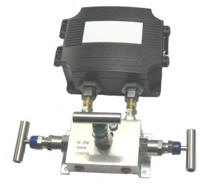 Greystone is proud to announce the release of our "NEW" enclosure & and added 3 way valve feature on our WP Series differential pressure transducers.
Greystone's "NEW" WP enclosure was created to provide a more functional, easier to access enclosure for our customers and to standardize the overall look of Greystone's product line. Although the look of the WP series has changed dramatically, operation and functions have remained the same. The new enclosure incorporates a hinged cover and latch that eliminates the need for screws, although screws holes are also provided for added security. The cover has a built in gasket for added protection against dust and condensation. It has 2 external mounting tabs for ease of mounting and is made from high quality ABS. The new 3 way valve option is available and is shipped already assembled to the WP, which saves time during installation. It is made from 316 S/S with large valve handles, for ease of operation.
For more information visit http://www.greystoneenergy.com
---
New Fluke Color ScopeMeter® Test Tool makes Fieldbus testing easy with Bus Health Test feature
MISSISSAUGA, Ontario – Fluke Electronics the global leader in handheld electronic test and measurement equipment, introduces two new models to its range of Fluke Color ScopeMeter® Test Tools with automated test capability for Fieldbus, Profi Bus and other industrial communication protocols. The new models, the Fluke ScopeMeter 225C (200 MHz, 2.5 GS/s) and 215C (100 MHz, 1 GS/s), include all the features of the market-leading Fluke 199C and 196C Color ScopeMeters. The Fluke 225C and 215C ScopeMeter Test Tools are designed for maintenance specialists who keep automation and process plant equipment operational. Today's plants and industrial facilities are installing digital networking systems to improve efficiencies, gather management data and improve quality. These systems often operate in harsh environments requiring special techniques and tools for maintenance and troubleshooting, including verification of electrical signal quality on industrial buses such as Fieldbus Foundation, CAN-bus (or DeviceNet), Profi, RS-485, ModBus, ASI and more. The new instruments feature easy signal validation of all the critical signal parameters like amplitude and noise, and have floating and fully isolated inputs for true differential signal measurements on 2 wire differential bus systems. They allow users to verify the electrical integrity of bus and network, performing "physical layer tests" and getting answers quickly and easily.
For more information visit www.flukecanada.ca
---
---

[Click Banner To Learn More]
[Home Page] [The Automator] [About] [Subscribe ] [Contact Us]