---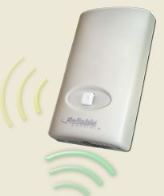 Reliable Controls® Updates SMART-Sensor™ EnOcean Acesspoint Firmware

Reliable Controls is pleased to announce the release of firmware version 2.10 for the SMART-Sensor™ EnOcean Accesspoint (SSEA) product. This update provides significant added functionality to the SSEA, the most notable change involving the ability to transmit as well as receive, opening the door for communications with many additional devices.

This firmware update enables the following new features:
• Two-way wireless interface, allowing the SSEA to transmit wireless control packets to and receive wireless status packets from qualified third-party EnOcean wireless devices, as well as some non-qualified, third-party devices
• EnOcean RPS wireless switches, including single rocker, dual rocker, and keycard variants, which can now be learned by the SSEA
• Door/window sensors using the EnOcean 1BS message type
• Generic learn of 4BS wireless controllers and sensors
• Ability to repeat EnOcean wireless packets
• Additional support for new occupancy, gas, automated meter, environmental, and lighting EEPs
• Forcing SMART-Net™ writes via Control-BASIC™ WRITE statements, allowing periodic retransmissions of wireless packets when using SSEAs

All firmware files for the SSEA and SSE are installed at Reliable Controls and do not require any user action. For more information visit http://www.reliablecontrols.com

---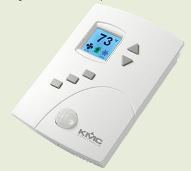 There's an AppStat for That!

For those who need to easily and efficiently control fan coil units, rooftop units, or heat pump units, there's an AppStat for that.

"AppStat" refers to a new series of BACnet communicating thermostats from KMC Controls. Each model in the series combines a BACnet applications specific controller and sensor options into an attractive, space-mounted device. The visual appeal of AppStat is accented by the overall design, a color LCD screen, and soft-touch buttons. Through the screen and buttons, installers and users can completely configure the devices and access various menu options.
Various feature options are available for each of the included applications. Such features include modulating versus on/off operation of associated components, such as valves and fans, as well as control for components such as economizers. Sensor options, beyond standard temperature sensing, include humidity and motion/occupancy.

KMC has launched a product-specific microsite (www.GetAppStat.com) for those needing further information. The site is optimized for both desktop and mobile users.


---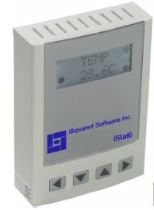 iSquared software Inc - iStat6
This full-featured programmable thermostat is specifically designed by our engineers for full compatibility with ControlCore software products. In conjunction with the ControlCore suite, it provides unique features, full programmability, easy Modbus integration, all at one of the best
performance/price ratio available on the market.

Highlights:
- Licensed for ControlCore programming
- High impact plastic enclosure, provides durability in commercial environments
- 8 AI, 4 AO, 4-20mA option, 5 relays
- Real Time Clock
- Photo cell (measures ambient light)
For more information visit http://www.isquared.ca
---
Ninja Blocks
Rule the connected devices in your life - With the Ninja Rules Engine you can create rules that turn on the lights when you're not at home, or send an SMS to your phone when someone is at your front door. Build a web connected security solution - Within five minutes you can create a security system that texts you whenever motion is detected, or if a door or window is opened. You can even have images saved to your Dropbox. Run apps for the internet of things - With apps built on our API for Atoms ™, the Ninja Block can be whatever you want it to be. It's your security system, your wine monitor, your cat's entertainer, it's your home's thermostat, and more. Monitor and control your things anywhere - Make sure the iron is turned off or if the kids are at home? With our remote control app you can control your things or keep an eye on your home from where ever you go.
For more information visit http://ninjablocks.com/products/ninja-blocks-kit
---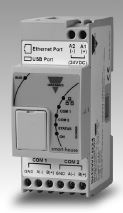 SBWEB BACnet Gateway - Type SB2WEB24

• Automatically creates BACnet/IP objects
for all Dupline and energy meter data points
• Ethernet port for BACnet/IP and Modbus/TCP
communication
• Manages up to 7 SH2CGM24 Dupline Master
Generators
• Connection to SH2CGM24 via internal bus on side
connector or via external RS485 HS bus
• Operates with Smart Dupline modules only
• Modbus RS485 port for connection of energy meters
• Dimension: 2-DIN housing
• 12 to 28 VDC power supply
• User-friendly PC based configuration tool
For more information visit https://www.gavazzionline.com/pdf/SB2WEB24_eng.pdf

---
Dataeye and Prophet

Prophet is the next generation of User Interaction, Advanced Data Analytics and Cutting-edge Technology integrated into the NiagaraAX environment.
For more information visit http://csicubed.com/products/

---

The Future of Building Energy Management Solutions
The Convergence of Technology and Competition Will Drive Next-generation Solutions -Maurice Costantini Jr, Executive Operator, Octant, Inc.

Rising energy costs and an increasing focus on environmental performance of buildings will make energy management the most dynamic segment of the building technologies and services industry.

Performance contracting will become customers' preferred business model and suppliers will need to develop service capabilities or partner with facility management companies or energy service providers to participate in the most dynamic part of the market. Smart buildings and homes will become a mainstream reality in 2 to 3 years, driven by the convergence of green and smart technology and new market entrants. Cloud-based services with a strong focus on data interpretation will be key enablers for a new generation of intelligent buildings.

For more information

---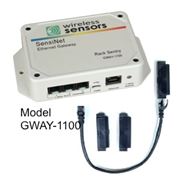 Wireless Sensors LLC - GWAY-1100

The new GWAY-1100 is the perfect environmental monitor for small computer rooms, network closets or other locations where an inexpensive, easy to deploy system is required. The simple on-board web server provides real-time monitoring and trending for stand-alone applications.

The GWAY-1100 supports sensors for temperature, humidity and other critical parameters. Mix and match through our unique daisy chained digital bus. All data is available to your DCIM package, Network Management or Building Management Systems.
For more information visit http://www.wirelesssensors.com/

---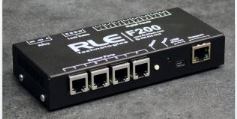 RLE Technologies - The F200 Is Available
This innovative NEW product couples leak detection and facility monitoring in one plug-and-play package. Designed to be simple, effective, and efficient, RLE Technologies' F200 monitors environmental parameters and protects facilities from disastrous consequences.
•4 Sensor Inputs - You choose whether you'd like to deploy temperature sensors, temperature/humidity sensors, or a combination of the two.
•8 Digital Inputs - Unlimited monitoring possibilities. Monitor something as simple as whether a door is opened or closed, or monitor more complex parameters including motion sensors, fire alarms, gas detectors, airflow sensors, and summary alarms from critical equipment including UPSs and generators.
•1 Relay Output - Use the F200's relay output to control an external device in the event of an alarm condition.
•1 Zone Leak Detection - the F200 can supervise an SD‑Z1 spot detector or up to 200 feet of our patented leak detection sensing cable and inline SD‑Z spot detectors.
•Plug-and-Play - Once all your monitoring connections are snapped into place, the F200 does the rest. Information is displayed on the F200's sleek, integrated web interface. Intuitive options and menuing keep configuration quick and easy, and the interface can be accessed from any computer or mobile device.

Protect them from environmental catastrophes by checking out the details at http://rletech.com/product/f200.



---
---

[Click Banner To Learn More]
[Home Page] [The Automator] [About] [Subscribe ] [Contact Us]