---

Contemporary Controls - BAS Remote
The BAS Remote provides a convenient method of expanding building automation systems in the field when using Ethernet for network communication. Modern building automation systems are quickly adopting information technology standards such as Ethernet for communication and structured wiring. The BAS Remote complies with BACnet/IP® as defined in ANSI/ASHRAE Standard 135-2004 while providing six universal input/output points, and two relay outputs. By incorporating a 10/100 Mbps Ethernet port, the BAS Remote can be connected anywhere in a building's structured wiring system at a point convenient to mechanical equipment. This eliminates the need to pull proprietary network cable to the source of the I/O. By being BACnet/IP compliant, there is no need for an external router. The BAS Remote is ideal for applications where several points of I/O must be accessed in areas void of proprietary BAS networks.
For more information visit www.ccontrols.com
---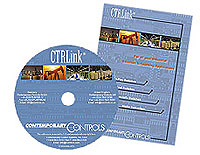 Contemporary Controls Tech Tips on CD
Aimed at busy engineers, this NEW CD by Contemporary Controls includes all the information you require to get your Industrial Ethernet installation done properly . You'll be able to view the "ABCs of Ethernet Tutorials," Installation Guides, Manuals, Technical Notes, Firmware updates and more. A 14-page short form catalog complete with product descriptions and ordering information accompanies this valuable resource tool.
Work smarter and request your FREE CD today!. For more information about Contemporary Controls visit www.ccontrols.com
---

Lynxspring Releases JENEsys™/Small Business Solutions™
Leawood, KS September 28, 2007. Lynxspring, Inc. announced today the availability of JENEsys™/Small Business Solutions™, a fully scalable, Internet based building management system for national accounts. JENEsys/SBS performs complete facility and data management while providing a single source, turnkey solution to address the challenges facing national accounts.
For more information visit www.lynxspring.com
---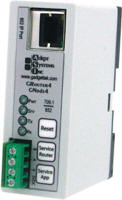 Adept Systems Inc - GRouter4 is a Drop-in Replacement for the i.Lon 600
Lowest cost — save hundreds on each unit; be more competitive; be more profitable
Best PPS/K on the market — better PPS/K than even a LON/IP router plus four-port FTT-10 switch
WiFi or Ethernet — only router with the either interface option
Smallest size — minimize space usage
Web browser user interface — convenient remote configuration
Normal or manual mode configuration — most flexible configuration options
Totally transparent "flood" mode — enables invisible bridging between LON channels
Serial transaction mode — support for low bandwidth IP channels
Optional bridging router mode — for traffic isolation in large 852 installations
Optional redundant twin mode
For more information visit http://www.adeptsystemsinc.com/
---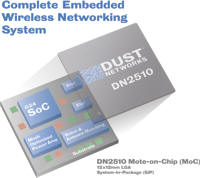 Dust Networks Announces Embedded Wireless Sensor Networking Solution for New WirelessHART Standard
Hayward, CA (September 26, 2007) – Dust Networks™, the leading provider of embedded wireless sensor networking (WSN) solutions, today announced the SmartMesh IA-500™ family of standards-based WSN systems. SmartMesh IA-510™, the first in this family, is compatible with the WirelessHART™ standard and enables industrial automation vendors to meet the rapidly growing demand for standards-based WSN solutions.
The launch of Dust Networks' IA-510 system follows recent industry ratification of the WirelessHART standard. WirelessHART builds on established and field-proven international standards, including the HARTä protocol (IEC 61158) and international radio standards (IEEE 802.15.4). Additionally, the WirelessHART standard makes use of advanced mesh networking technologies.
For more information visit www.dustnetworks.com.
---
Berk-Tek Introduces Outdoor LANmark™-6

New Holland, PA – September 25, 2007 – Copper and fiber optic cabling technology and solutions leader Berk-Tek, a Nexans Company, announces the release of their newest Category 6 cable, designed for outdoor installations. The unique construction of the LANmark-6 OSP (outside plant) cable includes a water-blocking gel compound within the core that encases the four UTP copper pairs and a rugged, but flexible, black polyolefin, UV-resistant jacket for a total O.D. of .250".
The new Berk-Tek LANmark-6 OSP cable meets the TIA/EIA-568.B.2-1 industry standard requirements for a Category 6 cable, but is specifically designed to support facilities, such as portable classrooms, detached garages, guard shacks and other wet locations. This cable is also ideal for exterior security cameras, located outside buildings or even on parking lot lights. This UTP cable can provide data, video and power on all four pairs through PoE capabilities, including adhering to the proposed IEEE 802.3at PoE Plus addendum. In addition, this cable complies with the stringent NEC codes, which require outdoor-rated cables to be used when conduit is located below the floor in slab-on-grade construction.
For more information visit www.berktek.com.
---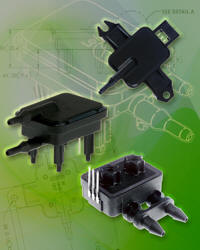 Low Range Differential Pressure Sensors are Ideal for Airside Applications
Moorpark, CA – Kavlico an operation of Schneider Electric and a global business unit of Custom Sensors & Technologies (CST) is pleased to announce the introduction of their next-generation MEMS-based P992/P993 Low Range Differential Pressure sensors. These devices are perfectly suited for a variety of HVAC applications including; Variable Air Volume (VAV) systems, filter pressure monitoring, duct airflow, static pressure monitoring, gaseous leak detection, pneumatic controls, as well as medical equipment applications.
The sensors operate on a regulated 5 Vdc power supply and provide an amplified linear output proportional to pressure od .25 to 4.0 Vdc. The sensors are temperature compensated, have excellent EMI/RFI and ESD protection. Available in pressure ranges of 1" H20 through 10" H20, the sensors have absolutely NO POSITION SENSITIVITY, have low power consumption, and have superior output signal stability. Additionally, the P992/P993 sensors can be specified with a frequency output, have multiple mounting configuration option and are RoHS compliant.
For more information visit www.kavlico.com
---
---


[Click Banner To Learn More]
[Home Page] [The Automator] [About] [Subscribe ] [Contact Us]