---
Updated October 1st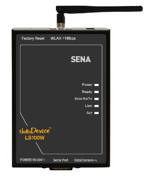 SENA brings 802.11b wireless network capabilities to serial devices
The LS100W is a Wireless Serial Device Server connects RS-232 serial devices to the industry standard 802.11b Wireless Network. It is designed to connect devices such as printers, scales, medical equipment, manufacturing machinery, bar code readers, card readers, point-of-sale equipment, and other data acquisition devices to a host computer via an 802.11b wireless LAN network. On the serial side, the unit features a nine-pin male DB-9 connector, 9-30 VDC input, and supports data transfer speeds up to 115Kbit per second. Integrating the LS100W into a control or automation system benefits in reducing cabling costs and increased mobility. Further, the serial data is routed using IP addressing which means the data can be forwarded using a wireless or wired or LAN. For further information visit http://www.sena.com/
---
ACR Systems introduces TrendReader Standard 2
ACR Systems introduces TrendReader Standard 2, the next generation of TrendReader software. The new software emphasizes logger connectivity and data management and is extremely easy to use as the main interface is through familiar Windows® Explorer views. TrendReader 2 allows users to edit information from all ACR loggers that have communicated with the PC. With built-in menus for sample rate and mode, start delay, equations and more, logger setup is fast and easy. In addition, equations are already included for all ACR sensors and users need only select the appropriate equation from the menu, or customize their own equation. Real-time readings are displayed in status, setup, and maximized real-time views allowing users to verify that the logger is working correctly before placing it in the field. For presentation purposes, data can be viewed in graphical format or for a more detailed analysis, in tabular and statistical format. Either way, multiple channels of data can be displayed at once. Multiple graphs can be displayed at the same time and compounded to create new graphs. For added presentation power, users can add comments, change graph colors, zoom in on specific portions of data, display data using custom engineering units, print or copy / paste graphs into reports and / or presentations. Visit www.acrsystems.com for more information.
---
Multi-Tech Brings Cellular Wireless to PBXs
MINNEAPOLIS — Multi-Tech® Systems, Inc., a leading data communications and telecommunications technology company based in suburban Minneapolis, has an answer for companies that need their current phone systems connected to cellular wireless networks. The Multi-Tech Systems wireless CallFinder™ GSM connects to a standard telephone system analog port, which then allows sending and receiving of phone calls via cellular wireless networks to utilize least-cost routing of calls. It is an excellent way to bring to businesses the cost efficiencies of lower priced, long-distance cellular wireless communications, and to provide emergency back-up when normal PSTN (Public Switched Telephone network) land lines are out of service. The new wireless CallFinder GSM CF100 series will start shipping next quarter. Visit www.multitech.com for further information.
---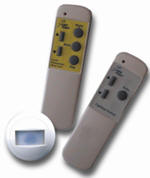 Watt Stopper/Legrand's LightSaver LS-301 Dimming Photosensor
Watt Stopper/Legrand's LightSaver LS-301 Dimming Photosensor offers an advance in daylight-responsive dimming, a cornerstone control strategy used in sustainable building design. The LS-301 is a ceiling mounted, low voltage, photocell with set-up, commissioning and user adjustments performed via handheld remotes. The LS-301 is suitable for a wide range of applications, including classrooms and offices of all types. Visit web site for more information http://www.WattStopper.com
---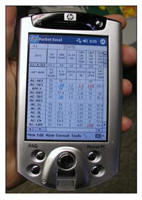 HVAC Data Wireless Data Tracking
On Demand data 24/7 Wireless Data Tracking
Wireless is a powerful new tool for those that are responsible for the supervision of computer linked mechanical systems, such as air conditioners, air handlers, VAV terminals, pumps, and generators. Combined with Data tracker software, supervisors and mechanics can obtain real-time data about the status of vital mechanical operations. This is particularly valuable in the case of emergencies when proper and timely evaluation can be crucial to operations. Portable system interface can allow mechanics to quickly evaluate priority systems. In daily operations colored data points in need of attention present themselves clearly. It is so much more productive to apply manpower to real trouble points, instead of groping with less effective PM programs. We will establish wireless networking in your facility to implement this service.
For more information visit http://www.hvacdata.com
---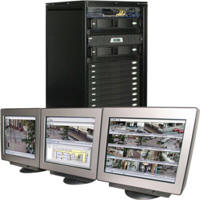 PI Vision at ASIS International 2005
Witness the power of digital video networking and technology partnerships by visiting PI Vision Inc. at Booth 851 at ASIS International 2005 (September 12-15, Orlando, Florida).
PI Vision is at the leading edge of video surveillance technology with its Universal Video Management System (UVMS®). UVMS® is a third-generation network video recorder (NVR) which bridges the gap between analogue and IP network cameras. It comes with a wealth of features which make it the ideal system for Mission Critical applications, both large and small. For more information about UVMS®, visit www.pi-vision.com
---
NBCIP Announces Report Supplement on Product Testing of Duct-Mounted Relative Humidity Transmitters
The National Building Controls Information Program (NBCIP) has released a report supplement on the performance of relative humidity transmitters entitled Product Testing Report Supplement: Duct-Mounted Relative Humidity Transmitters. This product testing report was developed with funding from NBCIP sponsors and is available free of charge on the NBCIP Web site at www.buildingcontrols.org.
---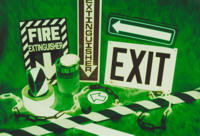 New PERMALIGHT® Power Photoluminescent Exit Path Markings
PERMALIGHT® photoluminescent exit path markings absorb light and emit a bright yellow luminance in full darkness. In case of power failure, building fires with dense smoke or during natural disasters, PERMALIGHT® products light up and help show your way out to safety. The new PERMALIGHT® power 150/22 technology is by far superior in initial brightness and long lasting luminance performance. Choose from step markers, signage, door outlining, warning tape, stair clips, anti-skid floor inserts and many more exciting glow in the dark safety markings. Please request our new 2005 Catalog, published May 2005. For more information visit www.americanpermalight.com
---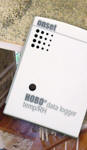 Onset Computer Corporation Introduces Data Logger For Mold Investigations
New HOBO® U10 logger provides early detection of mold growth conditions

BOURNE, MA - Onset Computer Corporation, a leading supplier of battery-powered data loggers, introduced the HOBO U10, a new data logger that can help facility managers, HVAC/R contractors, building owners and others detect signs of environmental conditions suitable for mold growth. The HOBO U10 performs 24/7 monitoring of temperature and humidity, and uses Windows-based software to convert the recorded data into time- and date-stamped graphs. For more information visit http://www.onsetcomp.com/hobo
---
---


[Click Banner To Learn More]
[Home Page] [The Automator] [About] [Subscribe ] [Contact Us]