---
Updated October

ASI Controls Releases ASI ZoneDial
After-hours Override Software with Tenant Billing & Invoicing
San Ramon, CA, September 14th, 2006 – ASI Controls, an Energy Star partner company, announces the release of ASI ZoneDial, a new software application for making after-hours override requests via telephone, complete with tenant billing and invoicing and call audit trail.
ASI ZoneDial gives building owners and managers a convenient integrated package for delivering and tracking after-hours HVAC and lighting services, offering the potential for significant energy savings. ZoneDial's billing module prints invoices suitable for mailing to tenants, with a detailed audit trail for every phone call received by the system. CSV data import capability simplifies the task of loading Tenant, User and Zone data into ZoneDial. For more information visit http://www.asicontrols.com/zonedial
---

Lascar Electronics - USB Enabled CO Data Logger
Carbon Monoxide (CO), a poisonous gas both odorless and colorless, is produced by equipment/machinery that isn't working correctly and can be found anywhere from construction sites and furnace rooms to office blocks and homes. Lascar's EL-USB-CO data logger monitors and records CO levels in any given environment over a period of time. This can help the user to determine where and when peak levels of CO occur, allowing corrective action to be carried out to remedy the problem. For more information visit www.lascarelectronics.com
---
ISA-5 P&ID Clip Symbols Version 2.0 (CD)

This CD-ROM provides symbols from, and is intended to be used with, ISA standards ISA-5.1-1984 (R1992), Instrumentation Symbols and Identification, ISA-5.2-1976 (R1992), Binary Logic Diagrams for Process Operations, ISA-5.3-1983, Graphic Symbols for Distributed Control/Shared Display Instrumentation, Logic and Computer Systems, and ISA-5.4-1991, Instrument Loop Diagrams, converting the graphic symbols for instruments into clip-art files that can inserted into P&IDs, loop diagrams and other documents. The symbols are furnished in .DWG, .WMP, and .DXF file formats, allowing them to be employed with Visio, AutoCAD, and most other CAD software platforms, plus many other software applications (word processing, spreadsheet, etc.). P&ID ClipSymbols is a must for engineering and construction firms, instrument engineers and technicians, and anyone else who develops P&IDs. Visit www.isa.org for more information.
---
New Digital Catalog from LC&D
The Digital Catalog v2.0 (DCv2) is now available for download from LC&D. Now packaged as a single Acrobat file, the DCv2 is more compact than ever. All the New Products: MicroPanel™-8, New Occupant Sensors, New SnapLink™ Relay, UpLink™ Card, Meta Server™ card, Slimline™ Photosensor
GR 2400 Phaser™, MicroPhase™, and more. All the Updated Products: MicroPanel 04, GR 2400™ Relay Panel, Rocker Switch
Digital SwitchBolt™ and more. Visit www.lightingcontrols.com for more information.
---

1-2-1VIEW's Ninja Media Player
1-2-1VIEW's Ninja N106 is the lightest and most cost effective digital signage media player available in the market, weighting just 370 grams, with measurements of 18.8cm x 13cm x 7.3cm. The Ninja owes its light weight to its IP set-top box technology which also makes the player low cost both in terms of ownership and operation. IP network controlled, built on open standards such as Linux OS and based on consumer electronics, the Ninja is scalable across an infinite number of screens at diverse locations. With less power consumption, more reliable operation and faster boot up times, the Ninja offers key operational and cost advantages over commonly used PC based digital signage systems. The new Ninja is the latest addition to 1-2-1VIEW's extensive portfolio of network-controlled media players which offer solutions for any digital signage application. For more information visit www.121view.com
---
iCasting WITRONIX media system
iCasting is an intelligent media display system via the Internet which is applied to narrowcasting. iCasting product line is the digital signage platform that specializes in commercial display and backend management systems, having been field proven in many markets in South East Asia, such as Malaysia, Thailand, Singapore, China and Taiwan. For more information visit WITRONIX CO, LTD. http://www.i-casting.com
---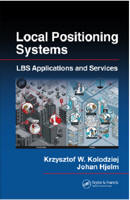 Local Positioning Systems: LBS Applications and Services
Local Positioning Systems explores the possible approaches and technologies to location problems including people and asset tracking, mobile resource management, public safety, and handset location-based services. The book examines several indoor positioning systems, providing detailed case studies of existing applications and their requirements, and shows how to set them up. Other chapters are dedicated to position computation algorithms using different signal metrics and determination methods, 2D/3D indoor map data and location models, indoor navigation, system components and how they work, privacy, deployment issues, and standards. In detail, the book explains the steps for deploying a location-enabled network, including doing a site-survey, creating a positioning model and floor maps, and access point placement and configuration. Also presented is a classification for network-based and ad-hoc positioning systems, and a framework for developing indoor LBS services.
For more information visit http://indoorLBS.com
---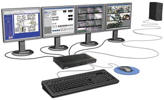 JDS Digital Security Systems and Matrox Graphics show new security solutions at ASIS International 2006
JDS Digital Security Systems and Matrox Graphics will demonstrate new software and hardware for security monitoring workstations at the ASIS International 2006 exhibition in San Diego. JDS will be demonstrating Softsite™ Enterprise, a computer-based security management software for corporate, government, and retail environments. Softsite includes support for NVR software (Network Video Recorders) using IP (Internet Protocol) technology, the next generation in video surveillance. Demonstrations will feature JDS security software along with various Matrox graphics hardware, including industry-leading multi-display graphics cards, the DualHead2Go external multi-display upgrade, and Extio F1400, the world's first fully integrated remote graphics unit (RGU).
For more information visit www.jdssecuritysoftware.com or http://www.matrox.com/graphics
---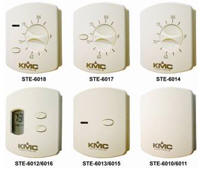 KMC Controls Develops Highly Stylized Room Temperature Sensors & Hospitality NetSensor®
In response to market demand for stylish yet economical room sensors, KMC Controls introduced the STE-6000 series room sensors. Whether you need an LCD display of current conditions or an inconspicuous room sensor, KMC provides industry leading accuracy in a compact design.
These economical room sensors will complement KMC, as well as competing building automation systems. The KMC 6000 series sensors provide precise and stable temperatures that will ensure accurate, consistent control of your system.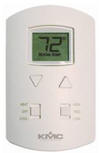 KMC Controls Develops Hospitality NetSensor®
Designed with the hospitality market in mind, KMC Controls has developed a networkable digital wall sensor. This NetSensor features an aesthetically familiar operation of temperature control while providing building owners additional energy savings.
The KMD-1162 features a large, LCD display with automatic backlighting for easy viewing and is an ideal sensor to use with a fan coil controller. This NetSensor includes intuitive-to-use setpoint buttons and two mode switches to control heating/cooling change over and fan speed. It automatically changes to setpoint mode when an up or down arrow button is selected and changes back to room temperature display after 10 seconds. It is also equipped with a PC port that provides simple connection to a service tool or PC.
For more information visit www.kmccontrols.com
---
Distech Controls Launches New LONMARK Certified ECC-VAV and EC-Smart-Sensor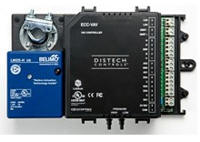 ECC-VAV
The new ECC-VAV configurable single duct VAV controller features:
Hardware of the latest technology to provide more reliability than traditional VAV/VVT controllers
Expanded I/O capability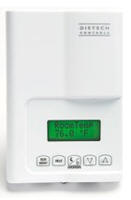 Simple and feature-rich configuration through our LNS based plug-ins or EC-Net wizards
EC-Smart-Sensor
The EC-Smart Sensor-VAV is a communicating sensor with LCD display and VAV balancing tool. It can be used as a wall mounted or hand-held portable device. Note that user profiles and privileges can be set with password protection.
Visit www.distech-controls.com for more information on both these products.
---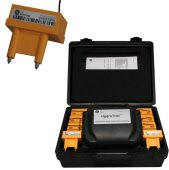 GE Sensing Protimeter HygroTrac
The Protimeter HygroTrac is a simple and cost-effective system for remote environmental monitoring in buildings. Data can be viewed live over the internet showing parameters such as moisture content relative humidity and temperature.
Set threshold alarms
Receive alarm warning via email and text message
Comprehensive site reports
Reduce costly site visits
To see the HygroTrac live in action, visit www.gehygrotrac.com. Log in with user ID "gehygrotrac" and password "guest."
---
Greystone Energy Systems Inc CDD - CO2 Detector

The CDD is now available in our compact, low profile "AE" series Executive wall mount enclosure. The CO2/RH/T transmitter incorporates three sensors in one attractive enclosure for the most efficient environmental monitoring and control systems. It uses Infrared Technology to monitor CO2 levels within a range of 0-2000 ppm, a field proven RH sensor to monitor relative humidity over 0-100% RH and a curve-matched thermistor to measure temperature over common field-selectable ranges. All three measurements are continuously available on separate outputs as linear 4-20mA signals. An optional LCD is available which rotates through all three measurements. A ModBus compatible version is also available. See http://www.greystoneenergy.com/ for more information.
---
Saelig's Ready-To-Go USB2.0-connected FPGA and PowerPC Image Processing System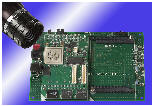 USB2.0-connected FPGA
Pittsford, NY: RTG005 is a new, self- contained ready-to-go FPGA system with CameraLink connection. This makes an ideal starter kit for developing image processing systems. RTG005 features an embedded PowerPC processor and user-programmable Xilinx XC4VFX12 FPGA to quickly enable a combination of VHDL- programmed hardware processing and C-software processing. 128MB DDR memory can be used for code storage and frame storage, while VHDL support allows access to DDR memory from the Embedded PowerPC as well as your VHDL design simultaneously.



PCS-II Fast Perceptive Color Sensor for Demanding Industrial Applications.
Pittsford, NY. PCS-II is a unique, new, very fast USB-connected Perceptive Color Sensor with a spectral sensitivity which models that of the human eye, designed for high-speed industrial control and measurement applications (data rates up to kHz range).
For more information on both these products visit http://www.saelig.com
---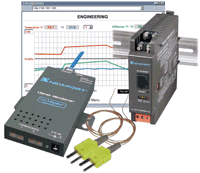 Thermocouple Virtual Chart Recorder
The NEWPORT® iTCX transmitter let's you monitor Temperature from two independent Thermocouple channels over an Ethernet network or the Internet with no special software except a Web Browser. The NEWPORT iTCX serves Active Web Pages to display real time readings, temperature charts, or log data in standard data formats for use in a spreadsheet or data acquisition program such as Excel or Visual Basic. The virtual chart viewed on the web page is a JAVA™ Applet that plots a chart over the LAN or Internet in real time. With the NEWPORT iTCX, there is no need to invest time and money learning a proprietary software program to log or chart the data. The iTCX is available in an industrial DIN rail package (iTCX-D) that is powered by 10-32 Vdc, and in a benchtop or wall mount package (iTCX-W) with an included universal (100-240 Vac) power adapter. For more information visit http://www.newportus.com/i/iTCX.htm
---
---


[Click Banner To Learn More]
[Home Page] [The Automator] [About] [Subscribe ] [Contact Us]