---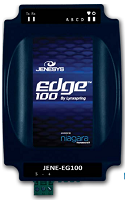 Lynxspring Announces Immediate Availability of the JENEsys® Edge™ 100 Controller
New Controller Delivers the Niagara Framework® to the Edge
JENEsys® Edge™ products are a new generation of controllers combining the Niagara Framework® with Lynxspring's Onyxx® platform. The JENEsys® Edge™ combines a controller, gateway and web server duties all into a single device—taking Niagara to the edge with real-time control. Designed to provide maximum performance at minimum cost, the JENEsys® Edge™ 100 brings edge connectivity, data access, powerful processing and control to today's small to mid-sized facilities, plant control, and machine-to-machine and IoT applications. The JENEsys® Edge™ 100 connects, integrates and correlates facility equipment, systems and IoT devices. It enables facility managers and operators to use a known UI (ProBuilder/ Workbench) to achieve operational efficiencies between multiple systems/devices supporting facility management functions, equipment control and business applications.

For more information visit www.lynxspring.com
---

Contemporary Controls - New EIA-485 Terminator Provides Fail-Safe Biasing for BACnet MS/TP and Modbus RTU Networks
The 485-TER is a standalone active terminator that is used on popular EIA-485 networks such as Modbus RTU and BACnet MS/TP providing sufficient termination and biasing for stable operation. Fail-safe bias ensures that an un-driven line assumes a defined state. When a head-end device does not have internal bias and termination two 485-TER devices should be installed - one at each end of the network. This will provide stability and error free communication. The 485-TER can be used with either 2-wire non-isolated EIA-485 networks or 3-wire isolated EIA-485 networks.
For more information visit www.ccontrols.com
---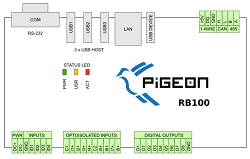 Pigeon RB100 Has Landed
Pigeon RB100 is a computer designed for use in control and automation systems. Pigeon RB100 is powered by Raspberry Pi Compute Module and Linux system.
Rich set of interfaces: 3 x USB host, Ethernet, CAN, RS -232, RS-485, 1-Wire
A lot of inputs and outputs: 8 x digital opto-isolated inputs, 4 x dry contact inputs, 8 x open drain outputs
Real Time Clock with battery backup
Meets requirements of EN 61326-1:2013 for basic and industrial electromagnetic environments
And more

For more information visit http://pigeoncomputers.com/products/pigeon-rb100/
---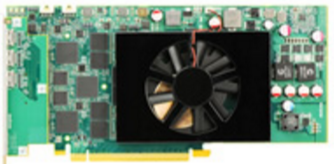 Matrox Now Shipping C900 Graphics Card, World's First Nine-Output Card

Single-Slot Card to Drive Nine Displays in a 3x3 Configuration, Creating an Ideal Digital Signage, Presentation, and Control Room Platform
The award winning Matrox C900 is a single-slot, PCI Express® x16 graphics card that drives nine displays at resolutions of up to 1920x1200 @60Hz per output. Designed to power 3x3 or 9x1 video walls, C900 delivers one ultra-large desktop across all attached displays, ideal for digital signage, presentation, and video wall applications.
For more information, visit www.matrox.com/graphics
---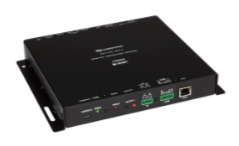 New Crestron DM-DGE-200-C Delivers Ultimate Simple Meeting Room Solution: Versatile, Compact, and Powerful

Latest addition to DigitalMedia™ product line provides feature-rich plug-in & present functionality with no control system, touch screen, or programming required

Crestron announced it is now shipping its new DigitalMedia™ DM-DGE-200-C, a powerful, compact, low-cost, and highly versatile simple meeting room solution for multiple applications. It offers auto-switching between HDMI® and 4K/60 DM® input, auto-display on/off, and H.264 decoding, IR control, and direct connectivity to Microsoft® Exchange and Crestron Fusion Cloud via the LAN port for powerful room scheduling and data collection. Of course, the DM-DGE-200-C features a built-in graphics engine to generate custom welcome screens and messaging, and to provide Crestron control graphics and web browsing for the Crestron TSD-2020 20" touch display, or for a third-party large-format touch display.

For more information visit http://www.crestron.com
---
Kepware is pleased to announce that KEPServerEX® version 5.21 is now available

The release features the new ThingWorx native client interface that extends KEPServerEX connectivity and leverages Kepware's library of 150+ communication drivers to provide real-time, bi-directional industrial controls data to the ThingWorx® IoT Platform. The release also includes 18 updates to the server and select drivers and advanced plug-ins—including updates to OpenSSL components for improved security.
For more information visit http://www.kepware.com
---
New Thomson Web Video Shows How to Synchronize Multiple WhisperTrak Actuators

Thomson Industries, Inc., a leading manufacturer of mechanical motion control solutions, has released an educational video that demonstrates how design engineers can synchronize multiple Thomson WhisperTrak actuators quickly and easily. These products are exceptionally quiet and boast a low sound level of less than 45 dBa, the same as an average library. Thomson WhisperTrak linear actuators are designed to enable machine builders with greater flexibility for a wide range of applications, including personal mobility, medical, rehabilitation, office and residential automation. The actuators include an IP67 environmental rating and are able to operate in harsh conditions where they are exposed to washdown, rain and dust without the use of an additional cover. The solution is maintenance free and has an average life of 10,000 cycles at the maximum load capacity.
For more information about Thomson's WhisperTrak linear actuators, please visit: http://www.thomsonlinear.com/website/com/eng/products/actuators/whispertrak.php
---
ChickenDoors.com - Home of the Pullet-Shut Door and...Coop Ala Feeder
This door will automatically open each morning and close each evening.- No need to rush home from a late dinner.- No need to hire a pet sitter the next time you go on a vacation.- No need to buy more chickens because you forgot to lock the coop! Whether you live in town or out in the countryside, the Pullet-Shut Automatic Chicken Door will make your life easier! In fact, it will pay for itself and keep saving you money for reasons like these. And what is peace of mind worth?
For more information visit http://www.chickendoors.com

---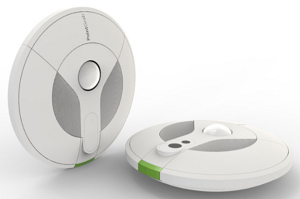 PointGrab's CogniPoint™

CogniPoint™ is a groundbreaking embedded-analytics sensing solution for building automation, extracting the most important information about how and where occupants sensors are using the building. It's comprised of highly intelligent sensors and building energy management systems, and provides embedded-analytics for tracking human activity across the entire space of the building. The CogniPoint™ sensor is a miniature network-connected sensing device, running state-of–the-art deep-learning algorithms on a low-cost embedded ARM-based processor. It is primarily designed for indoor occupant analytics and energy savings in commercial buildings, providing unprecedented precision in the detection of occupants' locations, count, and movements, as well as precise reading of ambient energy efficient lighting system and motion sensing. Due to its processing capability and architecture, CogniPoint™ can also function as a sensor hub, controlling other sensors measuring temperature, humidity and more. PointGrab's management software package aggregates the data from the individual smart lighting sensors, monitors and maintains sensor operations, and delivers the information to various building management systems including lighting, HVAC, safety, security and facility management.

For more information visit http://www.pointgrab.com/product/

---
---


[Click Banner To Learn More]
[Home Page] [The Automator] [About] [Subscribe ] [Contact Us]