The first advantage of convergence is installed cost.


Jeff Gollnick
Communications Manager
Alerton Inc.
www.alerton.com
jeff.gollnick@alerton.com

Jeff Gollnick is responsible for Technical and Marketing Communications at Alerton Inc. He began his career in the building automation industry working in applications engineering for a manufacturer of datacom equipment. He has been in the controls industry since 1994.
---
The convergence of building automation systems (BAS) and enterprise networks is a matter of economy and capability for building owners and facilities managers. Using an enterprise wide area network (WAN) to carry building automation system (BAS) data makes good business sense on many levels, protecting today's bottom line and accommodating tomorrow's growth. In the forefront of the technological revolution enabling this convergence is BACnet/IP, also known as "Annex J" BACnet.












The first advantage of convergence is installed cost. It's less expensive for the BAS to use multi-function cabling and technology already installed for other enterprise networking applications: email, sales data, collaboration tools, and others. What's more, enterprise networks are correctly seen as mission critical. As a result, these networks usually are high-performance, capable of carrying a vast amount of application data at high speed with good security and reliability.
Access and reach are two more advantages that enterprise networks offer BAS systems. By their nature, enterprise networks reach out to points throughout a company or institution where a traditional BAS, until very recently, had limited or no means to communicate. When a BAS uses an enterprise network, the BAS and its users benefit from this expanded reach. Just as Simone in Fresno can send email with a spreadsheet attached back to the corporate office in Toledo, the BAS in Fresno can automatically share energy usage reports and other operating data with the Toledo office. The corporate facilities manager now has an unprecedented ability to keep tabs on increasingly dispersed holdings in real time, a great benefit to controlling costs in an energy-sensitive economy.
The desire to expand the reach of enterprise networks even farther--and technologies like mobile wireless access and virtual private networks (VPNs)--drive many of the advancements in the IT and datacom industries. When the BAS uses the enterprise network, it also benefits from this drive for ever-expanding reach.
IP is the core of the enterprise network and the automation system
The language of enterprise networks is undoubtedly the internet protocol (IP). The routers, gateways, switches, and servers that run enterprise networks all "speak" IP. That's why the key question about a BAS for the facilities minded really is, "Does your BAS speak IP?" To fully take advantage of the enterprise network and all it offers, the key BAS components at the management and integration levels must speak IP. That's why BACnet/IP (also known as Annex J BACnet/IP) is such groundbreaking technology, and why the products that use it are at the forefront of the convergence revolution.
When one considers the implications of IP to BAS systems, what's commonly called Web access for BAS systems takes a back seat. Web access-- providing BAS data and functions over the Internet using a browser and HTTP--is useful primarily for those with a casual interest in the BAS system. Those who don't want to install and learn a BAS software package just to schedule a setpoint or view the room temperature.
Consider any data-intensive application, such as Microsoft Excel, Access, or Project. These applications have Web components, options for the accountant or manager to output data or reports in HTML, so that those who don't need to run the programs can view mission-critical information. But to think of the accountant or manager doing all Excel and Project work through a Web browser is almost absurd-the applications simply deliver a lot more power and functionality than a Web page can.
The Web is an output option for these critical applications, and the enterprise IP network facilitates workgroups and collaboration for those running the applications. BASs are no different. A Web page can provide a window into select site data and remote functions, but serious engineering and programming tasks remain on the desktop, with workgroup and file server collaboration over the enterprise network using IP.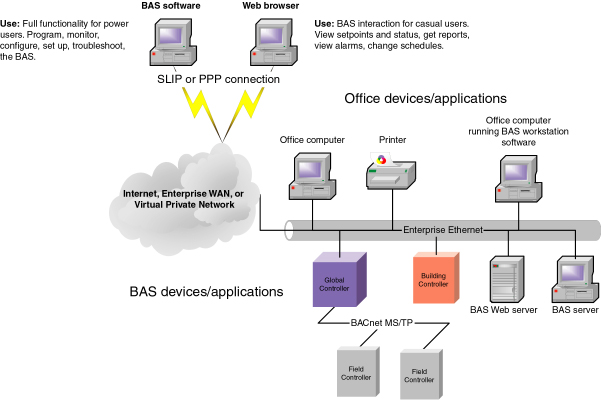 Figure 1 IP enables access to computers and devices running BAS application software throughout the enterprise.
Understanding IP and the evolution of BACnet/IP
IP is a lot like the U.S. Post Office's addressing scheme. Just as every parcel is addressed with the same elements-name, house number, apartment number, street, city, state, ZIP code-IP prescribes similar rules for data. It calls for applications to form their data into commonly constructed data packets, or datagrams, for transmission throughout the world on IP networks. IP gateways recognize these data packets and can send them on to their destination as required. If the packet is addressed or packaged wrong, the IP router doesn't pass it on.
When BASs first starting using enterprise networks several years ago as BAS products began to support Ethernet connections, the systems ran into a limitation. Unless the BAS had its own routers, gateways, or modems, the data couldn't travel the enterprise network. Although the systems comprising the BAS may have been speaking "open" protocols to one another, enterprise network devices couldn't recognize and pass them along because they weren't speaking IP.

Figure 2 Before BACnet/IP, the enterprise network's IP Gateways couldn't pass BACnet messages.
BACnet's first solution to this problem was called Annex H.3. It prescribed a method for what is commonly known as "IP tunneling", which takes a message in one protocol and packages it within an IP message. BAS data could now travel the enterprise network like any other application. But there is a hitch with this approach. Each sub-network on the system would require a translator of sorts, called a BACnet/IP packet assembler/disassembler (B/IP PAD). Without a B/IP PAD on the subnet, messages the IP router passes are unintelligible to BACnet BAS devices and vice versa. To ensure universal connectivity throughout a WAN, the system would need a B/IP PAD on every subnet. A laptop running BAS software, temporarily connected to the enterprise network, would be useless without a B/IP PAD on its side of the connection.
BACnet recognized this limitation and came up with a better answer: Annex J BACnet/IP. Instead of using B/IP PADs to translate BACnet messages, BACnet/IP prescribes methods for BACnet messages to be transmitted across IP networks in native IP format. The key to widespread connectivity is the BACnet Broadcast Management Device (BBMD). With a BBMD on a sub-network, connection over IP to that sub-network is enabled from anywhere in the enterprise.
Using BACnet/IP, a device like the facilities manager's laptop can now connect anywhere in the enterprise and get BAS data from throughout the enterprise. This has introduced an unprecedented level of flexibility and power for BAS architectures on enterprise networks.
Figure 3 BACnet/IP packets pass freely throughout the enterprise network.
Workstations like the laptop shown don't need any other devices to connect. BACnet/IP speaks to the three issues that directly affect a building owner or facility manager's bottom line: cost efficiency, interoperability and scalability. By leveraging existing or planned enterprise networks, BACnet/IP maximizes the investment made in a BAS, essentially future-proofing access issues in the process. As the enterprise grows, the enterprise network grows, and the BAS enjoys a pre-existing pipeline for data.
---


[Click Banner To Learn More]
[Home Page] [The Automator] [About] [Subscribe ] [Contact Us]