---

Cost reductions are being realized by pre-packaged application specific controls and integrated systems.

Mike O'Donnell
Senior Product Manager, Marketing
Viconics
Many companies have introduced application specific - configurable controllers over the past few years in an attempt to further simplify the automation of basic temperature control applications. Good examples of these basic temperature control applications are fan-coil units for hotel and school applications, unit ventilators, BB reheat zones, heat-pumps, roof top units, in addition to other terminal heating and cooling equipment.












There is a reason for the proliferation of these types of controllers.
Inherently, these applications are plentiful when assembling small, medium or large projects. Today's zoning techniques used to accommodate different tenants or space needs, strains investment capital to the brink of cost payback justification once the cost automation is considered. The proliferation of these types of devices has had an inherent impact on the amount of buildings able to realize the advantages of centralized automation.
Inevitably, there had to be a way to reduce automation costs while still providing the type of feedback from the terminal equipment required to run the central plant equipment: In the application-specific configurable controller!
These canned-controllers are filling a long time product gap between fully programmable DDC controllers and the defacto programmable thermostat from both a cost and functionality standpoint. We must consider that many of these installations would not have occurred without the capital cost reductions associated with the offering of these less costly devices.
The application specific controller has a lot to offer its customer base over the fully programmable controller. In terms of up front costs, pre-canned sequences mean little configuration with no programming and reduced commissioning time all while offering similar trending, occupancy and user comfort functions associated with centralized systems. For the building owner, the bulk of the savings are calculated through the initial capital investment reduction in addition to the reduced maintenance costs and not to mention the energy paybacks the owner will enjoy for years to come.
To date these canned-controllers have followed the traditional split control method of installation. The controller has been located within or in close proximity to the equipment with a temperature/humidity sensor located within the space to be controlled. New devices are being introduced which combine these into one compact wall device. With the introduction of these combined devices, costs are further reduced. Installed costs drop proportionally to the amount of devices that are installed and commissioned, ditto for maintenance but even more so by having all control elements located in the same place in one neat and tidy wall enclosure.
So how far can these canned-controllers take us in terms of application complexity?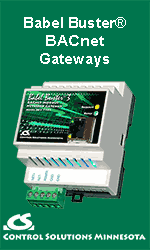 Many of these new combined wall mounted controllers (communicating thermostats) are packed with features to accommodate complex occupancy strategies, while surprisingly easy to use. In the past, these occupancy sequences could only be realized with the addition of many other peripheral controls equipment in addition to the split controller. Complex sequences had to be written to accommodate all of the possible scenarios, and with this came the inevitable nightmare of commissioning all of these separate devices.
So what networks support these controllers?
To date many of the application specific controllers have been developed to communicate on Echelon LonTalk networks. This has become a reality primarily due to the way in which the devices have been integrated and the maturity of the tools inherently required to integrate different vendor's devices on the same wire. This has also been in part to the lack of development work and pressure on the manufacturers using the BACnet protocol as their mainstay to develop integration tools for third party devices. This is rapidly changing mainly due to the introduction of multi-protocol building systems. This new breed of systems supports Echelon, BACnet in addition to other Open standard protocols all within the same building manager. With this comes simple to use integration tools that facilitate and promote the features of "best of breed" controllers. The introduction of these new building controllers has also forced change with the way in which third party devices integrate on mature open system networks. Software tools are being integrated into today's building systems to make these new devices easy to use. The software however, is not the only thing that has required improvement. These devices needed to package technology, which would also facilitate their integration regardless of the system limitations. Things like self-diagnostic network LED's, auto-baud detection and configuration, and a local configuration utility have found their way into these new combined wall devices.
The new reality of today's building systems is that one building system may support many vendors building automation hardware. Terminal equipment with less complex sequences is being addressed with more competitively priced pre-programmed hardware rather than expensive fully programmable controllers. We are able to fully realize the benefits of open systems, and select controllers based upon value rather than catalog. Finally, cost reductions are being realized by pre-packaged application specific controls and integrated systems offering property management and building owners application specific savings.
---


[Click Banner To Learn More]
[Home Page] [The Automator] [About] [Subscribe ] [Contact Us]