---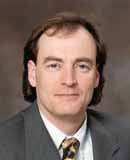 EMAIL INTERVIEW - John Petze & Ken Sinclair
John Petze, President & CEO, Tridium, Inc.
Mr. Petze has over 20 years of experience in the facilities automation industry, having served in a variety of senior technical and management positions with manufacturers of automation hardware and software. He is a cum laude graduate of Worcester Polytechnic Institute in Worcester, Mass., an associate member of ASHRAE, a member of the Association of Energy Engineers and a Certified Energy Manager. He is a frequent speaker at industry trade events and has authored numerous technical papers and articles for industry publications.
---

Niagara@BuilConn
A session that will help systems integrators, consulting engineers and facility owners and managers understand Niagara.












Sinclair: I understand that Tridium is working with BuilConn to create a day-long track devoted to Niagara. Can you tell us about the event?
Petze: Sure Ken, I would be glad to. As part of the effort to continue BuilConn's reputation as the premier event devoted to integration and convergence of building systems, BuilConn is adding a new component to its program – day long sessions devoted to key technologies that are impacting the market. Niagara is one of those technologies. Niagara@BuilConn will provide attendees with a thorough understanding of Niagara Framework technology, the range of Powered by Niagara products and applications available in the market, the impact of the Niagara Community, and a glimpse at the future.
Sinclair: Who is the Niagara@BuilConn session designed for?
Petze: Our goal is to provide a session that will help systems integrators, consulting engineers and facility owners and managers understand Niagara and how it can help address their specific needs related to facilities management and integration of diverse intelligent systems and devices. We have designed a program that is relevant for all of those audiences and focuses on telling the Niagara story through real world examples.
Sinclair: Can you give us any details on the major topics of the Niagara@BuilConn session?
Petze: The opening session will bring everyone up to speed on the Niagara Framework – what it is, how it relates to BACnet™, Lon™, oBIX, and other industry standards, the openness and extensibility of the Niagara platform and an overview of how Niagara is used in a wide range of facility-related applications.

The second part of the session will explore the growth and impact of the Niagara Community. The fact that owners can take advantage of Niagara-based products from a wide variety of established suppliers is a key part of the value of the platform.

Another section will be devoted to the use of Niagara as a platform for delivery of Enterprise Energy Management and Real Time Demand Response. With the changes in the energy market I think it is essential that facility owners learn what can be accomplished in the area of energy management. With the ability to integrate diverse building equipment systems and connect to enterprise applications, Niagara has enabled facility owners to implement highly successful energy management and real-time demand-response solutions. This session will demonstrate the enterprise energy analysis tools available with Niagara and showcase real world case studies.

The final section will focus on the ways in which equipment manufacturers are adopting Niagara to bring Internet-enabled products to market. Today's equipment suppliers face new challenges:

The need to provide Internet-enabled systems;

The need to integrate with other machines and systems via standard and legacy protocols;

The need to improve service while at the same time reducing support costs;

The desire to expand their product business with services that generate new revenue while enhancing the customer experience.

The Niagara Appliance program provides a complete "device-to-enterprise" solution for equipment suppliers and the session will present detailed real world examples for the attendees.
Sinclair: Any closing thoughts you would like to share?
Petze: The Niagara Framework has emerged as the leading solution for creating applications that connect smart devices to each other and to the enterprise. Today, Niagara is utilized by a wide range of OEM suppliers, Systems Integrators, Distributors and Value Added Resellers. The Niagara@BuilConn session will help people new to Niagara understand the value and role of the platform and offer new insight and information to even the most experienced Niagara users.
Sinclair: I hear rumors of a follow up appearance of the Interoperable Blues Band at BuilConn 2005. Can you comment?
Petze: Yes Ken, it is true. The folks at BuilConn are a brave crew and have asked us to "plug in" and "play" again this year.
Interested in learning more about this track at BuilConn? Click here.
---


[Click Banner To Learn More]
[Home Page] [The Automator] [About] [Subscribe ] [Contact Us]