---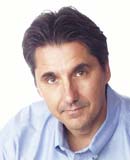 EMAIL INTERVIEW Jim Young & Ken Sinclair
Jim Young, Founder & Producer, Realcomm
With over 12 years experience in Real Estate and technology, Jim Young is one of the leaders in the field and brings a unique perspective to the topic. It is his goal to help transform Commercial Real Estate from a paper-based, analog industry to a "Digital" model of the 21st century.
Mr. Young is one of the Founding Partners and Co-Producer of Realcomm, the world's largest and most recognized conference on technology for the Commercial Real Estate industry. As President of The Jamesan Group/ REApplications, Mr. Young is involved in some of the largest and most successful automation projects in the industry. The goal of this organization is very simple: to create integrated information systems for the industry, which will result in more accurate, timely, and efficient operations.
Jim has spoken to over 100,000 people worldwide on the topic of technology and Commercial Real Estate, and he is the author of more than 100 articles on the topic. He is currently the technology columnist for CCIM and NACORE as well as a frequent writer for the SIOR Professional Report.
---
The technology community needs to spend the first hour of every new relationship listening to what the client does and what are their business drivers, their problems that maybe technology can solve.












Sinclair: When you say "Owners@BuilConn", what do you mean?
Young: Well, when you talk about Building Automation, that could mean a lot of different things to a lot of different people. Engineers, consultants, tech companies and owners all have quite a different perspective of the topic. In this case, all the discussions that will be going on in this track will be from the owner/operators point of view
Sinclair: What types of different owners are there?
Young: That is a very insightful question. Many people lump owners into one big container and that is a major mistake. There are private owners, public owners, mostly who own real estate as a business, for a profit. Then there is a large group of owners who only own the real estate because they need space to operate their businesses, i.e., Hospitals, Corporations, Schools, Governments, Universities and other such entities.
Sinclair: What types of owners will you be talking about in your track?
Young: There are many different type of owners that will be represented; private owners large and small, local developers to large institutions. Then you have corporations who own facilities as a function of operating their company, the government, which is the largest owner of facilities and then you have a host of specialties such as hospitals, schools, universities and others.
Sinclair: Why is it so important to draw the distinction?
Young: There are a number of reasons but the most obvious is motivation. Some owners only hold a property for a short period of time. Therefore, the concept of a complex building automation strategy for an asset which is only going to be held for a few years does not make much sense, at least to this owner. This is not the case for corporations of institutions that plan on holding the asset for a much longer period of time. This is yet more of a distinction when you talk of government buildings, universities and other such specialty products because they could plan on holding the property for 50 years or more. You see, it is important to know what type of owner you are dealing with and what is there motivation?
Sinclair: When you speak of motivation, what do you mean?
Young: Well, if an owner plans on "flipping" a property in three years, his motivation is to spend as little money on infrastructure as possible. A building automation strategy that has a 10-15 year payback simply does not work in his/her strategy. On the other hand, if you have an owner who has a large portfolio and plans on holding it for a greater period of time, an automation strategy that involves utility management (cost reduction) should definitely get their attention.
Sinclair: Who makes type of solutions decisions in the Owner/Operator world?
Young: That is the million dollar question. I have seen in so many instances, vendors talking to the wrong person inside the organization. Were the director of security used to make the decision, the CIO, COO and even the CEO can be involved since the solutions are broader and more strategic. We will cover a lot of this at the track.
Sinclair: What is the biggest problem you in building automation community talking to owners?
Young: That answer is quite simple; one is talking technology and the other business. The two different groups are definitely talking 2 different languages. While I, like many others get excited about the technology, technology for technology sake is really a waste of time. The technology solution has to be grounded in business. The technology community needs to spend the first hour of every new relationship listening to what the client does and what are their business drivers, their problems that maybe technology can solve.
Sinclair: What will people learn at your track?
Young: First, to review their sales pitch, are they talking technology or business? Second, they need to see who is doing the selling, if that person only has engineering skills that could be a problem and third education. We need to keep educating each community, the owners on the benefits and the technology community on how to relate their solutions to business problems. We'll cover these and more at the track.
Sinclair: What would you say to BuilConn attendees about the Owners@BuilConn track?
Young: Well, I guess I am prejudiced but I really don't think there is a more important track. If you don't truly understand the needs, problems and issues of your clients, the technology really does not matter. You could have the best solutions and you don't know your client's business there is really big disconnect. We are going to continue to help bridge the gap between the Owners/Operators and the technology community.
Interested in learning more about this track at BuilConn? Click here.
---


[Click Banner To Learn More]
[Home Page] [The Automator] [About] [Subscribe ] [Contact Us]