EMAIL INTERVIEW - Brad Holland & Ken Sinclair
Brad Holland is PureChoice's director of Texas operations and has been with the company since 1998. He has been intimately involved in the development of The Nose® and the PureTrac™ Air Monitoring System. Prior to joining PureChoice, he was executive vice president of ERAMCO Corporation, an international manufacturer of air filtration equipment. Holland has 15 years of experience in mechanical/electrical engineering design and is the holder of several U.S and international patents in that field. He is a graduate of Texas Tech University and lives in Rowlett, Texas. E-mail link: sales@purechoice.com
A New Approach to IAQ Monitoring
---
Sinclair: Tell us about your new approach to IAQ monitoring.
Holland: PureChoice focuses on technology to continuously monitor and control air quality in office buildings, schools, hospitals and other buildings where there is a high concentration of people. Our efforts have led to the development of The Nose®, a state-of-the-art, highly efficient, LonWorks® compatible indoor air quality monitor. The Nose monitors temperature, humidity, carbon dioxide, carbon monoxide, and organic odors and gases (TVOCs).










Sinclair: You described The Nose as an IAQ monitor. What differentiates it from other IAQ sensors?
Holland: One constituent cannot define indoor air quality. The PureChoice approach is to continually and simultaneously monitor those constituents that are the greatest contributors to the synergism that is air quality. The Nose is the first environmental air monitoring system of its kind to provide real-time, continuous monitoring of the indoor environment affordably.
Sinclair: How large is your sensor monitoring package and how complicated it is to install?
Holland: The Nose is about the size of a conventional thermostat and no more complicated to install. Wiring to The Nose is simple. The installer simply connects two twisted pairs cable for power and LON communications to a wall-mounted sub-base and snaps The Nose into place.
Sinclair: Where is your sensor monitoring package being used today?
Holland: The PureChoice Nose is effectively being used in the hospitality industry such as casinos and restaurants. It is being used in hospitals, industrial plants and schools. Keep in mind that the most important function of any building is to provide a comfortable and safe environment for its occupants. As humans, we spend most of our time indoors. According to the World Health Organization, as much as 30 percent of all commercial buildings have significant IAQ problems, so The Nose can find its home anywhere there is a potential for indoor air quality issue.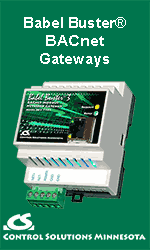 Sinclair: Can you give us a specific example?
Holland: Schools buildings are an area that we are especially involved with. There are approximately 120,000 school campuses in the United States alone, and each day approximately one in five Americans spends time in an educational facility. The health and comfort of both student and faculty dramatically affect the level of learning and productivity. Elementary school age children are especially susceptible to indoor pollutants. Poor indoor air in schools can have severe consequences resulting in sickness and absenteeism. Increasingly, school buildings are being closed due to potentially dangerous indoor air quality problems that often require the occupants to move from the facilities. In many cases, the financial impact of poor air quality far outweighs repair costs. By continually monitoring and subsequently controlling systems that affect air quality, school facility managers can be proactive. They can now be alerted to potentially problems, saving time and money that can be better used for education.
Sinclair: What do you see on the horizon in IAQ monitoring?
Holland: In the not-too-distant future, we believe continuous monitoring of indoor environments will be mandatory. With technologies for monitoring and validating the effectiveness of regulations and standards, along with development of more universally accepted standards, legislators in various states are once again introducing IAQ legislation.
---


[Click Banner To Learn More]
[Home Page] [The Automator] [About] [Subscribe ] [Contact Us]