| | |
| --- | --- |
| | |
| Review of AHR Expo 2002 - Atlantic City | Ken Sinclair. |
---
Here is a quick review of what we saw and sensed in the industry at the AHR Expo in Atlantic City.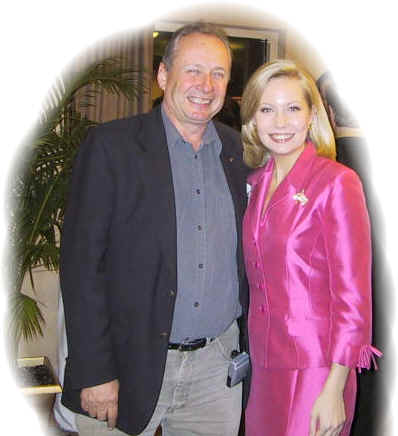 Whenever I talk to my friends in the industry and ask "How can I make AutomatedBuildings.com better?" the quip is "more pictures of pretty girls". So for those guys here it is, a picture of crusty the consultant turned editor with Katie Harmon, Miss America 2002.
Katie was Miss Oregon and was willing to pose with me at the Media Reception for the show. Jane took the picture so I am not in trouble ...yet.
Our AHR Expo Free Educational Sessions on Automation went well with attendance of over 500. It was interesting that in reviewing the information from the room card readers, our audience is changing from people in the industry to users of our industry; owners, consultants, energy performance contractors etc. This is of special interest to me because when we started AutomatedBuildings.com this was the audience we targeted. The site however took on a life of its own becoming a Business to Business site "B2B" where the industry could interact and find automation partners to provide complete packages.
I am pleased to have the input of the users of our building automation industry and encourage their participation in our online resource. It appears that the industry's work in developing this Automated Building resource is gaining acceptance in the larger HVAC industry and we are being seen as a valuable resource.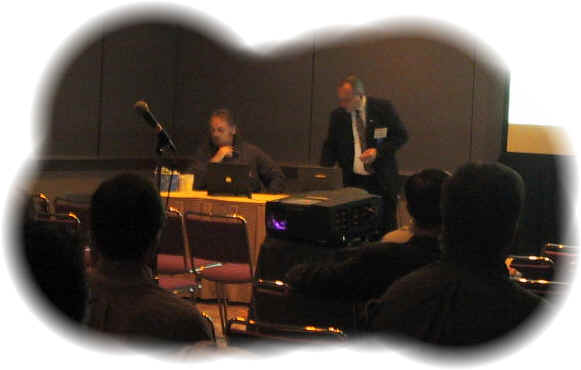 My speaking partner David J. Branson, PE Senior Vice President, Compliance Services Group, Inc provided insight into the wonderful world of wireless, as well as after each session fielding many questions about real web interfaces.
The evolution of the Web Services Information Model was a very hot topic. Following discussions with industry players we were convinced to create a special section on this web site to help guide the education plus the rapid evolution of this exciting Next Level industry tool. Watch for and be sure to interact with this new section "Web Services Information Model" WSIM to be released as part of our February issue.
BACnet interoperability demo was not done this year which is a tribute to the success of all the foregoing years' demos. The industry now understands that BACnet works and needs only to get on with the business of implementation.
BACnet Manufacture Association BMA reported that the BACnet Testing Lab BTL now has 8 companies who have submitted applications for about 25 products.
A lot of excitement in the LonMark® Interoperability Association camp with over 335 products certified and 25 to 30 in the process of certification.
These two protocols dominated the show and it is obvious that they are both protocols that the industry can build on.
Our Preview of AHR Expo 2002 New Products was followed up with excellent displays by our advertisers and others in the industry.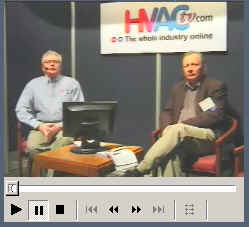 HVACtv was again recording interviews from the Exhibition floor. If you have not yet experienced this exciting new media take a look at what they are doing. If you click on the interview picture or here you will be able to see an example of my interview with HVACtv.
From their web site
HVAC-tv can put you directly in touch with your customers through private training seminars on HVACTV.com. With a complete video soundstage, editing facilities and our custom technology infrastructure, we can deliver your message to clients or employees interactively. HVAC-tv provides full production services to take your message online to our already established base of over 30,000 HVAC professionals, worldwide.


HVACTV's Live ASHRAE/AHR Expo Coverage

The 2002 Live coverage from ASHRAE is history and we've all just about recovered. The emphasis on energy saving and security that permeated this year's show was timely and well received by a larger than expected crowd.
I am very excited about the application of web casting as a completely new medium to help with the mammoth task of keeping our industry current. The combination of the web cast information, coupled with "a power point presentation", which would be shown in the box below the web cast, and the interactive chat mode has tremendous capabilities.
Imagine a library of industry experts dealing on any issue in an easily accessible format. Let's as an industry evaluate this exciting medium for use as an integral part of our own web sites.
---

[Click Banner To Learn More]
[Home Page] [The Automator] [About] [Subscribe ] [Contact Us]