| | |
| --- | --- |
| | |
| IRFID™ (Infra-Red (IR) and Radio-Frequency (RF) Identification) | Ken Sinclair |
---
These two technologies Infra-Red (IR) and Radio-Frequency (RF) are having a significant effect on the global Intelligent Building industry. Take a look at what an industry leader like Elpas is doing. Articles on our site have provided some insight but a review of their web site will greatly increase your understanding of present applications and open your mind to future applications.
We have published two articles in the last two years on using this technology.
What Should You Be Looking for When Choosing a Local Positioning System
AutomatedBuildings com Article Patient Locating System
An article posted on the Elpas web site provides yet another dimension to this exciting technology.










"Integrating LPS with Digital CCTV"
"......the industry was lacking an entire dimension, the intelligence to CONSTANTLY identify WHOM the camera is currently recording.
Although smart cards integration provided partial answers to the above in certain access points, video, which is a continuous media, required a corresponding continuous identification system to extract maximum benefits. It is only with the introduction of the Local Positioning Systems (LPS) technology that the CCTV industry was provided with the required intelligence to constantly track and identify objects in real time."
A preview from Elpas web site http://www.elpas.com/technology/
EIRIS™, ELPAS Infra-Red Identification and Search Systems, is a market technology leading solution. EIRIS™ provides cost-effective wireless facility systems for the comfort, life safety, security, energy efficiency and operation of corporate and healthcare environments. EIRIS™ solutions are based on the patented IRFID™ (Infra-Red (IR) and Radio-Frequency (RF) Identification) technology.
EIRIS™ systems adapt to company and individual needs by making use of IRFID™ transmitted identification and location data. Personnel, visitors, patients and facility assets are assigned individual badges or tags that transmit coded signals. These signals are received and processed through ceiling mounted networked Readers (RDRs), located throughout the premises, and then sent over the network to the EIRIS™ Server.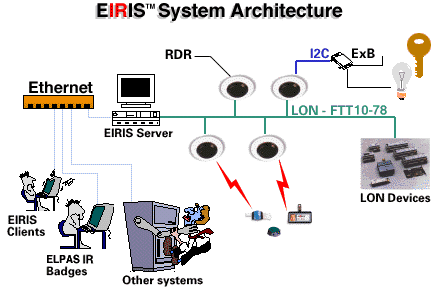 EIRIS™ Technology Features:
| | | |
| --- | --- | --- |
| | | EIRIS™ core IR technology is non-directional, diffused, can read two way signals from 75 feet (without requiring line of sight), at a high speed (up to 100MBps). |
| | | All EIRIS™ solutions are low cost, safe and environmentally friendly. |
| | | The system network is unlimited in length using a six wire twisted pair cable to connect the RDRs in a multi-drop configuration. |
| | | EIRIS™ open system architecture adapts to client needs as a standalone application or as an integrated office system |
| | | EIRIS™ users enjoy minimum installation time due to the Echelon-based free topology and RDR network and the EIRIS™ automatic setup software. |
| | | EIRIS™ comes equipped with powerful client / server management software |
EIRIS™ Client Server
EIRIS™ client server's powerful logic determines the badges' location and status. This information can be viewed in real time in a database format or a map view through networked PC stations. The server enables simultaneous use of networked information to one or more PC stations. EIRIS™ location dependent modules generated from such information include; asset management, energy efficiency and access control.
System Integration:
EIRIS™ systems can either operate as a standalone unit or can be integrated with facility systems. Interoperable building management is achieved through the Echelon LonWorks Network Interface which receives and processes all the network messages and splits them into different "consumers". Standard integration programming tools are used to develop location dependent functions from asset tracking to automatic re-routing of incoming calls.
System Software:
EIRIS™ software has been developed for the novice user. Data is collected from the RDRs with the aid of the Echelon LonTalk™ protocol and transmitted through the network to the EIRIS™ Server. Here information is processed and displayed in two different ways:
Map View: A floor plan with graphic icons representing different groups of people, assets and RDRs.

Detailed View: A database of information displaying who and what is where and when, in real time.
---


[Click Banner To Learn More]
[Home Page] [The Automator] [About] [Subscribe ] [Contact Us]