---
EMAIL INTERVIEW - Dave Dougan & Ken Sinclair
Dave Dougan, President, EBTRON, Inc., Loris, SC
---
What's new for 2006 for EBTRON?
CENSus is a patent-pending new technology that uniquely uses the thermal signature of people to count and track human entrants and exits from a space.











Sinclair: What's new for 2006 for EBTRON?
Dougan: Our latest development being introduced at the ARI/ASHRAE Expo in Chicago is our model SCN202-T. It is intended to be the first in a limited range of controller products that are designed specifically to maximize the benefits from our airflow and temperature measurement technology. Targeted for a select niche market, including high performance commercial and institutional buildings, the first model is a BACnet® VAV Terminal Controller. It will be extremely easy to install, requiring no additional software for set up or operation.
Sinclair: Very interesting. What else can you tell us about it?
Dougan: The EBTRON model SCN202-T was specifically designed to integrate the superior performance of EBTRON airflow sensors and EBTRON's new zone occupancy meter – CENSus. It also includes almost every feature that most advanced-design single-duct VAV controllers possess. Combining the processing power of both measurement and control functions makes the use of EBTRON Thermal Dispersion sensors at the zone supply level extremely cost effective.

The leap in technology it represents, drastically enhances the performance potential of VAV air distribution designs and redeems the early promises of VAV design performance. Overcoming weaknesses in the prior implementations of VAV with the latest in technology, for the first time users can control zone supply at flow rates that were previously unthinkable. That alone opens the way to much lower energy consumption rates, lower noise levels, more precise thermal control, more efficient equipment selections with lower first-costs, more precise pressure control, and higher reliability with lower maintenance costs.
Sinclair: Please explain "Census" to our readers. Is this some type of CO2 sensor?
Dougan: No, Ken. CENSus is a patent-pending new technology that uniquely uses the thermal signature of people to count and track human entrants and exits from a space. Direct counting is infinitely superior to estimates and the likelihood of over and under ventilation with most traditional "demand control ventilation" strategies. First and foremost, the accuracy and turndown of the thermal dispersion airflow sensor probe. In addition the SCN202-T controller can provide economical and real-time zone population counts, making dynamic reset of OA intake set points practical and reliable for appropriate space configurations of ANY type of occupancy, for unquestionable compliance to the requirements of ASHRAE 62.1, and any rate-based ventilation code that allows ventilation reset for changes in occupancy. For limited-access zones, the accuracy of counts can easily exceed the best that CO2 concentration-balance can provide, without the inherent energy and pressure control risks, without the lag time energy penalties and the ceaseless intake rate guessing.
Sinclair: DDC terminal controllers have been around for many years, what makes this one different?
Dougan: The SCN202-T includes and is designed exclusively as a BACnet® MS/TP "Master Node." This is significant in comparison to other "BACnet-compatible" devices because this extra capability allows the device to be self-configured within the network, making installation effortless. The BACnet protocol is native to the controller, similar to the RS-485 "GTN" model transmitters available with our airflow and pressure sensors.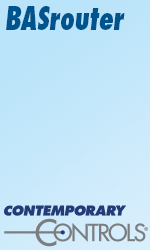 Sinclair: Did you need to develop a special sensor probe for use in smaller ducts?
Dougan: We have been providing our standard product probes as small as 8" for years, but to be the most efficient in these ducts, we needed to rethink the physical configuration of the probe. EBTRON's new multi-sensor mini-probe has been reduced in diameter by about 30% and should never require periodic maintenance or recalibration beyond initial set up. It is light-years ahead of velocity pressure sensors in accuracy, precision, sensitivity and reliability. Operating at lower flow rates provide potentially huge energy savings and avoids most noise problems.
Sinclair: What are some of the non-traditional features that the new controller offers?
Dougan: First, the SCN202-T allows the field installation and use of ANY modulating electronic damper actuator. This reduces the first cost to the contractor, allows the owner to standardize actuators with those on existing buildings and most of all avoids excessive replacement costs due to premature failures of controller-integrated actuators.

The other major features include:

A fast16-bit microprocessor

Network communications are electrically isolated from inputs and outputs

An external temperature set point input

Two thermistor temperature inputs.

Four analog inputs (field-selectable, as 0-10VDC or 4-20mA)

Two analog outputs (also field-selectable, either 0-10VDC or 4-20mA)

Five Triac outputs, and

An On/Off switch with power fused for over-voltage protected

Some of these are not earth shattering, but have been eliminated by cost-driven decision-making and making headaches for field installer.

---


[Click Banner To Learn More]

[Home Page] [The Automator] [About] [Subscribe ] [Contact Us]