Real-time data viewing is from any Internet connection, anywhere in the world.

Joseph Wolf
Director of Technology,
PureChoice
---
In monitoring indoor air quality, the age of instant gratification - better, quicker and faster -- is here. Minnesota-based PureChoice has developed a patented technology to respond to market demand, providing a proactive approach to a discipline that's been reactive in the past.










The PureTrac™ Air Monitoring System provides customers continuous, real-time monitoring, with automatic diagnostics. The system reports the five key indoor air quality (IAQ) parameters -- temperature, relative humidity, carbon dioxide, carbon monoxide, and odors and gases (VOCs). The five sensors have been combined into a single-printed circuit board mounted in a thermoplastic housing and called The Nose® Monitor. The Nose was designed for automated testing and manufactured to deliver maximum customer value.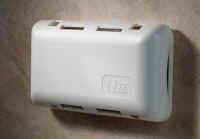 PureTrac Version 3.0 was developed over a three-year period and introduced in the market in fall of 2001. At PureChoice, important consideration was given to sensing and recording IAQ information but also making it available to customers remotely, with an additional requirement that the system be simple and easy for customers to use. This required simultaneous development and integration with a proprietary, remote data-collection system and a unique customer database with simple means of accessing and interpreting data. PureTrac uses the Internet as the data collection medium and customer data access channel. PureChoice's approach to environmental data reporting is patented and a key element of intellectual property.
The Nose's temperature and humidity sensors are contained in their own sub-chamber to isolate thermal interference that could be caused by the remainder of the circuitry. Patented software and hardware maintains precise temperature control of the carbon monoxide and VOC sensors to ensure minimal sensor drift. Microprocessors control the operation of all sensors, including thermal regulation, initial setup and calibration, conversion to engineering units, digital messaging and data transfer. All calibration and trimming are handled by digital communication with remote workstations, so the calibration environment is not disturbed. In addition, all other circuitry, microprocessor, memory and power conversion circuits were assembled on this same board.
PureChoice selected the highest quality sensors available, with respect to the target price of the PureTrac system. Sensors have been manufactured in America, Great Britain and Finland, resulting in very demanding circuit design, since each sensor imposes different power, signal and communication protocol requirements.
Noses use LonTalk® protocol for all communication and data transmission, and the Neuron® microprocessor developed by Echelon® Corporation. This allows Noses to be directly interfaced with any Lonworks® network in a customers facility, including any building control system using the LonTalk protocol. Each Nose has a unique identity and position within the data collecting system, allowing multiple Noses to be connected on a single communication line, in any topology.
IAQ information is communicated as a standard network variable type (SNVT) and updated every few seconds, depending on the particular IAQ parameter. Information is retrieved from a customer site through a communications device connected via a persistent Internet connection, identified with a dedicated IP address and then transferred into a secure database at PureChoice's facility. Redundant data collection, storage, customer access systems and websites ensure data integrity and continuity.
Customers can access data from their facility through PureChoice's website and can view average data for all five parameters for Nose monitors in their facility. Averages are updated every five minutes and displayed in charts and tables. Instantaneous readings can be viewed in real time through a graphical interface that is updated automatically as new readings are received.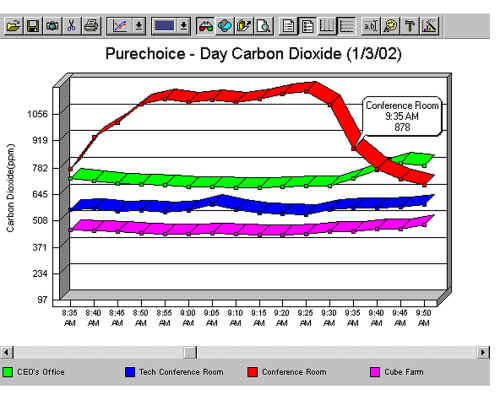 Real-time data collection allows instantaneous comparisons to alert limits. If IAQ readings exceed predetermined specifications, customers are notified that alert conditions have occurred, via e-mail or pager, along with the applicable IAQ reading, time and location. Alerts can be sent for high and low temperature, high and low humidity, and high CO, CO2 and odors and gases. Up to 13 months of continuous data is available online. Historical readings (more than 13 months old) are archived and available to customers as a hard copy or online. Communications and data transfers with customers are encrypted to ensure privacy and data integrity.
PureTrac was designed for simple installation. Two twisted pair cable (four conductor), unshielded, is all that's required for installation. A central hub provides the power supply and simple cable management and wire connection. Each Nose is designed to cover approximately 1,500 square feet of building space and can be placed up to 1,000 feet away from the central hub. Power requirements are standard 115 VAC, approximately 2 to 3 amperes, depending on the number of Noses in the customer's system.
Temperature measurement is made with a high-precision, "1-wire" digital thermometer. The sensor measures temperatures with a ±1.0º C basic accuracy over the range of - 10º C to +85º C. PureChoice individually calibrates each Nose monitor prior to shipment to the customer's facility. The temperature sensing system is trimmed using proprietary software algorithms to achieve ± 1º F over the range of 32º F to 100º F.
The humidity sensors are based on the principle of variable thin film capacitance. A thin polymer film absorbs or exudes water vapor as the relative humidity of the ambient air rises or drops. The dielectric properties, and therefore the capacitance, of the polymer film depend on the amount of water contained in it. The Nose coverts the capacitance changes to voltage and ultimately into a digital reading of percent humidity. PureChoice individually calibrates each Nose in a precision temperature and humidity controlled environmental chamber. The humidity sensing system is trimmed using proprietary software algorithms to achieve ± 5.0% RH over the range of 10-to-90 percent RH.
Carbon dioxide is measured with a microprocessor-controlled module that emits and senses non-dispersive infrared radiation to determine CO2 concentrations. A dedicated ASIC reads and processes the electrical signal produced by an optical source and a corresponding detector. Both are built into a small, gold-plated aluminum optical bench. All communication and conversion into parts per million of CO2 is controlled through digital communications.
Carbon monoxide sensing is done with a mixed-metal oxide semiconductor sensor, providing enhanced performance and stability. Unlike more common tin-oxide sensors, these advanced mixed-metal sensors do not require catalysts, do not suffer from aging and are less susceptible to interference from relative humidity. The semi-conducting oxide substrate is operated at temperatures above ambient and an imbedded platinum heater allows for temperature control. Heater balance circuits using the printed platinum pattern as both a heater and an RTD and, along with microprocessor control, precisely maintain heater temperatures to assure accurate gas concentration readings. Each individual sensor is calibrated with carbon monoxide mixed with zero air using GPT calibration techniques. Outlet gas concentrations are continuously monitored using NIST traceable carbon monoxide instrumentation.
Odors and gases sensing is done with a mixed-metal oxide semiconductor sensor similar to that used in the CO sensor. The sensors are made with ceramic fabrication process that allows the microstructure of the sensors to be precisely controlled. The sensors provide long operational life. For the PureTrac application, they are expected to last three-to-five years. Each odors and gases sensor includes a platinum heater/RTD, and the Nose controls substrate temperature using the same approach as used for the CO sensor. Each sensor is individually adjusted to the same range of response (0-100percent) using GPT calibration techniques with NIST traceable concentrations of isobutylene or toluene.
PureTrac and The Nose provide real-time monitoring and real-time control for real life problems.
---


[Click Banner To Learn More]
[Home Page] [The Automator] [About] [Subscribe ] [Contact Us]