---
Introduction
A fire is detected within a facility. The fire alarm system sounds an evacuation signal and relays critical information to a workstation at the security desk. Because the fire alarm and building automation systems are integrated, a smoke control sequence is initiated that prevents smoke from spreading throughout the facility by modulating fans and dampers. Additionally, signals sent to the lighting and access control systems assure safe egress of the building occupants. Concurrently, a guard at the security desk uses the workstation to pinpoint the fire's exact location, prints a map, and has it ready as he meets the fire department when they arrive on the scene.
An emergency situation similar to this is unpredictable. Choosing the appropriate fire protection from the right supplier is crucial to ensuring a proper response. Headquartered in Buffalo Grove, Ill., Siemens Building Technologies is a leading supplier of products, services and solutions for fire alarm and life safety protection, as well as building automation and security. Recently, Siemens implemented a project to offer their customers stronger integration between the company's building automation and fire safety systems. The challenge was to enhance the versatile APOGEEÔ Insight building automation software to allow facility operators to monitor and control their automation and life safety systems from a single workstation platform, as well as share information between those building systems. "There's an advantage to having this capability," says Tom Rule, Product Manager for Siemens. "Using an integrated system, facility managers can gain a clear picture of the status of each subsystem within the facility. This allows them to provide a greater environment of safety, and enhance the productivity of their workforce by using Insight Life Safety workstations that carry UL Listings for fire, security, and critical process management applications. In addition, we are able to retrieve diagnostic information from reports and to configure the system to automatically initiate control sequences between building systems."













Let me explain with one example. The Alarm Bar application (Figure 1) allows an operator to view the current status of their fire, security, and building automation systems. From the Alarm Bar, operators with proper permissions have the ability to acknowledge events and issue commands to the fire alarm system.
The communication technology suitable to create the required connectivity was Ethernet. Siemens supports this technology because it is a worldwide standard, noted for its ease of implementation and use. Ethernet is also more cost-effective, cheaper than any other fieldbus.
A portion of the project required UL 864 Recognition on workstation components for use in fire-protective signaling systems. All components, including workstations, monitors, and Ethernet switches used for communications between workstations, had to pass stringent hardware tests in order to acquire a UL Listing on the system to ensure reliability in a wide range of environmental conditions. UL 864 Recognition on the Ethernet switches is required to meet the NFPA 72 code requirements that any communications path used for transmitting critical life safety data be listed for fire-protective signaling use. In the fire alarm industry that communication path is known as the Signaling Line Circuit. "Only if every component from the smoke detector to the workstation used for monitoring the system, including Ethernet switches, is UL Recognized for fire-protective signaling use, can the entire system be considered UL Listed," explains Rule. "If any component on the signaling line circuit is not Recognized, then the Listing for the entire system is lost."
For isolation purposes, every networked Insight workstation that is listed for fire-protective signaling use must be connected to the Ethernet network through one of these special switches. Switches were employed because they can extend network distance beyond a single collison domain compared to repeating hubs while increasing performance. Performance is critical to ensure that emergency messages are delivered as quickly as possible.
The Story
In an ideal world, UL Listing for Ethernet equipment would be the norm rather than the exception. Few, if any vendors, wanted to provide and maintain the required Listings for this type of equipment. In order to allow Ethernet switches to be powered from the fire alarm panel, with its inherent battery backup power, Siemens sought 24 VDC industrial grade switches. Starting in trade magazines, their efforts led them to search the Internet until they located Contemporary Controls, a company based in Downers Grove, Ill. This company's switches are marketed under the CTRLinkŇ trade name, its new Industrial Ethernet product line. This new product line -from repeating hubs to switching hubs - is designed to enhance system functionality and reduce cost. It provides the customer with features that office-grade equipment lacks. Also, the development of CTRLink coincides with the industry's increasing growth rate of Ethernet products which will continue in the years to follow.
After lengthy discussion, Siemens and Contemporary Controls built a relationship and collaborated to develop a solution. Rule says it was to his company's advantage to use Contemporary Controls' services. "Contemporary Controls was willing to secure and maintain UL 864 Recognition on the Ethernet switches, they had equipment configurations to meet our needs and they were able to provide local technical support."
By necessity, the companies worked closely together to define system requirements during the product development cycle. This included the port count and mix of fiber and copper cabling supported. Also, all UL 864 requirements would have to be met on the eight-port copper Ethernet switch and the six-port copper/fiber optic unit. Levels for high-voltage testing are as follows: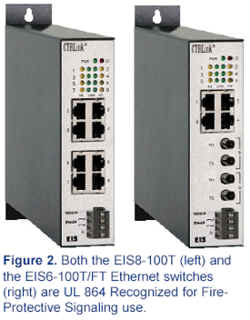 6000 V supply line transients

2400 V signal circuit transients

5000 V input voltage surge

115% rated voltage overload
Both switches met these test levels and would be able to withstand any occurrences on the power or signal lines and continue to function. The units had to survive specific temperature and humidity conditions: 50°C and 95° humidity for 24 hours. More important, they had to operate on a backup power source of 24 VDC supplied by the fire alarm panel.
The design must remain constant. Any hardware change that is made requires a system retest. Rule says in order to ensure quality and consistency to their customers, Siemens would rely on Contemporary Controls to offer that same level of consistency.
The high performance of the switches had to meet the key criteria for Insight. The criteria is dependability, greater flexibility and ease of operation.
The EIS8-100T provides eight 10/100 Mbps copper ports utilizing RJ-45 connectors. The EIS6-100T/FT is a similar design but with only four copper ports and two fiber optic ports utilizing ST connectors. The fiber optic units can be deployed over long distances (up to 2 km) and in locations where high noise immunity is desired. The switches offer wide range AC/DC operation. But for this application, the switches only need to operate from low-voltage DC power. The units are mounted in a special enclosure that is also UL Recognized for fire-protective signaling use. An MTBF of more than 40 years enable these units to be used with confidence. (Figure 2)
The System Architecture
The APOGEE system architecture is flexible. Workstations communicating over Ethernet can be positioned side-by-side or could be miles apart. Additionally, a combination of Fire workstations, which are Listed for protective-signaling use, and non-Fire workstations that are not, can reside on the same network (Figure 3). The fire alarm system can only be controlled from Fire workstations, but data can be monitored from both Fire and non-Fire workstations.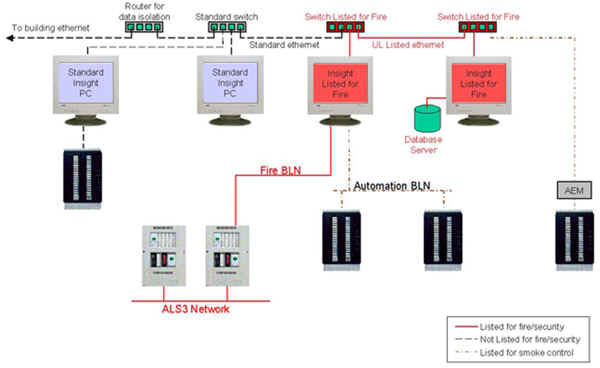 Figure 3 Typical Wiring
Fire, security and automation systems can be managed from APOGEE Insight workstations. The APOGEE system enables data from all connected systems available to all workstations on the network. For greater efficiency, a database server centrally administrates the networked system over a Management Level Network (MLN) that sends information where it needs to go without encumbering every workstation with unnecessary data.
Rule says users are assigned access privileges that dictate what they can and can't observe. "This permits the flexibility for centralized monitoring and/or widespread distribution of information."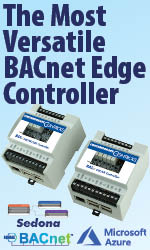 UL Listed Fire workstations are typically located within the facility or campus where the fire alarm system is installed; however, customers often want the ability to monitor their systems remotely over the Internet as well. APOGEE is flexible enough to provide this capability too.
Insight Life Safety workstations can be a part of a dedicated network of Insight workstations or they can be part of a customer's enterprise (or corporate) network. When connected to a corporate network, the Insight workstations must reside on a dedicated IP subnet/ broadcast domain isolated from the corporate network. Rule says this is accomplished by using a router which prevents traffic from the corporate network (i.e. broadcasts and other non-Insight messages) from interfering with the ability for fire alarm signals to pass between Fire workstations. He explains that this ensures all of the bandwidth on the dedicated network is available for Insight communications. This configuration increases data throughput and eliminates security issues that could arise.
The system architecture locks together through the switches. Typically, one switch is located at each Insight Fire Workstation on a Management Level Network. A multiple of EIS8-100Ts, connected by Category 5 cabling, are employed when these workstations are short distances apart on the network - under 300 m. Segment lengths cannot exceed 100 m requiring the use of multiple switches. The EIS6-100T/FT, for distances up to 2 km, provides interference-free fiber medium for connecting these workstations.
Typically one workstation is installed at the security desk so the operator may take appropriate action to any life safety, security, or automation related events. Copper or fiber connection to the next workstation is determined by distance. The APOGEE workstations all reside on the Ethernet network and serve the purpose of monitoring operation and annunciating critical information. Ultimately, they are tied into the fire panels via a Siemens proprietary network. In some facilities, 20 or more workstations might be installed.
Rule says one workstation is often positioned for facilities maintenance department use in order to ensure that maintenance has first hand knowledge of any activations or faults on the fire alarm system. By having fire alarm information available within their building automation management system, the maintenance staff can immediately determine the precise location of any problem and make adjustments as necessary. This eliminates the need for security to communicate the need for action on the fire alarm system to the facilities maintenance staff and expedites the return to normal operation.
Additional workstations might also be installed at a facilities director's office or at critical points within the facility that are most effected by operation of various building systems. By having access to information from all building systems within a network of building management workstations, people associated with a facility can get access to the information they need, when and where they need it, to ensure the optimal performance of the facility.
Reliability was vital in this project because it is a life safety system. (Figure 4) The point is, Siemens had to be assured that the life safety system would continue to function as intended, to save lives and minimize damage to the facility. "By working with Contemporary Controls we felt confident that our life safety system would not fail us," says Rule.
In conclusion, Rule adds that the systems Siemens provides must work as advertised every time. "If one does go down we need to know that replacement parts are available," says Rule. "We count on Contemporary Controls to provide reliable products and to have parts and expertise available at all times." Contemporary Controls is doing just that.
---


[Click Banner To Learn More]
[Home Page] [The Automator] [About] [Subscribe ] [Contact Us]