PowerNet Joins EnFlex to Deliver Intelligent Energy Diagnostic Systems: Removes Commissioning Barriers for Performance Contractors and ESPs










NATICK, MA - March 28, 2002 - PowerNet, a provider of advanced real-time energy diagnostics software, today announced a joint marketing agreement with EnFlex Corporation, a leading control system integrator and communications gateway provider for energy management systems. The joint delivery of energy management solutions provides a complete Internet based commissioning system for energy performance contractors, energy service providers, and internal ESP organizations.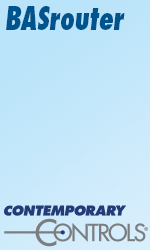 PowerNet's intelligent software enables the operation of an Advanced Diagnostic Center (ADC), which receives facility control system performance data through EnFlex's G-100, MG-200, and G-300 SCADA multi-protocol Internet gateways. The ADC provides real-time performance monitoring of facility equipment operation and energy usage, and delivers automated detection and diagnosis of incipient control systems problems to service personnel, remotely or on-site. Early detection and precise diagnosis of degrading equipment operation allows performance contractors and ESP's to monitor numerous buildings without additional service personnel. Identifying the location and root cause of control system problems in real-time, means fewer and shorter site calls are required to identify and locate the root cause of facility problems. These advantages increase savings in labor, and reduce costs and the misdiagnosis of problems. Precision dispatches, advisories, alerts and preventive maintenance routines based on predefined indicators are sent it advance of performance or system failure.
The PowerNet Software mission is to Maximize the Value of Power for Energy Service Providers and their customers. Visit us on the web at www.powernetsoftware.com.
EnFlex Corp. has been providing connectivity solutions to EMS, generators, and meters for over 8 years. For more information, visit their Web site at www.enflex.net.
---


[Click Banner To Learn More]
[Stay Informed - Subscribe to our Update Mailing List]
[Home Page] [Contact Us] [The Automator - Current Issue]
[News] [Resources] [Products] [eDucate] [About]

Visit Home Toys to Learn about Home Automation
Web Design by Enviromation