NetBiter - A new TCP/IP & Multi communication platform released.










Halmstad, Sweden, -- IntelliCom, a leading company in Scandinavia within consulting and custom product development for the Building/Industrial automation market, offers a new revolutionary TCP/IP communication platform.
The NetBiter is a unique communication platform that covers many needs in the Building- and Industrial Automation industry.
The NetBiter is ideal as a communication interface between a TCP/IP network and an automation product, such as energy meters, ventilation devices, motor drives etc.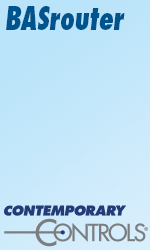 Typical applications are:
- Interface between your own serial protocol (Modbus, Metasys etc) to TCP/IP
- Use a common web browser to surf into the product to monitor data or set parameters.
- Have the product to send emails or SMS messages over GSM upon event-based alarms.
- Download web pages or JAVA applets into the product through the built-in web server.
- Use Modbus TCP or any other TCP/IP protocol to transmit the data over the Ethernet network.
- Use the digital input to collect alarms and send it by email or SMS.
To provide all these services, the Netbiter contains the following:
- Ethernet port (10/100 Mbit)
- Serial port (RS232/RS485)
- Serial port (RS232)
- Support for GSM modems / Analog modems
- Slot for application cards (LonWorks)
- Digital input for alarm treatment
The module has a full TCP/IP stack and support for IT functions such as: Web server, SMTP (Email), FTP, Telnet
Visit IntelliCom at (www.intellicom.se) for more information on how IntelliCom can make your products and systems connect to TCP/IP networks.
---


[Click Banner To Learn More]
[Stay Informed - Subscribe to our Update Mailing List]
[Home Page] [Contact Us] [The Automator - Current Issue]
[News] [Resources] [Products] [eDucate] [About]

Visit Home Toys to Learn about Home Automation
Web Design by Enviromation