News Briefs - Updated April 12th










Web Services-Interoperability Organization (WS-I)
The Web Services-Interoperability Organization (WS-I) will hold its first Member meeting will be held in the San Francisco area on Wednesday and Thursday, April 17th and 18th. This is a members-only event with limited space available. Registration details will be provided directly to the WS-I membership. For more information about the WS-I efforts, please see http://www.ws-i.org.
---
NASA Equips Ames Research Center with ION(R) Energy Management System from Power Measurement
VICTORIA, BC - The National Aeronautics and Space Agency (NASA) has installed an enterprise energy management ("EEM") system to control power usage and reduce costs at its Ames Research Center facility near San Francisco, California. Designed by Jacobs/Sverdrup Technology, the Ames Power Monitoring System (APMS) monitors power usage throughout the center, including the facility's three large wind tunnels, used regularly for aeronautic research and development testing. The system, manufactured by Power Measurement, uses ION(R) Enterprise(TM) software installed on over a dozen PC workstations combined with approximately a hundred ION 7330(TM) and ION 7700(TM) meters (at full implementation), to help facility personnel manage and schedule real-time and future energy usage.
---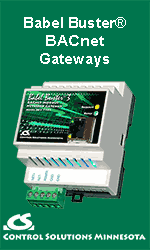 Facilities America '02 Set for September in New Orleans
Facilities America '02, will be held September 23-25 in New Orleans, Louisiana. The public is invited. 
For more information about Facilities America, as well as other Association for Facilities Engineering activities, visit http://www.afe.org
---
10th National Conference on Building Commissioning
http://www.peci.org/ncbc/2002/index.html
May 8-10, 2002 in Chicago IL
---
Abraxas Energy Announces Innovative Product - "PocketControls"
Energy consulting company lets you control your building from ANYWHERE, without modems or phone lines
Santa Margarita, Calif. - Up to now, controlling a building remotely meant energy managers and facilities personnel had to rush around in search of a place to plug in their laptops just to connect to their building control system. Abraxas Energy Consulting (www.abraxasenergy.com) has launched a revolutionary new product that simplifies this process. The product is aptly named "PocketControls". Now, with PocketControls, rather than finding a phone line or modem, control system problems can be diagnosed and corrected from anywhere, even from a car.
PocketControls uses wireless cellular communication technology, off-the-shelf PDAs (Personal Digital Assistants - a Palm Pilot or Pocket PC), and a desktop computer with modem/phone service installed at your site. With PocketControls, you can examine the building control system's data points, make changes to setpoints and view trend logs in graphical form; all from the convenience of a hand-held device. Moreover, the data transfer is stored on PocketControls and can be viewed offline, keeping your cellular airtime low. PocketControls is a turnkey system and includes all the hardware required, all software pre-installed and configured, training, technical support, and cellular service.
---
WEST HARTFORD, Conn. - The Wiremold Company has introduced two dual-channel, non-metallic perimeter raceway systems for school and office applications. CableSmartÔ 40 and 60 Series raceways feature high cable fill capacity, 2" bend radius fittings, and robust tamper resistance.
---
OSGI Adds New Membership Tier to Accelerate Managed Services Specifications
San Ramon, CA - The Open Services Gateway Initiative, innovators in the delivery of networked services, today announced a new membership tier designed to encourage small companies to join in the development of future OSGi Specifications.
The new tier, known as a Contributor Membership, is available to companies with revenues of less than $5 million (US) per year at a cost of $5,000 per year. Like Full Membership benefits, they can be active contributors to the specification development process, vote on all proposed specifications, participate in all marketing activities, and join in all organization internal/external activities.
---
Jungo Introduces Support for the ARM7TDMI Core for Low-Cost DSL Modems and Routers
OpenRG Running on the ARM7TDMI Microprocessor Delivers a Cost-Effective, High-Performance Linux-Based Solution for the Residential Gateway Market
SUNNYVALE, Calif., PRNewswire/ -- Jungo Software Technologies, a leading provider of residential gateway software and technologies, announced the availability of OpenRG support for the ARM7TDMI® microprocessor core. Jungo provides a comprehensive, feature-rich software platform that incorporates advanced system management functions to simplify the installation, management and network configuration functions associated with gateway products.
---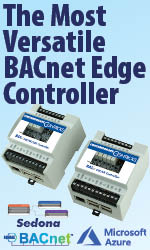 Australia - ARBS (Air Conditioning Refrigeration and Building Services)
ARBS was held in Sydney at the Sydney Exhibition Centre from 25 to 27 March. The show set records for attendance.
Member companies of BIG-AA (BACnet Interest Group – AustralAsia) organised a BACnet village, with a big BACnet banner flying high over the BACnet corridor. Ten companies connected on an Ethernet LAN and demonstrated BACnet interoperability. TAC and Honeywell had large stands. TAC had an award-winning booth based on a coffee bar. For a detailed write-up, see Jim Henry's article in the May issue.
---
Boston, MA --- BostonBase Inc. releases FontVue-SE™, a low cost, state-of-the-art web enabled graphic interface designed for HVACR contractors.
FrontVue-SE provides users with an advanced real- time interface that displays information graphically. Through this interface, users can see the status of building equipment and can change values, set points, and schedules. Real-time graphs provide trending displays for multiple variables simultaneously over time.
FrontVue-SE uses EnFlex Corp. Gateways to connect to EMS systems. Using the powerful web enabled features of EnFlex Gateways, FrontVue-SE can connect to local or remote EMS systems via TCP/IP over WAN, LAN, Internet and dial-up.
Contact Jack Chadowitz, email: jack@bostonbase.net
---










Invitation to The World Forum for Building Innovation
The first meeting of The World Forum for Building Innovation will take place from 14 to 16 May 2002, at Beaumont House, Old Windsor, UK. This meeting is the starting point for the development of an international network dedicated to delivering the benefits of intelligent building design, systems and management around the world. The second meeting of The World Forum is scheduled to take place in Beijing, China in 2003.
The World Forum is not a conventional conference. It is specifically designed to support the exchange of experience, expertise and requirements in order to develop opportunities, strategies, and partnerships in this highly dynamic, multi-disciplinary field. For more information visit www.iandi.ltd.uk
---
Echelon's New Web Seminar Series
Echelon is proud to announce the initiation of a new series of online seminars (webinars) starting in the month of April. From the convenience of your own desk you can learn more about LonWorks® technology and the products and solutions available using the LonWorks platform. All you need is a web browser and a phone. Register today!
---
Opto 22 and Axeda Systems Partner for Remote Asset Monitoring and Management of Devices and Equipment
The integrated solution will enable customers to connect their critical business assets and systems, such as manufacturing machinery; energy, security, and environmental systems; and telecommunications equipment, to the databases and business applications they use to run their companies. This connection allows organizations to establish a vital link between these two sides of their business and improve overall operations through the monitoring, management, and acquisition of key business intelligence from throughout their entire enterprise. Secure, bi-directional communication is enabled within a diverse set of devices, even when they are hidden behind corporate firewalls. The innovative combination of Axeda and Opto 22 technologies delivers a robust infrastructure and set of applications for device service, monitoring and management, as well as enterprise applications integration.
---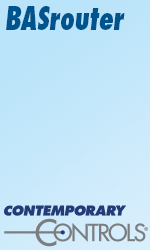 True 24/7 surveillance at an affordable price from Silent Witness
Surrey, BC: March 28, 2002 - Silent Witness (NASDAQ: SILW / TSE: SWE) announces the release of the SWX45 - a low cost surveillance camera that captures superior images in both day and night conditions. With its accurate color rendering by day and clear black and white images by night, the SWX45 offers true 24/7 surveillance.
Nothing escapes this small, discreet camera. The SWX45 sees objects 40 feet (12 m) away, even in total darkness. The 12 near infrared light emitting diodes provide short-range illumination over a wide area. It produces perfectly exposed pictures in any lighting environment, indoor or out.
---
FieldCentrix to Develop Wireless Field Force Automation Applications Using Microsoft Visual Studio .NET and the .NET Framework
Irvine, Calif. - March 26, 2002 - FieldCentrix® Inc., the largest and most experienced wireless and Internet-based field service automation provider is engaging with the Microsoft Consulting Services Advanced Technology (MCSAT) group to develop its next generation of products using Microsoft Visual Studio .NET and the .NET Framework. The first product, which will allow FieldCentrix customer's users to use wireless communications and the Internet to order services and products quickly and easily, is currently in development.
---
New Isolé Conveniently Packages Energy Savings & Surge Protection for Plug Loads
SANTA CLARA, CA - The Watt Stopper's Isolé® IDP-3050 plug load control combines occupancy-based control of workspace equipment with surge protection.
Isolé consists of an 8-outlet power strip and a personal occupancy sensor. Using the personal sensor to detect occupancy, Isolé turns on the power strip-controlled devices when a workspace is occupied. When the space becomes vacant and the adjustable time delay elapses, controlled equipment is turned off. The Isolé power strip contains six outlets controlled by occupancy (for equipment such as monitors, task lights, space heaters, or fans) and two outlets that are uncontrolled (for equipment that should not be interrupted such as CPUs, faxes, and modems). Isolé power strips are designed for today's workspaces, with space for equipment transformers and offset plugs for a sleeker profile under crowded desktops. The personal sensors utilize advanced passive infrared technology, with user-adjustable time delays. Product installation is simple, with no hardwiring necessary.
---
FieldCentrix to Join Microsoft Mobility Partner Advisory Council
Irvine, Calif. - FieldCentrix® Inc., the largest and most experienced wireless and Internet-based field service automation provider, has joined the Microsoft Mobility Partner Advisory Council (MPAC). Microsoft formed the council to serve as a focused feedback mechanism for Microsoft mobility platform development and to provide new technical, marketing, and business development support to companies that are making significant investments and inroads in the mobility space.
---
New Books - AEE - Fairmont Press
Principles of Controlled Maintenance Management, by P. Dale Johnson. An effective, well-managed maintenance program is crucial to the efficient and economical performance of any type of facility. This book presents a complete, step-by-step guide to systematically improving overall maintenance operations, covering maintenance organization, inventory, continuous inspection, planning, scheduling and program management.
Disaster & Recovery Planning, Second Edition by Joseph F. Gustin. Now available in its fully updated second edition, this book is written for facility managers, safety compliance officers, risk managers, engineers and consultants as a ready guide to emergency response planning and management.
HVAC Procedures & Forms Manual, Second Edition by Herbert C. Wendes. Developed over the course of many years of on-the-job projects involving HVAC energy auditing, testing/balancing and cost estimating, and refined through feedback from thousands of engineers and technicians who have used them, the forms contained in this manual are concise, comprehensive, and optimally organized for easy reference. Complete sets of forms are provided for all aspects of testing and balancing, energy auditing, indoor quality diagnosis, and load calculations.
Contact Beth Pearce <beth@aeecenter.org> for more information.
---
Dickson redesigns website
Dicksonweb.com has been redesigned with easier, faster product searches and an improved shopping cart for online ordering. In addition, the site contains detailed product specifications and technical support. The site also has a full service section for 24-hour direct access to customer support, calibration services and literature requests. Visitors may additionally download a free data logger software demo.
Dickson instruments and software are sold worldwide offering customers innovative solutions in the recording and monitoring of temperature, humidity, pressure and a variety of other variables. Customers use Dickson instruments and software for applications involving process control, laboratory environments, vaccine storage, comfort and quality control.
---


[Click Banner To Learn More]
[Stay Informed - Subscribe to our Update Mailing List]
[Home Page] [Contact Us] [The Automator - Current Issue]
[News] [Resources] [Products] [eDucate] [About]

Visit Home Toys to Learn about Home Automation
Web Design by Enviromation