New Products
FieldServer Lonworks Bridge
Lonworks - Serial - Ethernet
Feature rich protocol translator bridge enables data transfer between Lonworks protocol and an extensive library of other serial and Ethernet protocols used in building automation, HVAC, fire and process control industries. For more infomation visit www.fieldserver.com
---
Contemporary Controls
Introducing the PCM20E-156 for PC Card Computers
The PCM20E-156 network interface module is designed to allow laptop computers to communicate with Automated Logic's WebCTRL modules on an ARC156 network. ARC156 is basically an ARCNET network operating at 156 kbps over EIA-485. A detachable MAU (medium access unit) allows the PCM20E-156 to connect to the network via the access port on the control module, or to the twisted-pair network wiring. A 15-pin connector with a short cable attaches the MAU to the adapter. Once attached, the laptop computer can function as the WebCTRL Server, providing a full user interface to all control modules on the network. A laptop computer with the PCM20E-156 can be an invaluable tool during the installation, commissioning and troubleshooting of a WebCTRL system.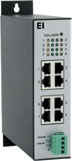 EI Series Hubs for Reliable Communication
Contemporary Controls supports the industry's migration toward Industrial Ethernet with the release of a new line of industrial grade Ethernet hubs. The EI Series is effective in expanding building automation systems that operate over shared 10 Mbps Ethernet networks.
The EI Series incorporates benefits such as wide-range, low-voltage AC or DC power, provisions for redundant power connections and panel or DIN-rail mounting. The focus of the EI Series is on the EI8-10T, an eight-port 10BASE-T hub conforming to the IEEE 802.3 standard for repeater units.
This product supplies the required digital pre-emphasis to the eight 10BASE-T ports. Shielded RJ-45 connectors accommodate either UTP or STP cabling.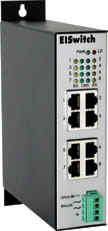 Contemporary Controls' EIS Series, Ethernet Interconnect Switch, emerges as the better solution for expanding Ethernet-based building automation applications such as environmental control and security functions.
The EISwitch is classified as an 8-port switching hub, segmenting the Ethernet network into eight separate collision domains. The EISwitch forms a "bridge" between data links creating a larger network diameter and providing for increased throughput at data rates up to 100 Mbps. A large network diameter is critical when interconnecting multiple buildings.
The unit incorporates two flow control methods ¾ backpressure for half-duplex operation and PAUSE for full-duplex. It operates from low voltage AC or DC power. The EISwitch can be DIN-rail mounted making it perfect to deploy switch technology in the field.
The PCI20 Series is ideal for end-users for control systems applications needing ARCNET connectivity with PCI slot workstations. The PCI20 Series meets the standard of computers manufactured with the "PCI" slot, offering the potential of better performance over earlier bus architecture.
The PCI20 Series interfaces ARCNET to PCI bus compatible computers. The PCI bus provides jumperless configuration and plug and play operation. The module operates with either an NDIS driver or with a null stack driver in a Windows environment.
With its COM20020 controller chip, it incorporates enhanced features over earlier generation ARCNET chips. Each PCI20 module has two LEDs on the board for monitoring network operation and bus access to the module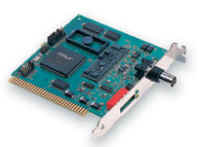 PCX20 Series for PC/XT/AT(ISA) Bus Computers
Contemporary Controls PCX20 Series of network interface modules (NIMs) answers the call for ARCNET connectivity with PC/XT/AT (ISA) bus computers.
The PCX20 Series incorporates many features relied upon to meet performance standards in network communications. These features include the COM20020 controller chip, I/O mapping to reduce bus connection problems, no requirement for wait-state arbitration, variable data rates up to 5 Mbps. The units support coaxial, fiber optic and twisted-pair cabling including EIA-485. The PCX20 also has an external DIP switch so that node addresses can be easily reassigned without removing the module.
For more information visit www.ccontrols.com
---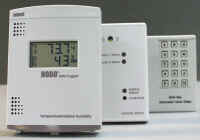 Temperature/RH Data Logger System Provides Display, Alarms, and Event Notification
ONSET COMPUTER announces a Liquid Crystal Display (LCD) version of its popular HOBOÒ Temperature/RH data logger, with optional Remote Alarm and Autodialer accessories. The HOBO LCD Data Logger records and displays temperature and humidity conditions, with user-programmable high- and low-limit alarm set points. A relay output communicates alarm conditions to an existing alarm system or to Onset's Remote Alarm/Autodialer units. The system provides an affordable option for operators in manufacturing, processing, and storage environments where reliable data collection and documentation of specific temperature and humidity conditions are critical. For more information visit www.onsetcomp.com
---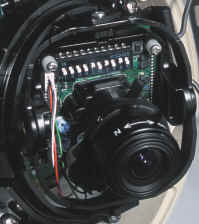 Silent Witness Releases New Camera Board for the MagnaView Product Line
Surrey, BC: - Silent Witness (NASDAQ: SILW / TSE: SWE), a leading provider of video monitoring technology, releases new color camera board for the MagnaView product line. This camera board replaces the current camera board in both the high and standard resolution color versions.
With the new color camera board, based on 1/3" interline transfer CCD technology, all camera controls are conveniently accessible from the top of the camera. Camera adjustments can be made quickly and easily, simplifying camera installation. The board also offers a DC iris drive for an optional auto-iris vari-focal lens.
For more information visit www.silentwitness.com
---
---


[Click Banner To Learn More]
[Stay Informed - Subscribe to our Update Mailing List]
[Home Page] [Contact Us] [The Automator - Current Issue]
[News] [Resources] [Products] [Systems] [About]

Visit Home Toys to Learn about Home Automation
Web Design by Enviromation