---
Updated February 18th
Building Open Systems 2005 Seminar Program












February 22, Dallas, TX February 24, Houston, TX March 1, San Antonio, TX
The building automation and controls industry is rapidly transitioning from proprietary architectures to more flexible, cost effective open systems that provide more near and long term benefits to building owners and tenants. This transition is creating challenges and opportunities for specifiers, integrators, contractors and end-users as they wrestle with the complexities of open systems. LonMark International is organizing the Building Open Systems 2005 seminar program to help industry professionals successfully transition from proprietary to open systems by helping them understand the range of benefits that open buildings systems can provide and the relationship between existing open building technologies and these benefits. Whether you install, maintain or use open systems, this free seminar will help you perform your job better. Register now at www.buildingopensystems.com
---
M2M Expo and Conference, March 23-24th Dallas
Now in it's second year, the M2M Expo and Conference will feature unique application strategies and lessons learned from real world case studies as well as education on the technologies and business models used to implement M2M solutions. Presenters added from IBM, Cisco, Eaton, Philips Lighting, Questra, Lantronix, SensorLogic, nPhase, Axeda, Xsilogy, Incerno, Ei3, Winncom, MAYA Design and more...View the updated agenda at www.m2mexpo.com/agenda or register online now at www.m2mexpo.com/register
---
Former Fieldbus Foundation President Speaks Out on Automation History, Open Systems, and The Greatest Generation
Downers Grove, Illinois - Contemporary Controls has published an insightful interview in its Extension Newsletter with John Pittman, former President and CEO of the Fieldbus Foundation. John has led a distinguished career in the automation business, receiving numerous awards for his achievements. In this interview, Pittman offers his perspectives on high-speed Ethernet, Open Systems, and the consolidation that is being seen in the process control industry. John's interview is available free on the web at www.ccontrols.com/ExtVol5N6.htm.
---
The first IP UserGroup Regional Meeting of 2005
The first IP UserGroup Regional Meeting of 2005 will take place at the Ramada Plaza Hotel in Bristol on Thursday, 17th March. The theme for the event will be "Entertainment and Gaming" and will include a number of educational and interesting presentations. Attendance at this event is FREE and includes a buffet lunch, but places are limited so book yours now! Email andy.hennings@ipusergroup.com
---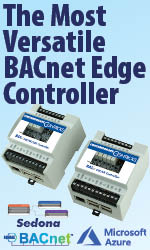 BACnet Addenda Recommended for Public Review
ORLANDO – Addenda that reflect the evolving nature of ASHRAE's building controls standard and its companion testing standard were recommended for public review at the Society's 2005 Winter Meeting held here Feb. 5-9. Addendum b to ANSI/ASHRAE Standard 135-2004, BACnet - A Data Communication Protocol for Building Automation and Control Networks, contains new BACnet features related to advanced trend logging capabilities and specialized alarm handling capabilities important in Asian markets. It was recommended by the Standard 135 committee for a second public review following changes made as a result of comments received in a previous public review. Also recommended for public review was addendum a to ANSI/ASHRAE 135.1-2003, Method of Test for Conformance to BACnet. This addendum defines new tests for features of BACnet that have been added since publication of the testing standard as well as refinements based on experience testing BACnet products.
---
GLOBALCON 2005
The Association of Energy Engineers (AEE), along with sponsors, Select Energy, NYSERDA and the New Jersey Board of Public Utilities - Office of Clean Energy, is proud to present GLOBALCON 2005. GLOBALCON will be held on March 23 & 24, 2005 at the Atlantic City Convention Center in Atlantic City, New Jersey. We have extended the special early online registration VIP rate and bonus until February 28, 2005. To register for the conference and expo visit http://www.aeecenter.org/forms/form.html?id=197
---
Atalum Announces Former General Manager MSN Canada & Founder iBinary Corp. to Join Board
Madrid, Spain – Atalum Wireless S.A., a pioneer in enabling smart environments with its ZigBee-based, wireless GREENsuite product family, announced that Ken Nickerson, formerly general manager of Microsoft Networks (MSN) Canada and founder of iBinary Corp., has joined its Board of Advisors. Ken Nickerson is the founder of iBinary Corp., a private technology research and investment firm. Nickerson "angels" several early stage technology companies as well as contributes as an advisor or board member. Mr. Nickerson previously invested in, and acted as an advisor for The DocSpace Company, a successful start-up co-founded and sold by Sandra Wear, Atalum's CEO. He also recently completed both investing in and operating as CEO of OpenCola, a collaborative search engine company, and CTO of ClearPulse Inc., a private research company developing non-invasive medical technologies.
---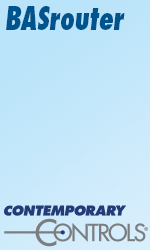 Canada's Leading Two-day Electricity Conference & Exposition March 1-2, 2005, Metro Toronto Convention Centre, Toronto
Attend the 6th annual ENERCOM Conference and Exposition - an information packed two-day program developed by key professionals in the energy community and attended by hundreds of leading decision makers across Canada. For more information read the updated Conference Program and visit the ENERCOM web site to register online http://enercom.to/
---
Building-IT Convergence Seminar to be Held at Premium Integrated Buildings Industry Event
Irving, Texas -- Clasma, Inc., organizers of such industry events as BuilConn, M2M Expo and Conference, and the XML Symposium, announced plans to offer the successful one-day BuilSpec seminar at its anchor event, BuilConn, on March 22, 2005. BuilConn 2005 will be held in Dallas, Texas, March 21-24 at the Adam's Mark Hotel. BuilSpec is designed to present the subject of building convergence to the consulting specifying engineer, building owner, and facility manager in an interactive environment that encourages group discussion and features workshop activities. Launched in October 2004 as an 11-city seminar series, BuilSpec sets out to serve the industrial professionals who have recently seen a significant change occurring in their role due to the adoption of new technologies and business trends.
---
Mohawk Offers ArmorLiteTM, An Expanded Line of In-Stock Interlocked Armor Fiber Optic Cables
Leominster, MA - Mohawk, a leading manufacturer of fiber optic and copper cable products, announces the ArmorLite™ family of fiber optic cables, manufactured with interlocked armor to provide enhanced cable protection. This robust cable eliminates the need for additional innerduct, which saves installation time and space in plenum or riser pathways. In addition, significant product and labor costs are realized with ArmorLite's "one pull" installation procedure.
---
Tour Andover Controls Sponsors Building Open Systems Seminar Series
DALLAS – Tour Andover Controls, a world leader in building automation, security systems and energy solutions, is a platinum sponsor of the Building Open Systems Seminar Series presented by LonMark International and several manufacturers of open system products. The series, designed to assist facility managers and consulting engineers in the transition from proprietary to open systems for building operations and control, will tour 20 cities in the United States and Canada between February and May 2005. Experts from Tour Andover Controls will be available to discuss the company's open systems solutions for building control, security and energy management.
---
Tendril Creates Web Services "Server Broker" For ZigBee
A new partnership between Ember and Tendril Networks will create the first Web Services-based technology to give companies a quick and easy way to build applications that draw information from ZigBee networks. ZigBee is a wireless, standards-based radio technology employed in remote monitoring and control. The technology that Tendril will create for ZigBee networks is called a "service broker." It uses Ember's ZigBee-ready semiconductor and software platform. The service broker takes the burden away from developers who normally would have to spend considerable time learning the intricacies of the ZigBee networking stack.
---
KMC Controls Announces Platinum Sponsorship of Premium Integrated Buildings Industry Event
Irving, Texas -- KMC Controls, a manufacturer and designer of HVAC controls and building automation solutions, announced it is a proud platinum sponsor of BuilConn 2005, the integrated and intelligent building community's premier conference and exposition being held in Dallas, Texas, March 21-24 at the Adam's Mark Hotel. As a BuilConn platinum sponsor, KMC Controls will take a center stage position in the support of intelligent and integrated buildings via peer-to-peer networking and BACnet architecture solutions for building automation and energy management, key components of the larger Enterprise.
For further information about KMC visit www.kmccontrols.com. For further information about BuilConn visit www.builconn.com
---
Plexus Technology Announces Double Sponsorship Of BuilConn 2005, BuilConn Europe 2005
Irving, Texas -- Plexus Technology, a software company specializing in enterprise automation systems for commercial buildings, announced it is a proud sponsor of both BuilConn Americas and BuilConn Europe. The BuilConn events are the integrated and intelligent building community's premier conference and exposition, the next of which will be held in Dallas, Texas, March 21-24 at the Adam's Mark Hotel. By supporting both events, Plexus Technology is delivering a cohesive message to the American and European markets of their dedication to the future of the buildings industry where the integration of mission-critical business information strengthens both the effectiveness and profitability of an organization.
---
Tour Andover Controls Introduces The Continuum® bCX1 Router/Controller Series
AHR EXPO: ORLANDO, Fla. – Tour Andover Controls, a world leader in building automation, security systems and energy solutions, introduces the Continuum® bCX1 Router/ Controller Series, the newest addition to the company's network controller product lineup. The cornerstones of Tour Andover Controls' Continuum building automation and security system, network controllers provide direct Ethernet communications from local field controllers through to the operator workstations.
Tour Andover Controls Introduces TAC Vista 4.3 With Enhanced Web Applications and Data Storage Capabilities
AHR EXPO: ORLANDO, Fla. – Tour Andover Controls introduces TAC Vista® 4.3, an enhanced version of its LonWorks® network-based building management software. The latest version of TAC Vista features new web applications as well as trend and event log storage in Microsoft® SQL Server.
More information is available on the Internet at www.tac.com
---
Figure 8 Wireless Merged with Chipcon AS
Figure 8 Wireless recently merged with Chipcon AS to provide the world's first true one-stop shop for Zigbee certified wireless solutions. Their combined product will help provide solutions for a number of very important industries such as building automation, automotive, industrial controls and wireless device networking in the home (home automation).
---
Clasma, Inc. and Harbor Research, Inc. Collaborate to Present Second Annual M2M Expo and Conference
IRVING, TX--In response to the rapid adoption of M2M technologies throughout key industries, Clasma, Inc. and Harbor Research, Inc. announced their joint collaboration on the second annual M2M Expo and Conference to be held March 23-24, in Dallas, Texas,
The M2M Expo and Conference will unite the industry leaders who have entered on the ground floor of this emerging industry including technology suppliers, adopters, OEMs, integrators, investors, and customers. This year's event will also focus on the suppliers and adopters of the technologies as well as the widespread adoption of M2M in many key industries. Co-located with BuilConn 2005, the integrated and intelligent buildings industry's pre-eminent expo and conference, attendees will have the added benefit of gaining insight into the buildings marketplace, a primary adopter of M2M solutions.
---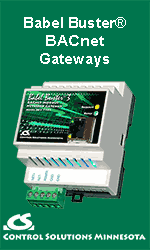 Earn CEUs With Seminars Presented By ASHRAE Learning Institute
On-Site Seminars
Design and Specification of Direct Digital Control Systems, Seattle, Washington, March 22-23, 2005
Air System Design and Retrofit, Philadelphia, Pennsylvania, March 29-30, 2005
Online Seminars
System Selection and Report, April 5-6, 2005, 1 to 4 p.m. (EDT) each day
Optimizing the Design and Control of Chilled Water Plants, April 12-13, 2005, 1 to 4 p.m. (EDT) each day
Contact the ASHRAE Learning Institute for more information at edu@ashrae.org
---
Axeda ships new Axeda Supervisor suite with HMI/SCADA Wizcon® 9.0 application
LYON, France – Axeda Systems, the leading provider of device relationship management (DRM) software and services, has announced that its new Axeda® Supervisor™ 9.0 is now shipping. The Axeda Supervisor suite, which includes the new version SCADA/HMI application Wizcon® 9.0, has been enhanced with many new features that improve application development productivity, extend connectivity options and increase core platform performance. In addition, this release enables a new set of innovative Axeda Hosted Services (in ASP mode) that leverage the Axeda® DRM system to facilitate remote management of multiple facilities and sites, providing online development assistance and central proactive monitoring of globally distributed assets.
---
ASHRAE Offers Four Courses to Further Professional Development
The onsite courses are:
• Design and Specification of Direct Digital Control (DDC) Systems, March 22-23, Seattle, Wash.
• Air System Design and Retrofit, March 29-30, Philadelphia, Pa.
The online seminars are:
• System Selection and Report, 1-4 (EDT) p.m., April 5-6
• Optimizing the Design and Control of Chilled Water Plants, 1-4 p.m. (EDT), April 12-13
For more information or to register, visit the "ASHRAE Learning Institute" shortcut on ASHRAE.org.
---












Onset Computer Corporation Announces 2005 Product Catalog
BOURNE, MA – Onset Computer Corporation, a leading supplier of battery-powered data loggers and weather stations, announced the availability of its 2005 product catalog. The catalog offers detailed product descriptions, specifications, and prices for its full line of HOBO®/Stowaway® data loggers, weather stations, and Tattletale® logger-controller products. Highlighted are 12 new USB-based data loggers – including Onset's first Water Level Logger – and the company's next-generation graphing and analysis software. The catalog also features a graphically illustrated product selection guide, and expanded product information for HOBO Weather Station products.
---
Building & Design Exchange
McCormick Place, Chicago
February 16-17, 2005

An Event Dedicated to Commercial Construction Professionals - BDX (BUILDING & DESIGN EXCHANGE) is where building professionals come together in an "Exchange" of vital ideas, information, products and services leading to greater value, success and profits in their businesses. It is targeted at the building and design industry and focused on Green Buildings (environmentally safe and sustainable buildings). For more information visit www.abcaevents.org
---
Realcomm 2005
It is that time of year again when Realcomm reaches out to the industry to call for speakers. Realcomm 2005, which will be held on June 27-28 in Anaheim California, will be co-located with BOMA International's annual Office Building Show. The co-location of these events is designed to make it easier for industry professionals to learn about a wide range of important industry topics, as efficiently as possible. This combination of events could prove to be one of the largest annual gatherings in the Commercial Real Estate industry. For more information visit www.realcomm.com
---
NFPA 2005 World Safety Conference & Exposition
Las Vegas
June 6-8, 2005
---
Nesea (NorthEast Sustainable Energy Association) is having its 30th Building Energy Conference!
Building Energy 2005
March 15-17
Seaport World Trade Center, Boston, Ma
Conference and trade show for renewable energy and green building professionals. http://www.nesea.org/
---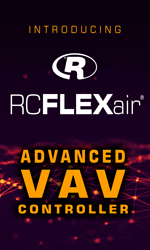 Wi-Fi Surpasses Ethernet for Home Networking
Dallas, Texas -- The number of households using Wi-Fi wireless technology for home networking has surpassed the number using Ethernet, according to Global Digital Living, a recent survey by Parks Associates. This study, which surveyed consumers in Europe and North America on technology adoption and use, found 52% of U.S. households with a home network use Wi-Fi and 50% use Ethernet. By comparison, only 32% of Canadian households with a home network use Wi-Fi, 43% use Ethernet, and 26% were unsure which technology they were using.
---
Comtrol and CapTech Ventures Unveil Embedded RFID Reader Control Device
Minneapolis, MN - Comtrol, Inc. and CapTech Ventures, Inc. have teamed to provide point-of-activity RFID reader control, RFID event filtering, and other advanced RFID functions by integrating the DeviceMaster® ATS and DeviceMaster® RTS with TagsWareME(tm). This device is designed to provide advanced RFID data handling features in close proximity to the RFID activity, eliminating large amounts of unnecessary data from the industrial control network.
---
Rabbit Semiconductor Announces the Release of the Rabbit 3000 Microprocessor Reference Design Book for Embedded System Designs
DAVIS, Calif. -- Rabbit Semiconductor, a division of Z-World Inc., along with Elsevier Science (NYSE: RUK) and Technology Books today announced the publication and release of Embedded Systems Design using the Rabbit 3000 Microprocessor: Interfacing, Networking, and Application Development, the first Rabbit 3000 reference book to focus exclusively on Rabbit's microprocessor use for embedding networks and controls in electronic systems.
---


[Click Banner To Learn More]
[Home Page] [The Automator] [About] [Subscribe ] [Contact Us]