---
BuilConn Palm Springs - May 16-18
Plan to Attend THE Building-IT Convergence Show of 2006











Since 2003 BuilConn has defined the future of open systems, integration and intelligent buildings. In 2006 BuilConn shifts its focus to IP centric systems and the convergence of building systems and the IT world.
IP represents the most dramatic opportunity in Building systems for years. From products and tools, infrastructure and skills, sales methodologies and suppliers, true and full adoption of IP brings about significant change in how we build and manage buildings. Experts gather only at one place to evolve this subject—BuilConn.
See the latest IP centric technologies for Buildings

See how Convergence will make buildings better

See how IP can change your buildings & business - for the better

Establish partnership with leading IT vendors & integrators

Network with experts, vendors and your peers

Listen to how IP is being applied in buildings - today!

Understand Cisco's Connected Real Estate vision
BuilConn's 2006 venue brings about a refreshing change, combining a dramatic new convention center in downtown Palm Springs with easy access from the West Coast, An ideal venue to further your understanding and participation of Convergence.
Conference Space and Hotel Rooms are Limited - Register & Book Now
Don't miss this chance to be at the ground floor of the biggest development in building systems in decades.
Find out more at www.builconn.com May 16-18, 2006 Palm Springs Convention Center, Palm Springs CA
BuilConn 2006 Call for Papers Announced
IRVING, TEXAS—BuilConn, the premier event for the intelligent buildings industry, announces its call for papers. The fourth annual event will be held May 16-18, 2006, at the Palm Spring Convention Center in Palm Springs, CA.
The event organizers, Clasma Events Inc., are accepting papers on all subjects relating to integrated and intelligent buildings including:
Convergence of building systems and IT

Development, application and adoption of IP-based building systems technologies and services

Business development, models and strategies for building-IT convergence businesses

New technology and standards updates relevant to IP-centric building systems

Adoption of XML and Web Services in building system products and applications

Benefits to owners of IP-centric building systems and infrastructures

Application stories of implementation and requirements for building-IT convergence solutions
BuilConn prompts debate and discussions on the new directions and technological developments in the building systems industry. BuilConn attendees have an extremely strong interest in the convergence of building systems technologies with IT infrastructures and see these new directions as significant opportunities for their businesses.
BuilConn attendees are industry leaders, early adopters, influencers and individuals wishing to enforce this message in the mainstream markets.
Abstracts are due by February 28, 2006, and confirmation of accepted proposals will be announced March 31, 2006.
2006 Buildy Award Nominations Open
IRVING, TEXAS—To increase awareness of the benefits of whole building integration and honor successful implementation strategies, the BuilConn organizers announced today the 2006 Buildy Awards program celebrating the North American organizations and individuals who best support the vision of networked building systems.
Five award categories have been established for the Buildy Awards to recognize the variety of efforts that promote enterprise-wide integration:
Vision – This award will be presented to the industry professional who best demonstrates a vision of whole building integration and interoperability through advocacy, promotion, education, and training endeavors.
Initiative – New in 2006, this award honors a company or organization that has shown or launched a key initiative to enable or otherwise forward the subject of integrated and intelligent buildings.
Best Integration Project – Awarded to a systems integrator, the recipient of this award demonstrates the ability to efficiently integrate a wide array of building systems together and successfully enable operation over a corporate IT infrastructure.
Best New Product – This award honors a manufacturer whose new product or service overcame a significant challenge, enhanced, or simplified the integration process.
Best Building – This award will be presented to the building owner or consultant with the most progressive building technology supporting the vision of whole building integration. The building must be currently occupied.
"The Buildy Awards generate much interest and excitement, and we are pleased to shine a spotlight on those who have contributed so much to the advancement of full-scale integration," Anto Budiardjo, BuilConn organizer, said. "The award winners are always an impressive display of technology, dedication and strategy."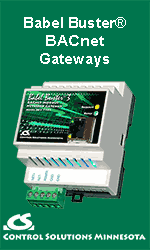 Participation is open to industry professionals, systems integrators, technology manufacturers, building owners, and consulting engineers in North America. Candidates may enter the competition by nominating themselves, their own company, or their peers. Application forms and additional information are available at Buildy Awards 2006.
All submissions will be reviewed by the BuilConn boards to determine finalists for each category; winners will be elected by BuilConn attendees on the first day of BuilConn, Wednesday, May 17. Winners will be announced at the Industry Gala, Thursday, May 18, at BuilConn in Palm Springs, CA.
Nominees must be present or have a representative present to win.
About BuilConn
BuilConn is a three-day forum uniting the players of the building industry's disparate disciplines including integrators, manufacturers, distributors, consultants and technologists, as well as end users and building owners to learn and discuss the trends, technologies and their applications for tomorrow's intelligent buildings.

BuilConn is comprised of multiple industry-related events where building professionals of varying experience levels can explore the immense benefits of whole building integration in light of IT convergence. BuilConn itself is a conference and expo with multiple topics and tracks so attendees can customize their days with subjects that are relevant to them and their business.

The fourth annual event will be held in Palm Springs, CA, May 16-18, 2006, at the Palm Springs Convention Center. For further information, please visit www.builconn.com. Contact Anto Budiardjo antob@clasma.com
---

[Click Banner To Learn More]
[Home Page] [The Automator] [About] [Subscribe ] [Contact Us]