---
GridWise Expo comes to Palm Springs











Those attending BuilConn in Palm Springs this May will be greeted with a new addition, a co-located event for the Smart Electric Grid called GridWise Expo.
As a follow-up to the hugely successful GridWise Constitutional Convention last December, the Expo is focusing on business development, education, technical discussion and demonstration of early work of many existing GridWise initiatives. It's not coincidental that the event is co-located with BuilConn and M2M as the synergies between these events are very significant.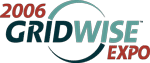 So what is GridWise and why should BuilConn attendees care?
GridWise is Energy Management
GridWise takes enterprise energy management to a new level; the GridWise vision includes facilitating DR (Demand Response), something that the building automation industry has been trying to make happen for a while.
GridWise is Connectivity
Connectivity is at the core of GridWise in the same way as BuilConn and M2M. Connectivity between sensors, devices, meters and systems, all the way up to the enterprise level.
GridWise is Integration
While GridWise is not about providing integration between disciplines such as security & HVAC, it is about creating an integrated view of the electricity system from generation through the supply chain to consumption.
GridWise is XML & Web Services
Like every other industry involved with information, GridWise will make use of IP and associated technologies such as XML and Web Services. Some GridWise initiatives will likely touch upon buildings-related standards.
GridWise Completes the Picture
BAS, EMS and security have had a challenge with drawing the complete picture of building systems. BuilConn brings the IT convergence story and GridWise will bring energy supply and distribution under the same umbrella.
GridWise Brings Opportunities
For those players looking for new and profitable business opportunities, the next few years will be made much more interesting with the prospect of being involved with enabling the smart electric grid.
GridWise Brings Influence
Much that is likely to happen in the evolution of the Smart Grid will be dictated by technologies as well as business and regulatory issues; the GridWise Expo will be a great place to influence such directions and trends.
GridWise Brings Perspectives
Like all previous BuilConn events, attendees are guaranteed to be presented with unique perspectives not found anywhere else, perspectives that open eyes to trends and business opportunities.
For more information on the GridWise Expo, visit www.GridWiseExpo.com (preliminary site – full site available end of February).
---


[Click Banner To Learn More]
[Home Page] [The Automator] [About] [Subscribe ] [Contact Us]