Contemporary ControlsÒ Announces New Family Of Industrial Ethernet Products Booth #4552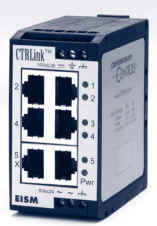 Downers Grove, Ill - Contemporary Controls announces the availability of a new family of Industrial Ethernet connectivity products called CTRLinkÒ. CTRLink is an evolving product line comprised of switches, repeating hubs, routers, gateways, media converters and adapters - finding more applications in building automation. The EIS miniature switch, the EISM5-100T in the CTRLink family, will take the spotlight at the AHR Exposition in Atlantic City, January 14-16 2002. Its compact design and enhanced network performance allows for flexibility and distance critical in building automation applications.
The EISM5-100T is designed as a five-port miniature switching hub. One port can be used as an uplink port to connect to another hub; thereby, eliminating the need for a crossover cable. This switch segments the Ethernet network into five separate collision domains. Its primary function is to act as a "bridge" between these various data links creating a larger network diameter than can be achieved with repeating hubs.
For increased functionality the unit includes LEDs to aid troubleshooting. Activity/link/data rate LEDs exist for each port. A single power LED is also provided. Other features include wide range low-voltage DC or AC power. DIN-rail capability makes installation quick and easy.
Go to www.CTRLink.com to learn how our Industrial Ethernet products can meet the demands of today's changing marketplace.
Visit us at Booth 4552 for more information.
---

[Click Banner To Learn More]
[Stay Informed - Subscribe to our Update Mailing List]
[Home Page] [Contact Us] [The Automator - Current Issue]
[News] [Resources] [Products] [eDucate] [About]

Visit Home Toys to Learn about Home Automation
Web Design by Enviromation