EBTRON Advantage Eclipses All Commercial HVAC Airflow Measurement Technologies - Booth #4424
Dramatically Enhanced Product Lines will be on Display at ASHRAE's AHR Expo in Atlantic City, 1/14-17
Myrtle Beach, SC - EBTRON, Inc., a prominent South Carolina manufacturer of sophisticated electronic airflow sensors for HVAC control, announced their participation in the annual Air Conditioning, Heating and Refrigeration Expo and that the company will display their new Advantage product lines.










The Advantage products will on display at the ASHRAE/ARI AHR Expo and Conference, Atlantic City, NJ, January 14 - 17, 2002, Booth #4424. These digital-electronic devices provide building controls with a level of functionality, accuracy and reliability never before dreamed available from a commercial airflow sensor.
EBTRON has packed a large number of significant features in the new Gold Series designs, including many never before available to users of airflow control instrumentation, including:
Factory calibrated to NIST-traceable airflow and temperature standards
Sensor accuracy +/- 2% of Reading for airflow and +/- 0.15 o F for temperature
Permanently calibrated, no drift, no maintenance, no adjustments required
Versatile mounting options for placement in traditionally difficult field locations
Field-selectable and field-scalable analog outputs, for both airflow and temperature
Optional RS-485 Serial interface with field selectable network protocols (initially ModBus RTU and N2, and a LonWorks version by year-end)
Standard 16-character LCD display
Designed for the commercial and institutional building markets, they provide precise airflow measurement inputs for use by a building's automated control system. Reliable and accurate inputs are required to optimize dilution ventilation rates for acceptable Indoor Air Quality in offices, hospitals, schools and laboratories. They are also required for the reliable control of space pressurization.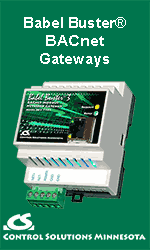 The latest products are the fourth generation of those produced by EBTRON using thermal dispersion technology and the first using Motorola's latest microprocessors featuring Digital DNA™. The first generation of EBTRON's microprocessor-based products were introduced in 1984.
Laboratory test data has convincingly proven that thermal dispersion airflow measurement may be applied in closer proximity to duct fittings and accessories than any other air measurement technology. High sensor density, electronic airflow measurement systems are ideal for applications requiring accurate and repeatable airflow data, when no field adjustment is desired. Thermal dispersion technology can accurately determine airflow in traditionally difficult locations, since each sensor is independent and does not require a stable profile of total and static pressures.
The end result of the development process are scientific-grade, price-sensitive, commercial HVAC products that are easy to apply, specify, order and install; and that normally never requires cleaning, maintenance, field-calibration or adjustment.
These new EBTRON product lines eliminate many of the "problems" that designers, contractors and building operators have had with airflow measurement instruments in the past.
Conservative duct placement normally needed to provide measurement accuracy is no longer a prerequisite.
Placement-induced error is virtually eliminated
Purchase prices of microprocessor-based electronic measurement are not an issue at bid time.
Reference accuracy is no longer dependent upon uncalibrated, hand-held instruments, using a variety of technologies and field measurement conditions.
There is no component drift and therefore no need for recurrent field calibrations (or worse, removal for factory re-calibrations).
No maintenance or cleaning requirements to insure instrument accuracy and HVAC system function.
No longer does an engineer need to be concerned with output resolution, multiple component error rates and the lack of total system accuracy at the ABS controller.
The Gold Series model GTA116-PC is well suited for the direct measurement of outdoor air flow rates, providing optimal dilution intake rate control and compliance with ASHRAE 62-1999 or any local ventilation code. Sensor probes can be located immediately upstream (as close as 3 in.) from intake dampers. A special standoff bracket option allows for the direct mounting of sensor probes to the intake damper frames, when there is no ductwork immediately upstream.
These products are available through any of the company's 70 independent North American and International Sales Representatives.
For more information Email damiano@ebtron.com or visit the company's new web site www.EBTRON.com.
---


[Click Banner To Learn More]
[Stay Informed - Subscribe to our Update Mailing List]
[Home Page] [Contact Us] [The Automator - Current Issue]
[News] [Resources] [Products] [eDucate] [About]

Visit Home Toys to Learn about Home Automation
Web Design by Enviromation