FieldServer Technologies Introduces new LonWorks Bridge - Booth #4572
FieldServer Technologies at AHR 2002 – FieldServer Technologies will be at the AHR Expo 2002 in Atlantic City, January 14-16, 2002 in Booth 4572. As the leading manufacturer of gateways to enable device interoperability in building automation applications, FieldServer Technologies is proud to be associated with this premier exposition.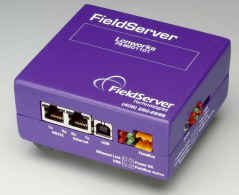 Interoperability is key to safety and facility management today. Users and integrators need to enable diverse devices to share information to maintain an efficient, effective building control system. Until now, such interoperability could only be achieved with system modifications, extensive programming, complicated connections, and many hours of effort. With the Bridge, system integration is simplified and reliable. Not only is less time and effort required to make the initial integration, but also it is easy to make modifications as the system grows and changes. With the largest library of protocol drivers in the industry, FieldServer can provide the solution to interoperability challenges throughout the industry.
The new Model FS-B2011 LonWorks Bridge is a protocol translator gateway that enables devices using foreign protocols to communicate with the Lonworks network. An example is a fire alarm panel using a proprietary manufacturer's protocol needing to supply alarm information to a Lonworks network.
In a single, comprehensive package the FS-Bridge provides the hardware and software necessary for this translation. In addition to the Lonworks connector, the FS-B2011 includes a serial (RS232 or RS485) and Ethernet connector. Configuration files can be downloaded via the serial or Ethernet ports, or with the integral USB port. All the necessary software and instructions for configuration are provided with the FS-B2011. FieldServer Technologies also offers fee-based configuration services.
For further information visit Website: www.fieldserver.com or EMail: sferree@fieldserver.com
---


[Click Banner To Learn More]
[Stay Informed - Subscribe to our Update Mailing List]
[Home Page] [Contact Us] [The Automator - Current Issue]
[News] [Resources] [Products] [eDucate] [About]

Visit Home Toys to Learn about Home Automation
Web Design by Enviromation