Reliable Controls Corporation
RC-WebView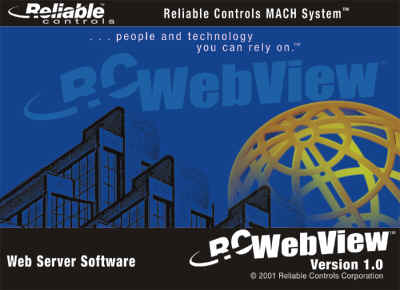 Reliable Controls Corporation announces the release of a new internet communications product designed to give operators freedom and versatility when accessing their existing building automation sites.










RC-WebView translates proprietary front-end graphics into fully functional html pages and allows operators to conveniently monitor and adjust their system over the web. Using MS-Internet Explorer 5.0 browser or higher, operators can view and change all point values as well as graph and print trend log data and acknowledge system alarms. Perform all you regular day-to-day activities of monitoring and adjusting the building automation system, simply and easily over the web using MS-Internet Explorer.
For more information visit www.reliable-controls.com
---
MACH-Global™ Building Controller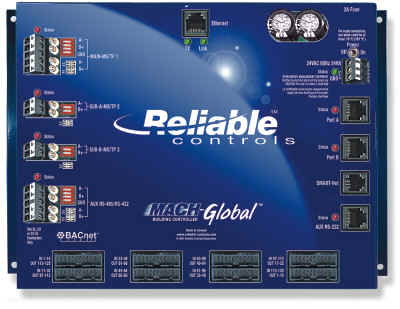 The new Reliable Controls™ MACH-Global™ building controller is a powerful, central-point controller loaded with features. MACH-Global supports multiple BACnet LAN technologies including BACnet over Ethernet, B/IP, MS/TP and PTP. On-board communications including: 10 Mb Ethernet port, dual PC/modem ports, MS/TP ports for distributed networking, SMART-Net port for SMART-Sensor™ bus, auxiliary RS-232 and RS-485 ports, and eight universal I/O ports which support up to 128 hard I/O. All Reliable Controls MACH controllers are backed by the industry's best 5-year warranty. The MACH-Global™ will be introduced at the AHR 2002 show.
Please visit our booth 4536, or join us on-line at www.reliable-controls.com
---


[Click Banner To Learn More]
[Stay Informed - Subscribe to our Update Mailing List]
[Home Page] [Contact Us] [The Automator - Current Issue]
[News] [Resources] [Products] [eDucate] [About]

Visit Home Toys to Learn about Home Automation
Web Design by Enviromation