---
Tour Andover Controls Honors Top Performers During Global Sales Conference
Event is First Joint Gathering of Recently Merged Andover Controls and TAC












DALLAS – Tour Andover Controls, a world leader in building automation, security systems and energy solutions, honored its top performing sales and partner organizations during the company's annual Global Sales Conference, held in Miami November 10-12. The conference was the first opportunity for employees and partners from both Andover Controls and TAC, which merged in August to form Tour Andover Controls, to meet at a joint venue. More than 700 people attended the event, a record number according to organizers.
In addition to numerous breakout sessions, a keynote address and a vendor expo with 22 booths, several awards were presented to recognize sales achievements during the previous year.
The President's Award honored the highest performing partner and company-owned organizations. The recognized partner was Roth Brothers Inc., Youngstown, Ohio; and TAC United Kingdom of Bedfordshire, U.K., received the company organization award.
The Pinnacle Award was presented to the next highest performers. Partner winners were Utah Controls Inc., Sandy, Utah; Mechanical Controls and Maintenance Inc., Sterling Heights, Mich.; The May Department Stores Company, Saint Louis; Environmental Systems Corporation, West Hartford, Conn..; ITG Solutions Inc., Homewood, Ill.; Tri-M Electrical Construction, West Point, Pa.; iControls Inc., Seoul, South Korea; Hälg and Co. A.G. Engineering, Saint Gallen, Switzerland; Combustion Service and Equipment Group, Pittsburgh; Day Automation Systems Inc., Victor, N.Y.; Mexicana de Electronica Industrial, S.A. de C.V., Mexico City, Mexico; Entech Sales and Service Inc., Dallas; and Thermal Components Co., Shawnee Mission, Kan. TAC Americas Partners, Boston and Dallas, and Asia-Pacific Systems Integration, Sydney, Australia, earned Pinnacle Awards recognizing company-owned organizations.
The Chairman's Award honors individuals, companies or organizations that have made the most significant contribution to the success of Tour Andover Controls over the past year. The winners for 2004 included Sam Belbina and Normajean Longval, with Andover Controls New Jersey, for a large security system integration project. Richard Strode and Robert McIntyre, with TAC United Kingdom, were recognized for their work on the Manchester Royal Infirmary in Manchester, U.K.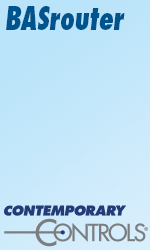 The top partners or company-owned organizations with the highest year-to-year growth earn the Shooting Star Award. Partner winners for 2004 included Havel, an Emcor Co., Indianapolis, Ind.; Southwest Systems Monitoring, Inc., Scottsdale, Ariz.; Netsian Technologies Group, Tempe, Ariz.; Pointer Controls, Dublin, Ireland; iControls, Inc., Seoul, South Korea; Environmental Systems Corporation, West Hartford, Conn.; Universal Protection and Maintenance Corp., Guaynabo, Puerto Rico; Nova Systems, Downey, Calif.; Teo Hong Electro Systems Co. Ltd., Samutprakarn, Thailand; and The May Department Stores Company, Saint Louis. Company Shooting Star winners were TAC Americas Systems Integration South, Dallas; TAC United Kingdom; and TAC EMEA Partners, Malmo, Sweden.
The Rising Star Award goes to any new partner that has generated $100,000 or more in sales during its first year as a partner. Winners for 2004 are Enterprise Controls Inc., Kansas City, Kan.; TD Industries, Dallas; ABB Gebäudetechnik A.G., Mannheim, Germany; and Otto Luftund Klimatechnik GmbH & Co. KG, Weiterstadt, Germany.
The 2004 Tour Andover Controls Global Sales Conference was produced by employees of Tour Andover Controls and was held at the Hotel InterContinental Miami.
About Tour Andover Controls
Tour Andover Controls' parent company, Schneider Electric, is the world's leading specialist in power and control. With the acquisition of Andover Controls by Schneider Electric in August 2004, TAC and Andover Controls combined to create the foundation for Schneider Electric's growth platform in the building automation industry. Tour Andover Controls provides added value through building services for indoor climate, security and use of energy, delivered with advanced technology and integrated solutions for building IT. The new combined company has 2,700 employees worldwide and projected revenue of $700 million for 2004. More information is available on the Internet at www.tac.com and www.schneider-electric.com.

---


[Click Banner To Learn More]
[Home Page] [The Automator] [About] [Subscribe ] [Contact Us]