---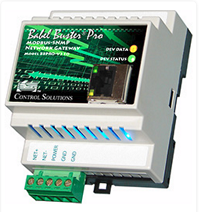 Control Solutions, Inc., Minnesota, is pleased to announce the release of the Babel Buster Pro V210 Modbus-SNMP Gateway.

This gateway combines the best features of Control Solutions' most popular gateways with new features including a versatile SNMP trap receiver and automatic SNMP table walker. This makes it possible to fully support Modbus monitoring of any UPS implementing the RFC 1628 MIB, or MIB with similar traps and alarm tables. The trap receiver templates will support the majority of traps. Script Basic, with extensive character string manipulation, is built in to handle complex traps where one wants to search for a specific message. The flexibility of the trap receiver makes it possible to switch an external relay upon receipt of a certain SNMP trap, or generate a variety of other responses. The Babel Buster Pro V210 provides support for SNMP v1 and v2c with both client and server, and trap sender triggered by template rules or user program. The Pro V210 includes Modbus TCP and RTU client and server (master and slave). The local Modbus register map is user defined, and supports 16, 32, and 64-bit registers. Data formats supported include integer, IEEE 754 floating point, and character strings as a series of Modbus registers.

Visit this link for more information: http://csimn.com/CSI_pages/BBPRO-V210.html


---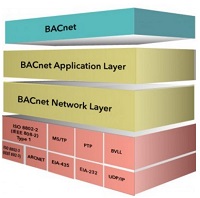 BACstac/DN - software for Windows Microsoft.NET framework

The Cimetrics BACstac/DN 1.4 saves man-years of development when your company needs to create a BACnet solution for Windows Microsoft .NET framework! Our software team has created a set of BACnet libraries for Microsoft .NET framework which greatly simplifies the task of interfacing to BACnet. Even the largest companies in the HVAC industry use our code because it is a very complex and time consuming task keeping up with the ongoing changes that are taking place in the BACnet committees. For example, many hundreds of protocol modifications, requirements, and enhancements have taken place in just the past year!
For more information visit http://www.cimetrics.com
---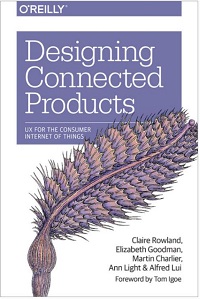 Designing Connected Products: UX for the consumer internet of things
Networked thermostats, fitness monitors, and door locks show that IoT devices can (and will) provide abundant ways for people to interact with the world around them. But designing connected products for consumers is a challenge that involves issues beyond UI and interaction design. This book provides experienced UX designers and technologists with a clear and practical roadmap for approaching consumer product strategy and design in this novel market. By drawing on the best of current design practice and academic research, Designing Connected Products delivers sound advice for working with cross-device interactions and complex ecosystems inherent in IoT technology.
For more information visit http://www.designingconnectedproducts.com/

---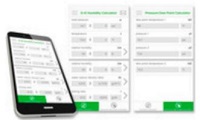 Humidity Calculator Calculates Humidity Measurands, including Measurement Uncertainties
With the online humidity calculator from E+E Elektronik, humidity-related parameters can be calculated quickly and easily. In contrast to other programs, it takes into account the measurement uncertainties. The E+E humidity calculator is now also available as a free app for mobile devices. The app for Android or iOS operating systems can be downloaded from the Google Play or Apple App Store. The app also features a pressure dew point calculator.

Thanks to the intuitive operation the humidity calculator is very easy to use. The conversions and calculations can be saved or sent as a PDF. The online humidity calculator (www.humidity-calculator-online.com) also offers the option of copying the results to an Excel file. The online version of the E+E Humidity Calculator is available in 8 languages, while the app is available in German and English.

---
New Book Now Available: Transactive Energy

Transactive Energy, a Sustainable Business and Regulatory Model for Electricity, designed for the full range of stakeholders in electric-power markets, including utility executives, legislators, environmentalists, regulators, economists, and other energy business professionals. Click on the link below for more information and to see the Table of Contents and Preface. By Stephen Barrager and Edward Cazalet.
http://www.fortnightly.com/transen

---
Sontay Smart Communication Sensor
The Sontay Smart Communication Sensor combines smart connectivity with intelligent sensing. The sensors are tailored to suit any application and offer complete environmental sensing within a single unit. For ease of installation the collected data is communicated through Modbus RTU or BACnet MS/TP. The new Smart Sensor can monitor a number of variables including temperature, CO2, relative humidity, light level, air quality and occupancy. The range of seven sensors has been specifically designed to suit the needs of different applications such as offices, schools and hotels through a combination of the variables offered. A traffic light LED can also be incorporated for quick and easy indication of excessive CO2 levels within a room. Tailor made solutions are also available.
For more information visit http://www.sontay.com
---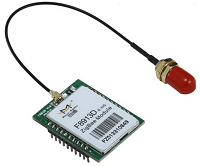 F8913 Embedded ZigBee Module F8913 Series

● ZigBee Module Support UART
● ZigBee Module Low power consumption design, support multi-sleep and trigger modes to reduce the power dissipation farthest
● ZigBee Module Supply 5 I/O channels,compatible 3 analog inputs and 2 pulse input counters
● ZigBee Module Support auto recovery mechanism, including online detect, auto redial when offline to make it always online
● ZigBee Module Support ZigBee wireless data transmission
● ZigBee Module Support Point-to-Point, Point-to-Multipoint, Peer-to-Peer and Mesh network
For more information visit http://en.four-faith.com/f8913-embedded-zigbee-module.html
---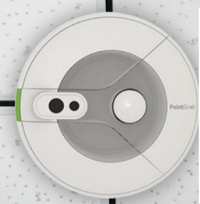 PointGrab's CogniPoint™ embedded-analytics sensors

CogniPoint™ is a groundbreaking embedded-analytics sensing solution for building automation, extracting the most important information about how and where occupants are using the building. It's comprised of highly intelligent sensors and management software, and provides embedded-analytics for tracking human activity across the entire space of the building. The CogniPoint™ sensor is a miniature network-connected sensing device, running state-of–the-art deep-learning algorithms on a low-cost embedded ARM-based processor. It is primarily designed for indoor occupant analytics and energy savings in commercial buildings, providing unprecedented precision in the detection of occupants' locations, count, and movements, as well as precise reading of ambient lighting and motion sensing.
For more information visit http://www.pointgrab.com/solutions/

---
Motionloft proprietary, computer-vision enabled sensors

Motionloft provides national property owners, REITS, large brokerage firms, and major retailers with hyperlocal pedestrian and vehicle traffic of their properties. You see your data realtime, with fascinating insights provided on a simple dashboard. If you can think of a place to count traffic, Motionloft technology can do it; both indoors and outside. We provide data for the interior of malls and commercial buildings; doorway counts, parking garages, and more. We work with brokers and property owners to help satisfy specific location data needs. We have helped retail clients in their site selection process by allowing them to compare pedestrian traffic data at two different locations. We have also helped clients lease their properties faster and at a better rate by proving the pedestrian traffic data from outside the property. On the tenant side, we have helped clients understand their pedestrian capture rate and make more informed operational decisions by looking at the larger data trends over time.
For more information visit http://motionloft.com/data.php

---
---


[Click Banner To Learn More]
[Home Page] [The Automator] [About] [Subscribe ] [Contact Us]