New Release - Abstract
Networking and Integration of Facilities Automation Systems
Viktor Boed, Yale University, Connecticut, USA










The Challenge - Facilities increasingly rely on computerized systems to optimize their buildings' systems operation and reduce the costs of maintenance and management. Therefore, facility managers and engineers must rise to the challenge of a new discipline — systems networking and integration — as more and more computerized systems become implemented.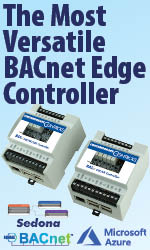 The Solution - Networking and Integration of Facilities Automation Systems will help you meet that challenge. It introduces the buzzwords and basics of networking, provides overviews of frequently used protocols, and explores interface options for interoperability between real time control or automation systems and data processing systems. The author uses case studies to illustrate the issues considered and steps taken in implementing actual projects. He also offers the contributions of other experts that provide other viewpoints to the subject of systems interoperability.
Only educated end users and integrators — those who understand the needs of facilities and who are familiar with the available components — can succeed in developing and maintaining systems integration. Networking and Integration of Facilities Automation Systems provides the means to that end. It helps lay a foundation of practical knowledge that facility managers and engineers can apply immediately to plan, implement, and maintain their own facilities' systems.
Features • Explains the basics of systems' interoperability and how they relate to systems integration • Provides an overview of transmission methods and frequently used protocols, including European and Canadian standards • Includes contributions from other experts in the field who present related subjects from different angles • Uses examples and case studies to takes readers beyond networking of individual systems toward global integration of facilities systems and into interoperable data management systems.
To order the book visit www.crcpress.com
---


[Click Banner To Learn More]
[Stay Informed - Subscribe to our Update Mailing List]
[Home Page] [Contact Us] [The Automator - Current Issue]
[News] [Resources] [Products] [eDucate] [About]

Visit Home Toys to Learn about Home Automation
Web Design by Enviromation