New Products - Update June 1, 2002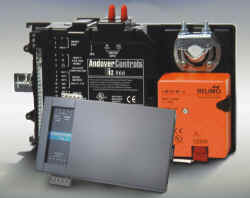 Andover Controls Introduces INFINET II
FLASH-based Terminal Controllers Provide Increased Reliability for HVAC Control
Andover, Mass. - Andover Controls Corporation, a leading manufacturer of "Intelligent Building Systems" for HVAC, security management, and digital video surveillance applications, announces Infinet II, a new line of stand-alone controllers for HVAC applications. The company recently rolled out the first three Infinet II (i2) product models - the i2865 and i2866 controllers, both with built-in actuators for VAV applications, and the i2867 model for fan coil or terminal unit control applications.
The i2 family offers end-users increased reliability for even the most challenging control applications with features such as FLASH memory, an enhanced processor, additional program memory, and easy hardware installation.
To find out more about Andover Controls and their new Infinet II product family, visit its web site at http://www.andovercontrols.com .
---
Introducing a New Approach for Programming Microcontrollers and SBC's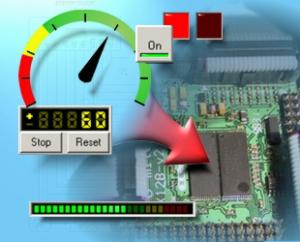 Now available for the Rabbit 2200, X86 and HC16 based Single Board Computers.
Based upon a drag & drop concept, microCommander reduces the time involved in programming microcontrollers from man-months to man-minutes while eliminating programming errors. It enables engineers to quickly configure microcontrollers using standard proven and easily understood components such as switches, indicator lights, gauges, strip chart recorders, PID controllers and more.
A key feature of microCommander is its ability to remotely access microcontrollers over the Internet. This provides the capability of remotely re-programming a microcontroller, of controlling it and gathering information from the remote microcontroller. Intec Automation Inc. has been providing microcontrollers and software development tools to support its microcontrollers since 1993. Intec's microcontrollers are sold mainly in USA and Canada, with a number of clients' worldwide.
Please check out our site at www.microcommander.com.
---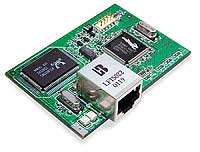 RCM3000 RabbitCore Models RCM3000, RCM3010
The RCM3000 RabbitCore is Rabbit Semiconductor's most powerful and feature-packed microprocessor core module. Powered by the new Rabbit 3000™—the "EMI-Free microprocessor"—the RCM3000 is the ideal option for designers who want to rapidly develop and implement embedded systems with fully integrated Ethernet connectivity.
For more information on the RabbitCore Models visit
www.rabbitsemiconductor.com/products/rcm3000/
---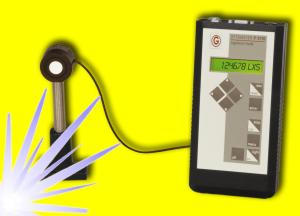 Hand-Held UV-VIS-NIR Flash Energy Optometer
Gigahertz-Optik's P-9710-2 Optometer features a pulse energy mode and compact size enabling on-site measurement of flashing or modulated light sources. The P-9710-2 is capable of measuring the pulse energy of single and multiple pulsed events >1 microsecond in length. Auto-ranging allows the user to zoom-in on the correct gain level with the last setting stored for future use. Other key features include adjustable sampling time and continuous offset of the pre-trigger light level as well as computation of luminous effective intensity based on the Schmidt-Clausen method. All essential detector data is stored in the detector's data coupler so that any number of sensors with associated components like optical filters, integrating spheres and other input devices can be interchanged on the optometer for error free system set-up.
Visit www.gigahertz-optik.com for more information.
---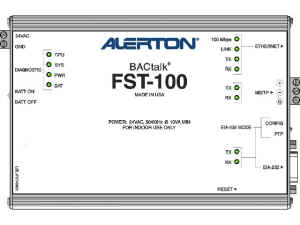 Alerton Announces New Network Connection Tool










Redmond, Washington USA Alertonâ Technologies, Inc. announced the availability of its new high-performance network connection tool (FST-100). The FST-100 is designed to significantly reduce project labor costs and its communications design and messaging structure are BACnet compliant.
This multi-port BACnet-compliant router, in conjunction with BACtalk operator terminal software, enables users to perform point-to-point checkout, directly monitor and control BACtalk system operations (data points) with or without an installed global controller. The flexibility, versatility, and durability of this product make it a great technicians tool. The FST-100 is portable, light-weight, and is extremely durable with its aluminum extrusion enclosure. It can be battery powered or 24 VAC.
For product availability, ordering and technical information, visit us on the web at www.alerton.com
---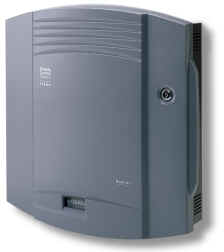 New Raptor HVAC Programmable Controller
Buffalo Grove, Ill., -- The Raptor® Programmable Controller is a powerful, freely programmable LonMark® compatible 32 point controller, unique to LonTalk®-based systems. It is an integral part of the open protocol Staefa TALON® HVAC control system from Siemens Buildings Technologies, Inc. Its high point count; 8 DO, 8 DI, 8 AO, 8 AI, is ideal for controlling large mechanical equipment or coordinating control strategies among numerous pieces of mechanical equipment. The Raptor has an easy to configure graphical programming tool for developing equipment control strategies. It is easy to install with removable terminal wiring blocks and multiple panel mounting options.
Staefa Control System, a brand from Siemens Building Technologies, Inc., leads the industry with the new TALON open protocol building control system. Authorized Staefa dealers throughout the U.S. and Canada provide the best in open systems and customer service.
For more information visit www.staefa.com
---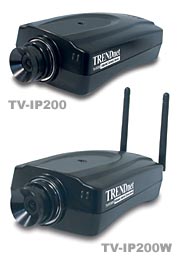 The Convenience of Remote Monitoring Anytime, Anywhere!
TRENDware Introduces New Internet Camera Servers that allow you to view Real-Time Events from Any Internet Access!
Torrance, CA – TRENDware International, Inc., a leading manufacturer of networking products worldwide, launched its new Internet Camera Servers. TRENDnet's TV-IP200 Internet Camera Server and TV-IP200W 802.11b Wireless Internet Camera Server are the perfect devices for you to monitor your home or office. You can broadcast live events over the Internet viewing anything you want from wherever you are with Internet access.
For more information, please visit www.trendware.com.
---
Introducing Circon SCC-300 Space Comfort Controllers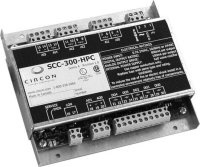 Richmond, British Columbia - Circon Systems Corporation, a solutions partner and manufacturer of integrated facility automation systems, announced the commercial availability of the SCC-300 Space Comfort Controllers.
Five SCC-300 controller models are launched: - SCC-300-AHC (Air Handler Terminal Unit Controller) - SCC-300-FCC (Fan Coil Unit Terminal Unit Controller) - SCC-300-HPC (Heat Pump Terminal Unit Controller) - SCC-300-RTC (Rooftop AC Terminal Unit Controller) - SCC-300-UVC (Unit Ventilator Terminal Unit Controller)
Each SCC-300 model comes with the application loaded before it is shipped. Each application has been designed from the ground up to meet LonMark certification requirements and to be compliant with the LonMark Space Comfort Controller functional profile.
For more information visit www.circon.com
---
---


[Click Banner To Learn More]
[Home Page] [The Automator] [About] [Subscribe ] [Contact Us]