NEW PRODUCTS
Alerton Technologies Announces the BACtalk® VAV-SDA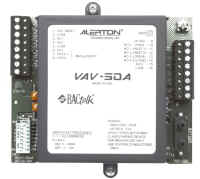 Redmond, Washington USA Alerton Technologies, Inc. announced availability of its BACtalkâ VAV-SDA controller, the newest member of Alerton's BACtalk systems VAV application family. The VAV-SDA delivers fully-programmable and pressure-independent control of single-duct variable air volume boxes.
Alerton's VAV-SDA controls variable air volume (VAV) boxes equipped with variable speed fans or analog valves and is designed to eliminate the need for more expensive external pressure sensors. The VAV-SDA analog output capability makes it ideal for applications requiring true analog-signal-controlled valves. Its on-board airflow sensor is designed to reduce installation costs by eliminating the need to purchase and install an additional airflow sensor.
The VAV-SDA captures trended VAV airflow calibration data, making VAV balancing faster and easier during the commissioning phase. VAV-SDA makes scheduling easier with its ability to assign a schedule directly to Alerton's Visual Logic Controller. Other features include improved noise immunity and increased RAM for BACnetâ objects.
For product availability, ordering and technical information, contact Alerton Technologies at 425.865.8400 or on the web at www.alerton.com
---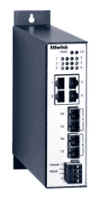 Switching Hub Brings Together High Performance and the Security of Fiber Optics
Contemporary Controls'Ň Industrial Ethernet EIS6-100T/F answers the call for high performance in switching technology with the solid reliability of fiber optics, making it the preferred choice for expanding Ethernet-based building automation applications. The EIS6-100T/F features include immunity to EMI/RFI while supporting segment lengths up to 2 km. The unit is classified as a six-port, auto-negotiating 10/100 Mbps switching hub, supporting either ST or SC connectors. It functions as a "bridge" between various data links creating a larger network diameter, essential when interconnecting multiple structures. Availability in October.
Visit our web site www.ccontrols.com under the product category Industrial Ethernet for the upcoming data sheet.
---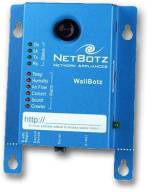 ControlShop introduces a new Low-Cost Appliance to monitor your remote closets!
The WallBotz is a web-accessed, environment-monitoring appliance in a book-sized package. Completely self-contained, the unit continually checks the room environment, including temperature, humidity, audio, and airflow. Alarms are sent via email when an environment condition is out of range. A built-in camera can record individuals accessing the space and allows you to easily view the condition of equipment via an internally generated web page. The WallBotz is also SNMP compliant, appearing as an object within your existing network management system. User-defined alarms are sent via an email notification to designated personnel. Also available in a rack mounted version. Benefits · Provides advanced warning of equipment failure · Reports who is accessing the space · Reduces downtime and associated costs · Provides 24-hour remote access · Monitors environmental conditions of remote locations · Low roll-out cost.
For more information on WallBotz and other products from ControlShop please visit www.Controlshop.com
---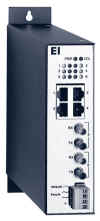 Fiber Optic Hub Extends Distances Up to 2 km
Contemporary Controls'Ň introduces the newest addition to their line of the EI Series of Industrial Ethernet Interconnect hubs, a fiber optic version known as the EI6-10T/F. The EI6-10T/F is able to link 2 km fiber optic segments with 10BASE-T ports, making it ideal for building and industrial control applications where distance and robustness are important. This six-port hub has four ports that support the signaling requirements of 10BASE-T and two fiber ports that support the 10BASE-F interface. By having two fiber ports, a daisy-chain topology can be implemented where the fiber ports are reserved for inter-building communication with local 10BASE-T drops within a building or control panel. Availability in October.
Visit our web site www.ccontrols.com under the product category Industrial Ethernet for the upcoming data sheet.
---
HiTECHnologies Introduces iNode WebServer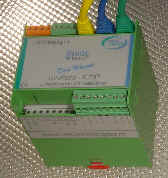 iNode WebServer, LonWorks I/O node with TCP/IP connection to Intranet or Internet
New! RS232 ComServer, Telnet for remote RS232 devices.
Remote diagnostics features.
Remote Real time update on any change on NV´s
PPP version available.
New! M36 form factor available
LonWorks TCP/IP WebServer node is ready for shipment!
For more information visit www.hitechnologies.nl
---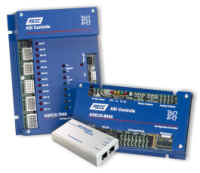 ASI's EtherLink
ASI Controls, a manufacturer of HVAC digital controls for more than 15 years, recently introduced Ethernet connectivity to it full line of controls. ASI's products include pre-programmed controllers for terminal applications such as VAV, water source heat pumps, fan coils and packaged AHUs, and configurable controllers for specialized applications such as built-up air handlers and mechanical rooms.
ASI's EtherLink solution is perfect for local and wide-area networks. Using EtherLink, installation is simplified for campus and other multi-site applications. Additionally, the control system can be configured to evaluate and transmit alarm and event information to a central station via the network. The central station in-turn can distribute the information to particular parties via e-mail, fax, or alphanumeric pager.
Contact ASI Controls website at www.asicontrols.com for more information.
---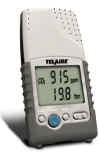 Easily Measure Indoor Ventilation Rates & Air Quality
Telaire has improved its low-cost, hand held CO2 monitor (model 7001vr) to calculate and directly display the cubic-feet-per-minute (cfm) of outdoor air ventilation provided on a per-person basis occurring within a space. The calculation is based on the measurement of inside/outside CO2 differential. Normally, offices should have 15 to 20 cfm of fresh air per person. The Telaire 7001vr will allow contractors, building owners or occupants to quickly determine if a space is over or under ventilated according to recommended codes and standards. Software is also available that will graph concentrations directly to a PC.
The 7001vr can be ordered directly from Telaire's web site at www.telaire.com
---
Detection and Alarm - Simplex® BACpac™ Portal

With the Simplex BACpac™ Portal technology, SimplexGrinnell provides open network connectivity for its fire alarm systems using BACnet™, the widely accepted data communication protocol for Building Automation and Control Networks. The BACpac Portal is a compact, self-contained panel that enables Simplex fire alarm systems to be readily and effectively connected to building automation control networks.
In step with the trend toward integrating building systems, the BACpac™ Portal provides users the desired non-proprietary systems interconnectivity, as well as the flexibility to choose the fire alarm system provider that suits their application. The BACpac Portal is a point-to-point solution for interfacing Simplex® fire alarm panels with other BACnet-compliant building systems. It does this by converting the existing computer port protocol output of Simplex fire panels to the BACnet data communication protocol.
This web site provides extensive information on the Simplex BACpac Portal. www.simplexgrinnell.com/fire/products/bacpac/index.jsp
---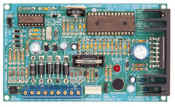 Recordable Voice & Siren Driver Module
Elk Products manufactures a 4 channel, eight minute recordable unit with sounds. Installer can use the new Elk-120 as a recordable unit with 4 channels, 2 minutes each, OR 2 recordable channels, 4 minutes each, & 2 sound channels (Siren and Temporal coded horn). Additional switches for easier programming & a line level output have been added.
For additional information visit www.elkproducts.com

---
---

[Click Banner To Learn More]
[Stay Informed - Subscribe to our Update Mailing List]
[Home Page] [Contact Us] [The Automator - Current Issue]
[News] [Resources] [Products] [Systems] [About]

Visit Home Toys to Learn about Home Automation
Web Design by Enviromation