---
EMAIL INTERVIEW – Vernon Smith & Ken Sinclair
Vernon A. Smith, PE, Architectural Energy Corporation
---
ENFORMA® Building Diagnostics™ Software
Automated Performance Assessment for Central Plan HVAC Systems











Sinclair: What is the focus of ENFORMA Building Diagnostics?
Smith: ENFORMA® Building Diagnostics (EBD) is an Internet-based application that provides automated performance assessment of heating, ventilating, and air-conditioning system components. It is a new class of fault detection and diagnostic (FDD) software for building HVAC. EBD operates as a plug-in within the Tridium® NiagaraAX environment, making it applicable to many building energy management and control systems. It detects hidden operational problems that lead to wasted energy and, in some cases, comfort problems.
Sinclair: How does ENFORMA Building Diagnostics find wasted energy?
Smith: Automated fault detection approaches can be roughly divided into model-based or rule-based approaches. Model-based fault detection compares actual performance to performance predicted by a mathematical model. Models can be classified as either first-principles models or data-driven (sometimes called inverse) models. First-principles models use thermodynamic and control relationships to predict performance. Data-driven models are sometimes called "blackbox" or "graybox" models because equations are derived from analyzing measured data and the resulting equations do not necessarily have any relationship to physics of the component. Data-driven models generally require a "training period" with a properly operating system to provide good results.

Rule-based fault detection compares actual performance to a set of logic rules that correspond to a properly operating system. Depending on the complexity of the systems being evaluated, rule-based methods can sometimes work quite well with minimal site-specific configuration.

The first version of ENFORMA Building Diagnostics is a rule-based fault detection system. It includes diagnostics based on component performance as well as schedule variance. The diagnostic results are reported as detected faults, as well as wasted energy (and/or cost). Information from the violated rules will allow a technician to more quickly determine the underlying problem.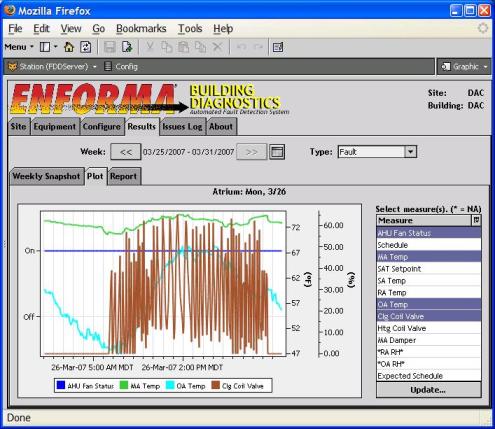 Sinclair: What HVAC components can EBD work on, and what kinds of faults are detected?
Smith: The first version of the ENFORMA system works on air handler units, cooling towers, chillers, and related pumps. The air handler diagnostic set is an expanded version of the Air Hander Performance Assessment Ruleset (APAR), developed by the National Institute for Standards and Technology. APAR consists of a set of rules which are associated with a variety of system modes. The cooling tower and chiller diagnostics are based on published and unpublished diagnostic rule sets.

The faults for a single duct air handler, for example, include the following:

Outdoor air damper is in incorrect position and not utilizing outdoor air efficiently.

System is simultaneously heating and cooling.

System is operating in manual (not controlled by BAS schedule).

Hot water and chilled water valves are sequenced incorrectly.

A sensor is out of calibration or in a fault condition.

Oscillating (hunting) valves and dampers

Oscillating modes, i.e., switching between heating and cooling.
Sinclair: How many components and buildings can be analyzed?
Smith: There is no built-in limitation, but there are practical limits due to server data storage capacity and the ability to view information in the user interface. We expect that each instance of the software will handle up to 50 buildings and several hundred components. Our definition of components includes devices such as air handlers, chillers, and cooling towers, i.e., the air-side and water-side equipment that make up central plant systems. An instance of the software serving this many buildings would be typical of a large campus. Since the results are accessible from any web browser, technician teams can focus on buildings or components that they are responsible for.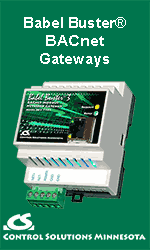 Sinclair: How is the software setup?
Smith: The ENFORMA Building Diagnostics system can be accessed either by using NiagaraAX Workbench, or a standard web browser. When using a browser, a java applet is downloaded the first time the site is accessed. A series of tabs in the user interface allows the user to accomplish varied activities when using ENFORMA. The activities performed through the UI include configuration of ENFORMA and viewing the results.

For each component, required data points are setup as histories or trends that are recorded every five minutes. In some cases, NiagaraAX enabled hardware, such as a Tridium JACE®, has to be connected to the underlying Building Automation System (BAS) to create the histories in the appropriate format.

After setting up histories for the required data points, the ENFORMA Building Diagnostics system must be configured to access the data histories and report system faults. The main steps required to configure the application are:

Site definition

Building definition, including the number and names of buildings at each site

HVAC equipment definition, including the number, type, and names of HVAC equipment located in each building.

Each defined component has a set of default tuning parameters that can be adjusted to suit its particular physical characteristics. Additionally, individual diagnostic rules can be turned off if necessary in each defined component to eliminate nuisance reports for known system problems.

The ENFORMA Building Diagnostics application periodically queries the data histories and stores the fault status for each monitored component.
Sinclair: How are the faults communicated to the user?
Smith: Diagnostic results can be accessed over the Internet using a browser or the system can be configured to send periodic reports summarizing system performance. These notifications provide almost immediate diagnostic results, as well as up-to-date performance data on all buildings and systems connected to the ENFORMA system. Diagnostic results provided by the ENFORMA application enable operators to understand and solve the root causes of equipment operational problems, rather than just adjusting control parameters to eliminate the symptoms.

Summary and detailed reports are also available upon request. These may be delivered via a user-specified method (email, printed, or posted to a web page).
Sinclair: What features do you expect to add in the future?
Smith: Some advanced chiller and boiler controllers have built-in optimization and diagnostic features. We expect to bring these into the ENFORMA application and apply system level rules to provide a higher level of assessment. Lighting control systems are not usually tied in with HVAC, but new advances in BACnet based lighting controls will allow us to provide schedule variance and other energy waste diagnostics for lighting systems.
---


[Click Banner To Learn More]
[Home Page] [The Automator] [About] [Subscribe ] [Contact Us]