---
"Coprocessor" for Existing Automation





RaspLogic is a building/home automation server system that adds complex tasks or manages unusual devices





Dario Tolio
RaspLogic


RaspLogic was designed with the following main ideas in mind:
The system must be updatable quickly and easily to save costs and allow the user to make the changes.
Give the opportunity for manufacturers and programmers to add plugins and devices.
Define a way to make different things interact.
Let the installer setup complex tasks for the system without specific knowledge.

The benefit for small companies or system integrators is avoiding the need for a PLC expert to program complex tasks in their building automation projects. Outsourcing of PLC programming needs a detailed definition of the client needs. If the needs change it can become a panic issue for all involved in the project.

KNX offers good integration, but the cost is high and some required devices are not KNX. Choosing one protocol sometimes becomes the only solution to avoid different protocols also if other products are better or cheaper but do not support selected protcol they can not be used.
We must be ready to use different protocols on a project because every manufacturer can't be compatible with all the building automation standards.

A lot of servers already do a great job, but they are focused on the needs of most clients, unfortunately some clients have special needs and they can't find a good solution. Also most clients don't know what can be done and they choose the best seller proposal without being informed about other possible solutions.
People, want to have maximum control, they want to keep their hand on the project to avoid future problems when they want to attach new devices to their system. Our coprocessor gives them this opportunity. They can make the system as usual and then attach RaspLogic.

With few components the installer or the user can make a lot of things using a simple drag and drop user interface. Timers, sequencing, if then else structure, use of Google calendar, recording to Google spreadsheets, use of iPhone SIRI (speech recognition), thermostat PID controller, sending email, sending SMS, sunrise/sunset events are some of the components that can be used.

The challenge of the next decade will be the system integration with the main mission to SAVE ENERGY.

Energy costs and demand are always growing. Keeping consumption as low as possible is a must for both house and commercial buildings. Every automation system should achieve this but sometimes the software only supports standard features.
RaspLogic offers a way to manage things not already included by writing a few lines of code. Every programmer will be able to code it learning how in two hours or less.
The coprocessor can be connected with an access control system to let the system power on the heating of an office when the worker comes in. Or we can detect when someone is not in the room to power the lights off. We can manage temperature sensors instead of expensive intelligent thermostats and control the heating device in the best way. Configuring the best algorithm room by room, and set the weekly temperature calendar from a single place.

In many places WATER is an issue and saving it is more important than saving energy. With our software the user can control exactly how much water is given to the garden and if tomorrow's prediction is for rain, we don't water today.

New technologies are always evolving, 3D sensor and voice recognition are already available, but if your automation can't use them they are not useful. If we can connect the sensor to RaspLogic we can manage the events generated by the sensor. For example a simple hand gesture to choose a light color, light position and intensity.

Fingertip locks, face detection systems and other new technologies are coming and the new system must be able to take care of the changes to let clients upgrade their own systems.

Keeping track of data is also important. We have added an eta logger that sends data to a Google spreadsheet. Any sensor or event can be logged; light, power consumption, temperature, doors and windows opening. More data gives more chances to make the right decisions.

Someone pushes the doorbell of your home and you are away; you can receive an email of his photo and hear the recorded message he left. If you think this type of event is important you can have the system send an SMS everytime it happens, so you can check emails immediately.

The way we defined to connect different things is to let them receive and send messages. The manufacturer or someone who wants to contribute to the project can make a plugin that takes care of sending/receiving/managing messages and the real device. We provide all the example templates to do this task.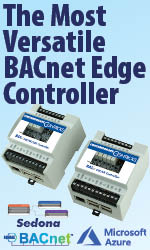 But how can the user program the device without a UI that can manage the specific need of the device? We solved this issue using adobe flash components, now everyone can make a perfect interface without any restriction.

Using plugins we added protocols to connect KNX, Modbus, BTicino, ZigBee, ENOcean, Nice, Ilevia and others are coming.

The UI interface receives information from the plugin and sends updates to it. An example of how it works is a demo with the new MGC3130, a 3D sensor made by Microchip.

What's next? We want to cooperate with manufacturers and users to add new devices. To work with project managers with special needs that can't find solutions with other software. We want the challenge to discover solutions to coming needs.

We think that sometimes to solve a problem a device is needed sometimes a new device suggests a need. RaspLogic wants to be both; solve existing needs and be a key to unlock hidden needs.

Our hope is to see the building become smarter, to live in a more comfortable world and we want to help make this happen.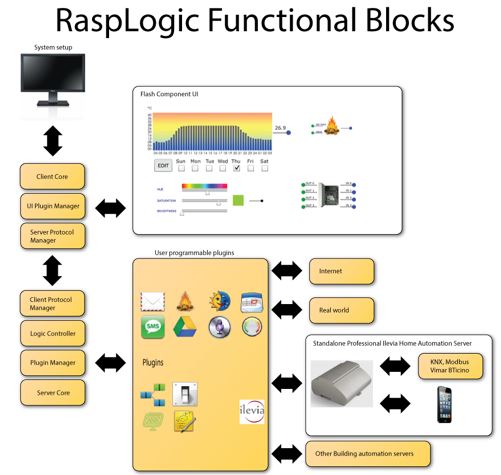 ---
About the Author
Since I was seven years old I have been passionate about technology, and now after 35 years I spend almost every day of my life using electronics, computers, and the internet in various projects. I have made electronics for bank security, software in various languages, web sites, electronic devices and a complete receiver for the DVB satellite/terrestrial/cable field, starting from the idea and going thru samples, preproduction, testing software and production in China. For the last two years I have mainly been involved with two projects, www.spot-box.tv (a TV advertising system) and in cooperation with Ilevia, a known company working on home/building automation systems. Thanks to them I started learning how things works and decided to start www.rasplogic.com to provide a solution to people who want to control their systems.

---

[Click Banner To Learn More]
[Home Page] [The Automator] [About] [Subscribe ] [Contact Us]