---
EMAIL INTERVIEW – Bob Wallace and Ken Sinclair
In 2010 Bob and his business partner, Rick Costanza founded Building Clouds and launched their software platform which they call Opendiem. It is a web accessed full featured HMI, SCADA, GUI that offers robust building management functions and a vast set of connectivity and integration options. Simple and easy, Opendiem provides "WYSIWYG" real-time web page development for monitoring and control of building equipment.
---
Wi-Fi Controllers Transform and Open Industry

Building Clouds Opendiem Suite and strati-fi technology revealed

Sinclair: Bob, it has been awhile since our last interview. Obviously Building Clouds has been busy as indicated by your Tweet "Adoption of strati-fi Wi-Fi Controllers is Skyrocketing". What is a strati-fi and how does it apply to the IoT?

Wallace: Thanks Ken. Yes, we have been busy. As you can image software enhancements and connectivity never stop and over the last two years we have been in "stealth" mode with our strati-fi hardware.
Strat-fi means "strati" or cloud(s) and "fi" or Wi-Fi…. Cloud Wi-Fi. Strati-fi is a much cooler name.

Now with 100's of strati-fi devices online connecting RTU's, AHU's, Fan Coils, VAV's, VRF's, VFD's, Heaters, Boilers, Chillers, Cooling Towers, Power Meters, Sub-Meters and Lighting Systems in commercial buildings and schools to Cloud accounts we knew it was time to share.

Strati-fi modules, controllers and bundled "in-a-box" solutions (kits) are designed to quickly and easily connect building systems to the cloud over existing 802.11b/g/n Wi-Fi or cellular Wi-Fi networks.

Sinclair: Most of our readers are aware of wireless type devices. How is strati-fi technology different?

Wallace: Great question. We're different because we leverage the customer's existing Wi-Fi infrastructure, we have extremely robust technology, and our pricing is very aggressive. This technology also allows the underserved, 80% of the building market to have a BMS. Our technology typically lowers the labor cost of a BMS solution by at least 40% over a wired system making it readily adoptable.

Sinclair: WOW. That sounds great! How does it work?

Wallace: It is important to start by reviewing the strati-fi technology.

The strati-fi is a Wi-Fi module the size of a small match box that is connected to any in-range 802.11 b/g/n Wi-Fi network. Strati-fi's have a built in secure web configuration page that allows the installer to scan for available Wi-Fi SSIDs and choose which network to connect to. Enter the encryption key and the strati-fi is assigned an IP just like any smart phone or laptop.

Once connected to the Wi-Fi network the installer assigns the IP or URL address and port for the Opendiem cloud server using the configuration web page. Once the configuration is saved the strati-fi "Phones Home" or as we say, "ET's" to its assigned account. The IT department does not need to "OPEN" ports as the strati-fi is making the OUT-BOUND request, just like a laptop.

Once an Opendiem account hears the in-bound strati-fi connection request a security check is made of the ID and packet descriptor. After credentials are confirmed, a reply is issued and a continuous connection is established. If the connection is lost for any reason the strati-fi attempts endless reconnects at user definable intervals. Your data is ready at your account once connected!
Sinclair: So the strati-fi can be connected and brought online without the need for IT support? That can make deployments pretty simple. Where does the data come from?

Wallace: Yes, you are correct. The solution is simple, easy to install and cost effective!
The strati-fi (SF-22) has two inputs which can accept 0-5 vdc; 10k-2 Thermistor; 0-20ma w/250Ω resistor or dry contact inputs. It also has two 0-10vdc analog outputs which can be used for modulation or external load relay control. It requires 12-24 vac/dc power. Point definitions and configuration are entered into the Opendiem account simplifying the field installation.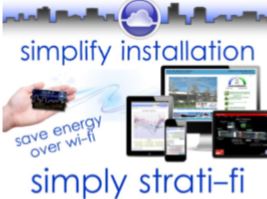 We also have a Bluetooth Low Energy (BLE) version which has the onboard I/O and will accept up to four battery powered BLE servers for a variety of sensors. These data points are transmitted between the strati-fi and the Opendiem account as fast as every two seconds.

You can install strati-fi's all over a site(s) in parallel to an existing BMS to monitor and control stranded assets that were previously too costly to connect to the existing BMS. The need for traditional "Pipe and Wire" installation methods are minimized, if not completely eliminated, resulting in much lower installation costs and wider adoption.

Sinclair: The IoT data comes from the onboard I/O and BLE options on the strati-fi. Correct? What communication protocols do you support.

Wallace: Exactly! The customer receives a great deal of data and control at an affordable cost. Now here is the real horsepower of the strati-fi. We have an onboard RS-485 communication port that supports MODBUS RTU protocol.

Now multiple devices that support MODBUS RTU can be connected to a strati-fi and the data registers (points) of each device can be mapped at the Opendiem account for use in all the rich features of Opendiem.

Think about all the devices that support MODBUS RTU for control and monitoring. Roof Top Units, boilers, VFD's, power meters, lighting systems, sensors, actuators, PLC's, DDC controllers and thermostats to name a few. Now we have some IoT disruption!

The solution connects and optimizes small systems previously too costly to connect. It improves the performance of tenant environments AND saves energy costs. The underserved, 80% of the building market can now be served!

Sinclair: Whew! Bob, that is pretty exciting. What about connectivity to other protocols. How can the strati-fi be used to integrate to BACnet, LON and other protocols?

Wallace: We are proud to say that we make a big difference in solving problems with existing systems for our customers. With so many good protocols translators on the market we decided to focus our expertise on promoting and packaging those gateways where appropriate.
For example, we connect a strati-fi to a MODBUS RTU slave port of the gateway and the other gateway port is connected to the protocol of choice. We create a data map in the gateway and deliver a complete integration solution.

A great example of how we provided value for a customer is how we recently solved a problem for a school district. They had a new sophisticated lighting and VRF system installed as part of a renovation. Once programed, these systems ran stand-alone and required service calls to make changes. The school district had determined that traditional front end solutions were too costly.
We engaged our Authorized Digital Partner in the area who proposed two SF-22's with MODBUS to BACnet to gateways from CSIMN. Our Partner established an Opendiem account and made all the VRF and lighting control available to the school district from the Web using the existing campus Wi-Fi. We are proud to say that the solution was simple, easy to install and within budget.

Sinclair: Well it looks like you have protocol integration covered. You mentioned your controllers and "in-a-box" kit solutions. What are "in-a-box" kits?

Wallace: Over the years Building Clouds has reached out to hundreds of traditional mechanical /control contractors about becoming Building Control Partners. Some have come on board yet many shared that they were over committed with the two, three or four systems that they currently represented.

We realized that the traditional channels were maxed out and we needed to create simple and easy solutions that could be installed by up and coming companies, maintenance companies or in-house facility personnel.
So we created solutions, "kits" that can be ordered and installed that include:

An Opendiem web account preconfigured for the customer site and the specific kit(s) ordered.
"in-a-box" kits with the required strati-fi, pre-programmed controller or thermostat(s), sensor(s), transducer(s) or gateways.
Some of the kits are:
Roof Top-In-A-Box
Thermostat-In-A-Box
Boiler-In-A-Box
Heater Furnace-In-A-Box
VAV-In-A-Box
Power Meter-In-A-Box
Belimo ZIP-In-A-Box
BLE-In-A-Box
We have MODBUS controllers with local displays for:
VAV – Cooling Only, Hot Water Reheat, Electric Heat, Dual Duct, CO2 Integration
Boiler and Hot Water Pumps
AHU's w/Econ/Heating & Cooling Coils/Duct Static/Building Static/DX Stages
Heater Furnace w/Bypass/ Stages/Modulated Gas Valve
Cooling Tower Control
Variable Pumping and Staging Control
Chiller Control and Sequencing
Fan Coils
Custom Applications

Sinclair: Bob that's a pretty complete technology offering. Also Building Clouds can be the back office for new control companies as well end-user accounts. Correct?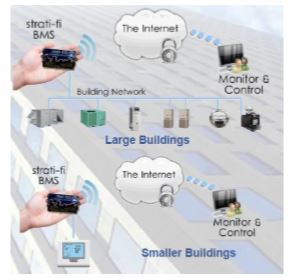 Wallace: Correct.
Sinclair: As part of the IoT, the ability to share data to other system is important. How does Building Clouds share data to other cloud systems or on premise building management systems?

Wallace: For other cloud solutions we typically have written to their APIs to read and write data. Some of our API and connectivity solutions are:

Energy Star, www.energystar.gov, Building Clouds can monitor building main power, gas and water meters and automatically send daily updates to shared meters from other Energy Star partners.
Enphase Solar API, www.enphase.com, Building Clouds integrates to read all solar information from Enphase accounts to control building systems to maximize solar generation.
WattTime API, www.wattime.org, Building Clouds integrates to read real-time NERC Balancing Authorities data for carbon use management at the connected device level.
Rainforest Automation API, www.rainforestautomation.com, Building Clouds integrates to read real-time utility meter data from connected Eagle™ Smart Meter Gateways for local control and energy management.
Weather Underground API, Current Conditions, Yesterday, Hourly and 10-Day Forecasts, Historical data and Astronomy for optimized building and site control.
RMS-CC API, Wireless Thermostat Ecosystem, Building Clouds integrates to read and write real-time data to wireless PRO1 thermostats.
Opendiem Peer-to-Peer, Share any data between multiple Opendiem accounts.
OPC, OPC XML/DA Client Connectivity, Part of the Opendiem Suite.
OPC Server with UA, Part of the Opendiem Suite.
DDE, SQL, CSV Connectivity, Part of the Opendiem Suite.
MODBUS TCP/IP Master, Part of the Opendiem Suite.
BMS connectivity for Siemens, Network 8000, TAC i/NET, Andover, Part of the Opendiem Suite.
LNS Connectivity Driver (Native), Part of the Opendiem Suite
Echelon i/LON-100e3 Server Connectivity, Auto Discovery, Part of the Opendiem Suite.
3rd Party OPC Software Servers for BACnet and other systems.
Protocol Gateway Connectivity.

Sinclair: Well Bob it looks like Building Clouds has a pretty full complement of solutions for the IoT.

Wallace: Thank you Ken. We appreciate the opportunity to share our technology with others. I thought about an editorial you wrote back in February 2010 right after coming back from AHR. You talked about "BAD-ASS".

I think we have achieved it!

http://www.buildingclouds.com/
---


[Click Banner To Learn More]
[Home Page] [The Automator] [About] [Subscribe ] [Contact Us]