---
Articles - April 2019

Our authors provide insight into our rapidly evolving industry.
Please take the time to read their valuable articles.

Will 8GHz UWB Radar Disrupt Occupancy Analytics in Smart Buildings? A technology that cannot only see how many people are in a room through its walls but can also determine their health, stress level, and ability to focus from range. - James McHale, Managing Director, Memoori

BACnet: The Heart and Soul of Smart Buildings - Steve Jones, Managing Partner, The S4 Group, Inc
Cybersecurity: The Gatekeeper to Value The concept of Facility IT mandates that information flows securely and easily between all elements of BAS, FM and IT. - Anto Budiardjo, Editor, New Deal Blog

The State of BAS Cybersecurity IB performs a series of assessments both before the site visit and once onsite. There are several tools and methods we use to complete a holistic cybersecurity evaluation of building control systems. - Fred Gordy, Intelligent Buildings, LLC
Towards a Cybersecurity Partnership in Connected Buildings It is our goal that smart building owners and operators avoid the harsh realities of cyberattacks now by taking a proactive approach towards cybersecurity. - Kevin T. Smith, Chief Technology Officer, Tridium
Cybersecurity or Something Better The buildings industry has almost fully transitioned from pneumatic to DDC software control. But, there is a lingering sense that software should work reliably forever, just like the physics it replaced. - Therese Sullivan, Customer Marketing Leader, Tridium Inc.
Introduction to BACnet/SC A Secure Alternative to BACnet/IP - Jim Butler, CTO, Cimetrics Inc.

The Business Side of Cyber Security Why it Matters - Marc Petock, Chief Marketing & Communications Officer, Lynxspring, Inc.
The Need for Holistic BAS Cybersecurity Our collective success is based on our weakest link. Our industry is inherently collaborative. We seldom work alone on a project, and partnering is our modus operandi. - James Lee, CEO, Cimetrics, Inc.
Collaborating Around Cybersecurity Anto Budiardjo and Ken Sinclair Collaborating - Anto Budiardjo, Editor, New Deal Blog and Ken Sinclair, Editor, AutomatedBuildings.com
A Cybersecurity Framework for the World of BAS How does NIST's cybersecurity framework apply to Operational Technology? - Pook-Ping Yao, CEO, Optigo Networks

Scott and the AI Beanstalk This is what I call IoT in your face! - Scott Cochrane, President, CEO, Cochrane Supply & Engineering
iSMA Hotel Solution Client's satisfaction = success of your hotel business. - Oleksandr Zdir, Product Manager, Global Control 5
How can WE create smarter buildings? The companies that do get it are the system integrators of the world that are at the cutting edge. - Nicolas Waern, CEO, Go-IoT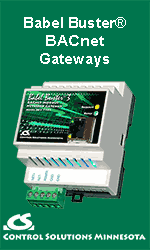 Columns - April 2019
Cybersecurity for Modern Building Services Even cybersecurity is becoming more secure and scalable by becoming service oriented. - Toby Considine, TC9 Inc

Customer 4.0 Customers are now calling the shots. - Manny Mandrusiak CD. Vocational Rehabilitation Consultant, Vancouver Island Works Project

Cybersecurity Solutions My concern is that in fencing off every risk we will end up the ones behind the fences—immobilized, paralyzed, victims of our own fears. - Ken Sinclair, AutomatedBuildings
Communities of Practice The importance of being part of and creating CoPs — Communities of Practice. - Ken Sinclair, AutomatedBuildings

AI is still a Journey Disruption is everywhere, and open is on our mind and in our software and hardware. - Ken Sinclair, AutomatedBuildings
---


[Click Banner To Learn More]
[Home Page] [The Automator] [About] [Subscribe ] [Contact Us]