---
Summary:
This month's article, Part 1, is on the BAS job market. Next month, in Part 2, we will discuss the BAS Candidate Talent Pool and how to develop a hiring strategy to compete for and land the high in-demand BAS talent that you need.
· The number of BAS jobs posted peaked in March 2020, declined until May, remained level until Dec 2020, and has been on a steady climb since.
· Posting intensity is the number of times the same job is found posted by EMSI, the data company we are using. The posting intensity for BAS jobs is 7:1. The average for all jobs is 5:1. The posting intensity for BAS jobs has been steadily increasing since 2016. This illustrates the increasing difficulty companies are having obtaining BAS talent.
· With respect to Control Technicians, the current average National hourly wage is $36.12/hour.
· The median life of a Control Technician posting is 38 days.
· 5 companies are competing for 50% of the Control Technician talent.
· The top cities competing for Control Technicians are shown.
· The top States competing for BAS Talent, in general, are shown.
· This data will help you see the opportunities and threats your firm may have in hiring BAS talent and thus help you develop a stronger strategy for going after and landing the talent that you need.
· If you would like additional insight into your particular need, call me or email me and I will see if we can find the information.

The quest for good data
A small non-profit organization, the Association of Controls Professionals (ACP), is on a mission to provide education and industry resources for the long-overlooked building automation systems industry.
It's from them that I previously obtained the number of BAS jobs posted on the internet each week which I compiled and provided in AutomatedBuildings.com articles over the last couple of years.
Unfortunately, the last available data they provided was on July 4, 2020. Since then, ACP, has been in the process of reorganizing, and we hope they will be back with us soon.
In the meantime, "What do we do?"
As BAS professionals, we know that integrating data analytics in with building automation systems is crucial.
The same is true in hiring.
Having the correct data, properly analyzed, helps us to be more strategic in our recruiting efforts and develop the right approach for attracting and retaining talent.
Therefore, I have been on a quest since July to find a way for us to get specific data on both the BAS Job market, and BAS Candidate talent pool.
The Bureau of Labor Statistics
In my journey, I spent hours on the Bureau of Labor Statistics (BLS) website trying to figure out a way to get at their data. The data is in there. But can we get to it?
Alas, no luck.
All of the information available is high level. For example, building automation professionals are lumped in with all control professionals. But obviously we aren't interested in jobs requiring people with experience using SCADA or who know how to implement a DCS within a petrochemical plant.
In addition to the BLS, Career builder, LinkedIn, indeed.com, and other firms also provide job-related information, especially if you have a membership, but again, only high-level information when it comes to BAS.
EMSI (economicmodeling.com)
Fortunately, I learned about EMSI (economicmodeling.com). They provide an interface to get at the data. I had to chuckle during my training session with my Account Manager. He told me that even the BLS contracts with them to slice & dice their own data.
The BLS can collect it; they just don't analyze it beyond what they themselves need for Department of Labor requirements.
Ø This month, I am providing insight into the BAS Job Market.
Ø Next month, I will provide insight into the BAS Talent Pool.
EMSI provides the data on a monthly basis, which is fine.
I went back to July and caught the data up from where we left off.
# of unique BAS jobs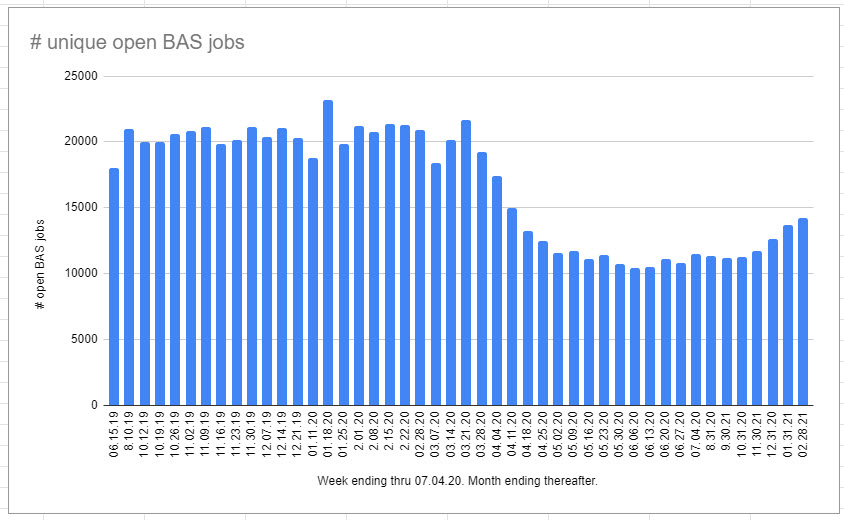 How this works: EMSI has visibility into every job posted on the internet. I enter the keywords "building automation" into the interface and it gives us the count for all of the jobs posted with the words "building automation" somewhere in the posting.
As I studied the database, I noticed that the results are "unique jobs." EMSI is able to compare the jobs to each other and remove duplicates.
We can see that the decline in BAS job postings stabilized in May 2020, and remained relatively flat until Dec, 2020. Only since then have we begun to see a recovery.
Control Technician Job Postings
Next, I went through the list of titles (about 800) and picked the ones that reflect the job of "control technician." (Examples of other titles are programmer, electrician, project manager, sales, engineer, software developer, estimator, branch manager, design engineer, and so forth.)
EMSI uses official BLS job titles. Therefore, within the "building automation" jobs, there are 9 titles we can pick that represent jobs for a "control technician" role. The 9 titles are: Control Technician, System Specialist, Integration Specialist, Integration Technician, Control Systems Technician, Building Automation Technician, HVAC Control Technician, Building Automation Specialists, and BAS Technician.
As a quality control check, there is a graph that shows me what percentage of the jobs represented by these 9 titles have the phrase "building automation" in them. It's 95%. That means that while a few jobs in the mix might be for industrial automation, we' will be pretty much on track.
Thus, the below information is indeed relevant.

#unique job postings for a "control technician" type of role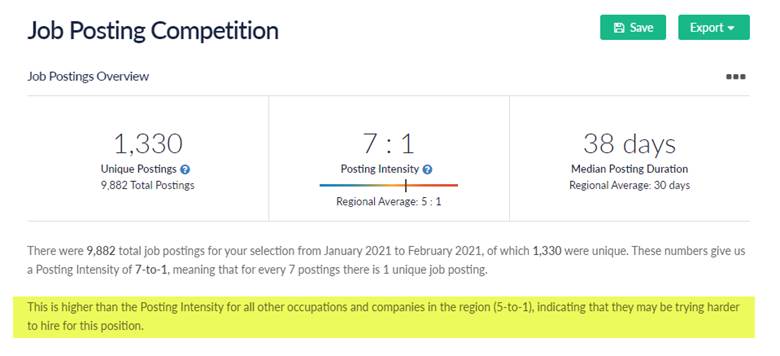 Here is where the data becomes instructive. Approximately 10% of all of the BAS jobs are for a control technician type of role.
The posting density of 7:1 means that each job is posted approximately seven times with the median life of the posting being 38 days.
I looked at some historical data. The 7:1 posting intensity has remained since April 2020.

It's mostly 6:1 in 2018 and, in this next chart, we see it going back to 3:1 in 2016.
Conclusion: this does show us the increasing difficulty in trying to recruit BAS control technicians.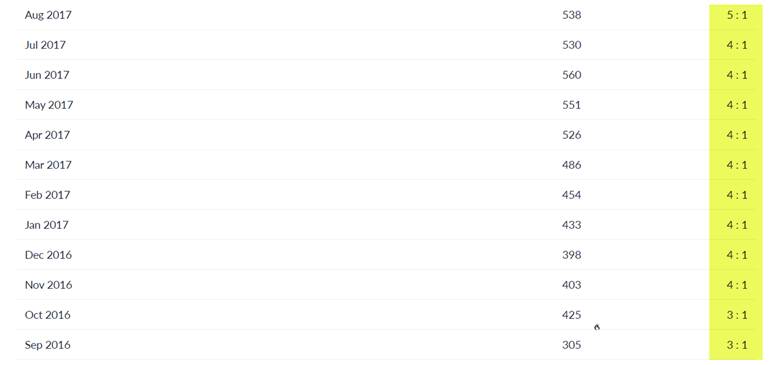 Average Wage Trend for Control Technicians
This graph is instructive. It shows us the average wage trend for control technicians remained fairly steady until September 2020, declined until December, then has been an a rise since then. This coincides with the increasing number of jobs posted.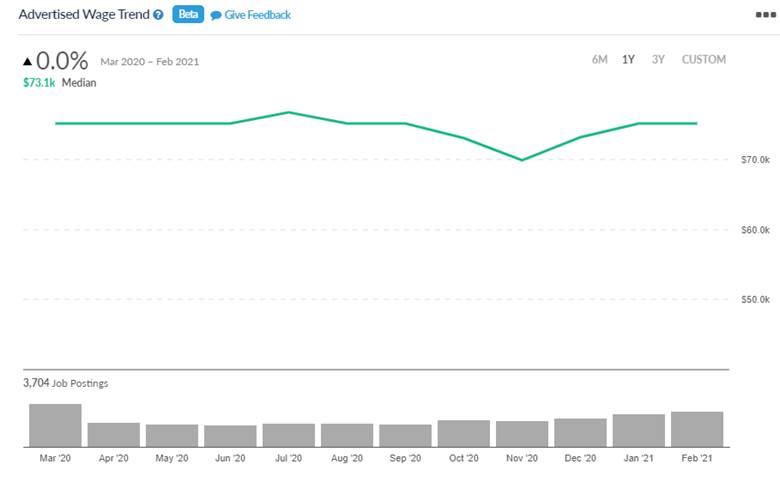 Average Hourly Rate
86 of the jobs for control technicians contain salary information. This graph breaks it out for us. It's a national average. At this point in time, EMSE doesn't break it down for us by Region or State.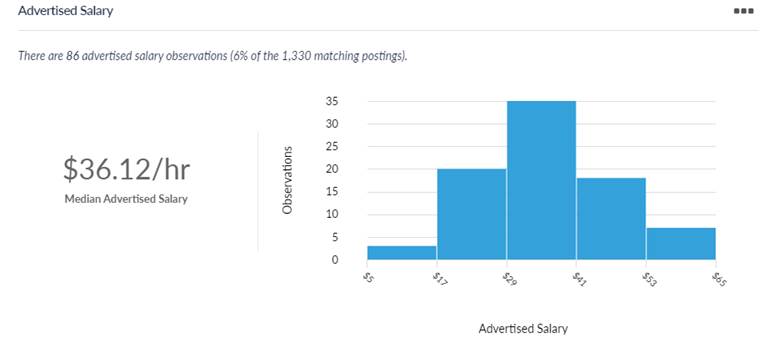 Posting Duration

This chart shows us the posting intensity and median posting duration for controls technician roles.
It also shows us which titles are most commonly used. The top 4 job titles (out of the 9 I picked), represent 85% of the jobs.
In the next chart, we see the top five companies posting. They represent 53% of the posted jobs. Note the median posting duration. Except for Siemens, the posting duration average is 55 days.
These 5 companies are the main ones competing for the Control Technician talent.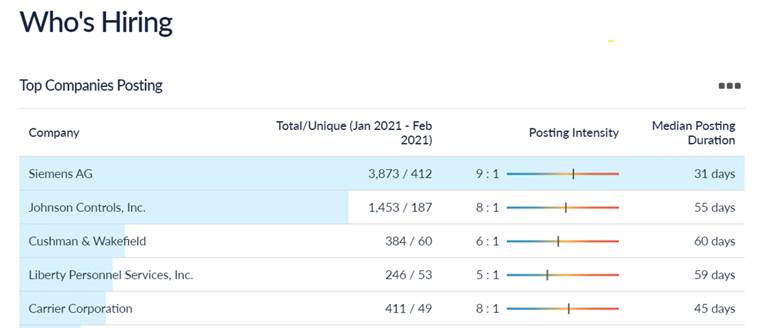 I was quite surprised to see not only the number of postings Siemens has but the aggressiveness they, Johnson Controls, and Carrier have in terms of posting intensity.
Controls Technicians – Top Cities Posting
I thought it would be interesting to study the Top 20 cities competing for control technician talent. Of interest is Seattle. Notice their "6 days" for median posting duration. Either they gave up quickly, have plenty of controls technicians available, or the companies competing for that talent are paying high wages and enticing candidates to move. I do not have any insight into this market at this time.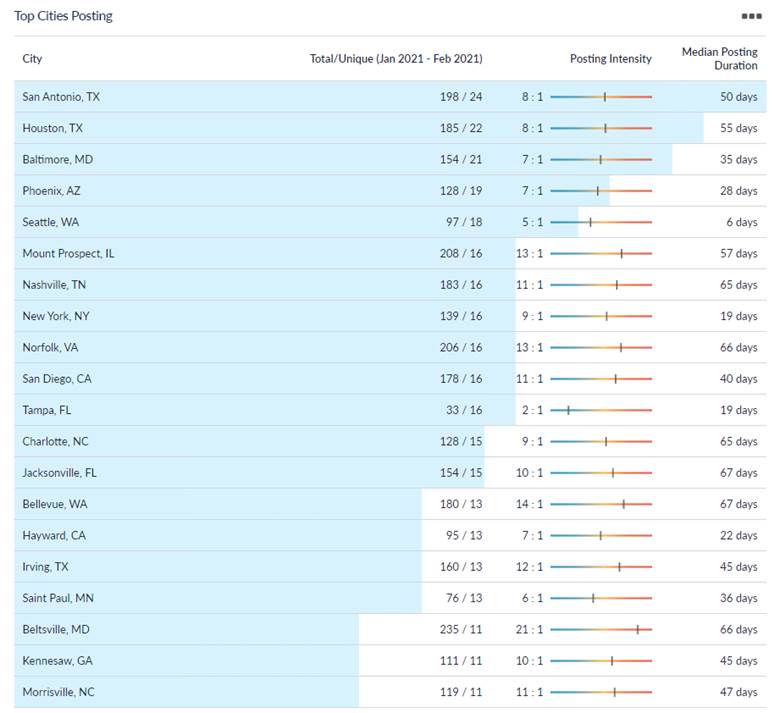 States with the Greatest Number of BAS Postings
This next map shows us the density of building automation postings per state. (This is for all BAS postings, not just control technicians.) I was able to capture the first 17 on this snipped image. All 50 states are available if anyone is interested. While some of the States are not surprising, I found a few to be.
This again will help you see where the competition for BAS talent is the heaviest.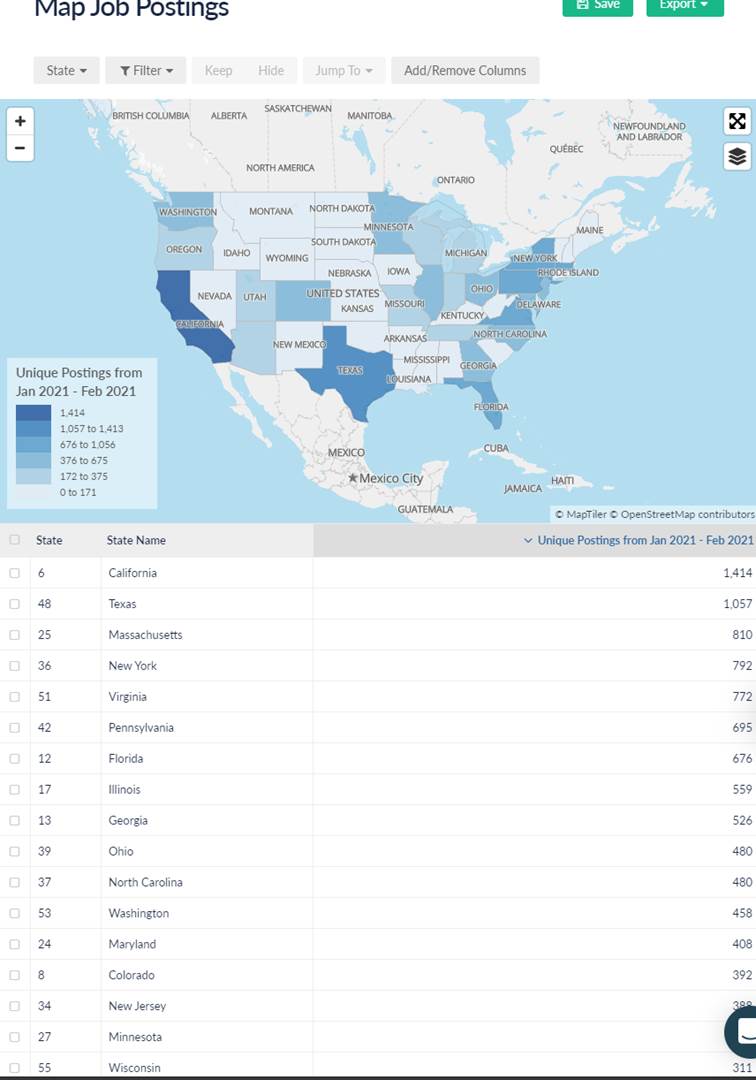 Our BAS Talent Pool
Now that we have insight into building automation jobs, next month we will take a look into the Candidate Talent Pool and explore how to develop a hiring strategy to compete for and land the BAS talent that is in high demand.
A Sneak Peak into some of the information we will be covering in the May issue of automatedbuildings.com
On the talent side, EMSI is able to extract the following information for us from the BLS data. Every "breadcrumb" that someone leaves on the internet is picked up by a system somewhere. The BLS collates it and EMSI gives us an interface to get to it.
Using the data the BLS provides us, we can create strategies to identify the talent and engage with them. In next month's issue we will take a deep dive into this.
Building Automation Control Technicians/Systems Integrators in the US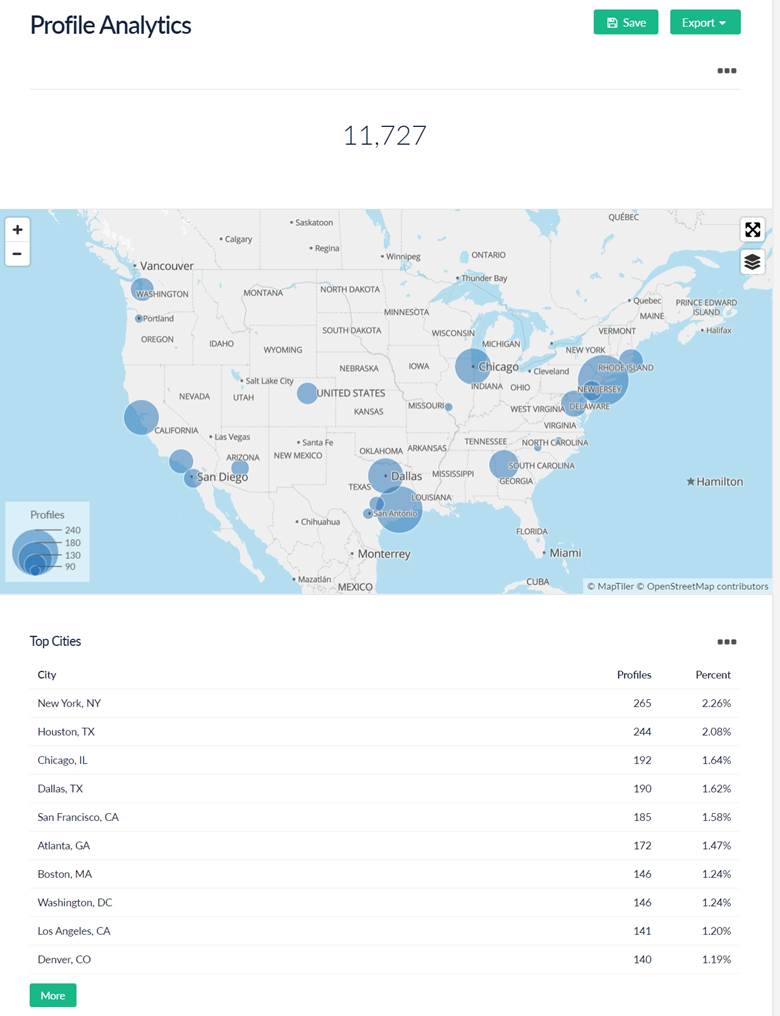 Tridium Niagara Control Technicians/System Integrators
These are the professionals from the previous dataset who Indicate they have some sort of Tridium Niagara experience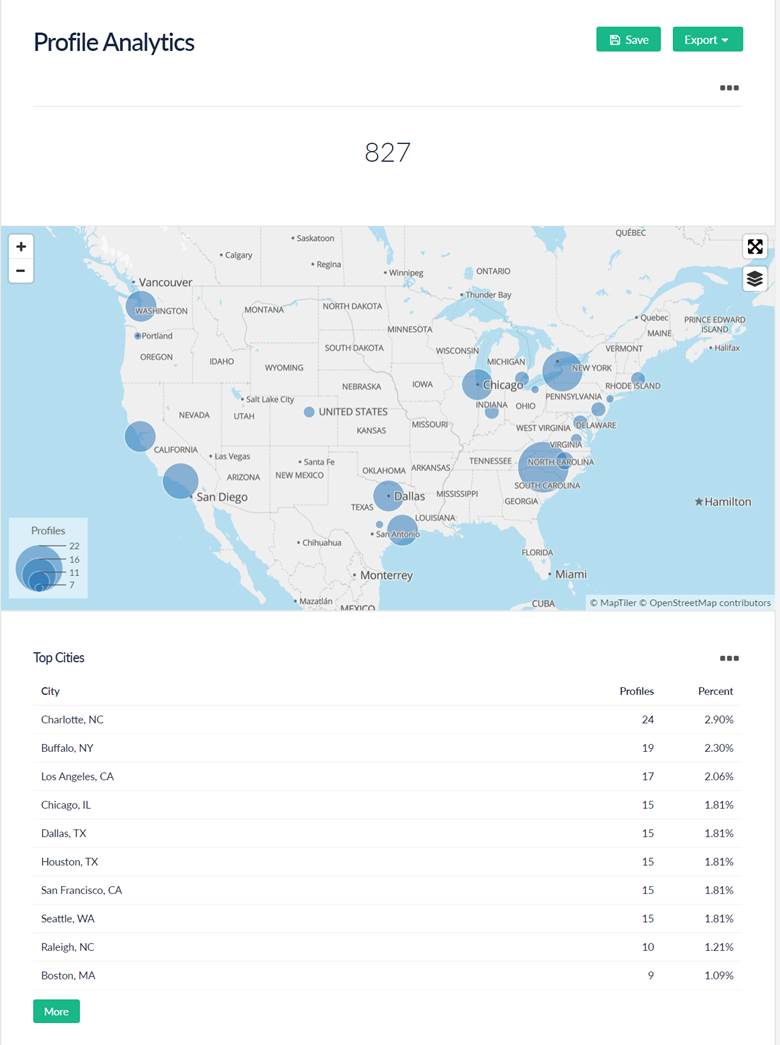 I would really appreciate any feedback & comments on this information we have uncovered.
Skip Freeman is a Senior Technical Recruiter (Headhunter) at Building Automation & Smart Industry Solutions (BASI Solutions.)
As a graduate of the United States Military Academy at West Point with a BSME, Skip served 10-years in the U.S. Army Corps of Engineers before serving in Field Sales & Leadership roles in specialty chemicals, water treatment, HVAC, and industrial equipment.
Today, as a recruiter with BASI Solutions, Skip focuses on helping companies hire the best & helping the best get hired in:
· Building Automation &
· Smart Industry.
Connect with Skip and follow us at BASI Solutions to stay up-to-date on the latest jobs, career advice, and insight into employment and talent within the world of Building Automation.
Skip can be reached at Skip.Freeman@BASIsolutions.com and 706-986-0833(text/call).
---

[Click Banner To Learn More]
[Home Page] [The Automator] [About] [Subscribe ] [Contact Us]