Frank Miraglia, Manager, Controls & Automation Tri-State Technologies, a multi-faceted contractor offering Mechanical, Electrical, ATC/DDC and HVAC installation services.

At this point size should no longer matter in determining what opportunities we should pursue in the commercial buildings market. Any opportunity should be a good one for all of us.
---
Hardly a day passes for me, it seems, where I'm not impressed by either the announcement of another amazing advancement in technology or by the use of new technology in areas where I would have never envisioned it being applied. For me, this certainly rings true in the world of building automation and facility management systems. The technology transfer to our industry over just the past ten years alone has enabled us to do today what many in our industry may have considered "wishful thinking" back then. We now have HVAC control systems that are seamlessly integrated with life safety systems, security/access control systems and lighting control systems. These systems are now smart enough to notify us "lowly" human beings when there is a problem, or potential problem, and they can do it in a multitude of ways - directly to a printer, phone call to a numeric or alpha numeric pager or even via an e-mail, just to name a few. We are now starting to see the fruits of the movement toward "Web" based facilities operation and the evolution of a new class of building operators, the super operator. Empowered by technology, these super operators will be in control of hundreds of thousands, or even millions, of square feet of real estate in the very near future. That is certainly some serious size!












These developments, however, led me to ask some fundamental questions about the size of the commercial buildings market. Just how big is the overall market? How many large commercial office buildings, sprawling state university campuses, mammoth real estate development/property management organizations and mega casino hotels constitute the large building automation systems market? How big, or for that matter, small, is the rest of the market? Is bigger necessarily better for the building automation and facilities management systems market? Can the price of today's cutting edge technology be made affordable enough to justify its application across the entire market spectrum? After some "surfing", I found a source of information that was quite useful in my quest to come up with realistic answers to my questions - the CBECS. The most recent CBECS, or Commercial Buildings Energy Consumption Survey, was conducted in 1999 by the D.O.E.'s Energy Information Administration. The CBECS collects data from a sample of buildings representative of the commercial buildings sector of the United States every four years. A commercial building, as defined by CBECS, is an enclosed structure with more than 50% of its floorspace devoted to activities that are neither residential, industrial nor agricultural. The target population of the survey consists of all commercial buildings in the United States with more than 1,000 square feet of floor space. The results of the survey had a dual impact on me. They helped to provide me with quantitative answers to some of my questions but also got me thinking, and eventually coming up with, new questions. Quite possibly the following information will have the same effect on you.
The 1999 CBECS estimated that 4.7 million commercial buildings were present in the U.S. that year. Those buildings comprised a total of 67.3 billion square feet of floorspace with the average size for all commercial buildings in 1999 being 14,460 square feet. Half of all the commercial buildings were in the smallest size category (1,001 - 5,000 ft²) with another 24% in the next larger category (5,001 - 10,000 ft²). The largest size category - buildings larger than 500,000 ft² - was comprised of only 7,000 commercial buildings. Lastly, the median age for all commercial buildings in 1999 was 30.5 years with more than 36% of buildings constructed prior to 1960.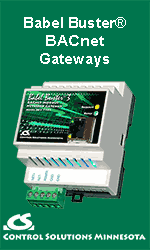 Obviously, the size of the "whale" end of the market (>500,00 ft²) dwarfs in comparison to the rest of the commercial buildings market. This being the case, the key to unlocking the real potential of the entire market for the future, I believe, will be in the hands of the companies who can successfully deliver quality systems to every size level of the commercial buildings market. There are numerous companies today that have been, and will continue to be, very successful in the medium and large commercial buildings automation market. What do these companies, as well as the rest of us, need in order to reap the benefits that will stem from applying the latest technology to the entire commercial buildings market? Fortunately, we already have part of what we need in place due to the ever increasing number of businesses in this country that have already implemented the use of local area networks (LAN) and wide area networks (WAN) in their offices and facilities. By doing this, these businesses have inadvertently provided the backbone we need in order to optimize the "web" aspects of our ever burgeoning technology. The industry needs to place the onus on the manufacturers now to develop new, competitively priced products that will allow browser based access to the building automation system via the Internet. You read this and say to yourself "Which cave has the author been living in lately?"
What the industry needs to do is not settle for what we have today that allows us to connect to the "net". The industry must demand that the manufacturers continue to use the technology to drive the products we use today to a higher level. Gone should be the likes of these so called "bolt on" type products some manufacturers insist on strapping to their quasi-proprietary systems. Typically, these solutions come with price tags that have too many zeroes to the left of the decimal point for most owners. Gone should be the products that do not offer multiple protocol options such as Echelon, BACNET, and Modbus for example. The market needs a connectivity product that can be installed in a 14,460 square feet space (does that number look familiar) that may only have dial-up access to the Internet and two digital controllers installed; a product that can be ordered with multiple sets of drivers if you need to connect to both a "legacy" system and the newly installed "state of the art" system; a product that is as close to "plug and play" as you can get when it's installed so you're up and running in a minimal amount of time and, best of all, comes at a price that even the owner or tenant of that 14,460 square feet can afford. If the industry can get to this point, the options that will open up for us because of it could be limitless. At this point size should no longer matter in determining what opportunities we should pursue in the commercial buildings market. Any opportunity should be a good one for all of us. Maybe I'm just dreaming or doing some "wishful thinking" - but, after all, isn't that part of how we went from where we were even ten years ago to where we are today?
---


[Click Banner To Learn More]
[Home Page] [The Automator] [About] [Subscribe ] [Contact Us]