---

EMAIL INTERVIEW - David Wolins & Ken Sinclair
David Wolins, CEO, Scientific Conservation, Inc.
Mr. Wolins has dedicated his career to the advancement of the energy efficiency industry and has worked over a 25 year period with facilities, their processes and their HVAC, refrigeration, controls and metering systems. He was responsible for the design and execution of many cutting edge energy improvement projects including PG&E's ACT² and BPA's small commercial demand response program. Prior to founding SCI, we was a founder of EnFlex Corp. in 1993, which was acquired by Sun Edison in 2008. Mr. Wolins holds a B.S. in Mechanical Engineering from the University of California at Berkeley.
---
Address Operating Inefficiencies
Recommissioning every few years or on an ad hoc basis is not the answer. Facilities managers need an Automated Continuous Commissioning solution that persistently and automatically predicts, detects, diagnoses and prioritizes system faults and anomalies that are constantly present in commercial buildings.















Sinclair: Despite technical advancements in new construction, commercial buildings still suffer from an average of 17 percent loss in energy efficiency within 1 – 2 years. Why?
Wolins: Building drift. Ironically, new technical advancements have made buildings more complex with additional "moving parts" that increase the probability of system failures and anomalies. Compounding the difficulty, equipment manufacturers can only supply information on how systems operate in a laboratory so it is virtually impossible for the typical facility operator to know exactly how well equipment operates in the real world unless it fails substantially.

Energy drift can be triggered by a wide variety of problems ranging from clogged filters, worn belts, dirt, to more complex issues that include electrical, mechanical and HVAC system faults. In addition, anomalies in building tolerances, seasonal climate change, or varying tenant occupancy rates can contribute to the growing problem of energy seepage.
Sinclair: In view of the problem of "energy drift," what can commercial building owners and facility operators do to address operating inefficiencies, which seem to recur without anyone even knowing it?
Wolins: Recommissioning every few years or on an ad hoc basis is not the answer. Facilities managers need an Automated Continuous Commissioning solution that persistently and automatically predicts, detects, diagnoses and prioritizes system faults and anomalies that are constantly present in commercial buildings. By persistently monitoring and measuring system-wide performance you can detect problems before systems break.

Consider the example of a typical air conditioning unit. The weather, age, degradation of various components, and partial load efficiencies are all examples of variables that are constantly changing but incredibly difficult to measure. To understand what is actually happening can best be understood through the use of a complex degree of mathematics that can dynamically model the systems operation. By using these models one can identify anomalies and alarm the user when performance degrades to the point where either the system is in danger of a major failure or the cost to operate it exceeds the cost to repair it.

These problems accumulate over time while the system does its best to maintain operations within "tolerances." Losses due to this degradation occur and continue to allow for drift in proper operations leading to potential damage to equipment and the failure of equipment to perform as necessary.
Sinclair: Why is Automated Continuous Commissioning such a significant breakthrough in helping commercial buildings achieve optimal energy efficiency and operational accountability?
Wolins: Automated Continuous Commissioning is a new solution that takes raw information from energy management systems and converts it into actionable tasks prioritized by savings. The "continuous" element of the solution provides ongoing measurement of changes in each system's health on a 24/7 basis. Due to its persistent nature, the service actively and continuously determines the root of systemic operational problems, predicts operational deterioration, and quantifies its associated cost.
Sinclair: How do commissioning and diagnostics work together?
Wolins: Diagnostics should precede and follow commissioning by a) identifying sources of operational degradation including sensor faults, system component issues, controls problems before commissioning and b) tracking and maintaining operational improvements and identifying changes to operational status over time.
Sinclair: What is required before implementing an Automated Continuous Commissioning solution?
Wolins: Establish what your goals and obligations will be during and after recommissioning your facility:

1. Identify the economic model that includes both energy and avoided operational costs plus a pool of funds for repair in support of this initiative.
2. Educate executive team to the benefits of recommissioning.
3. Make sure that IT understands what will be required of them and allot time for configuring the network to allow an outside party controlled access to the BAS through the network.
4. Prepare staff to provide technical data on the systems and equipment at the facility.
5. Prepare staff to receive reliable operational data previously unavailable
Sinclair: What information is required for the recommissioning process to be successful?
Wolins: One must collect system data consisting of design information, BAS information—make, model, access information, IP address or phone number, user name, password—and utility bills dating back at least two years. Scientific Conservation Inc., for example, provides a comprehensive form that spells out the background information required.
Sinclair: Is any training required to maintain a recommissioned building?
Wolins: In the case of our product, as an example, users of our diagnostics infrastructure only need to know how to use a web browser to access the information provided. Integrated with standard operations and maintenance information on the customer's systems, SCIwatch allows the customer to close the loop on tracking and maintaining the highest level of operational efficiency and risk mitigation available on the market today.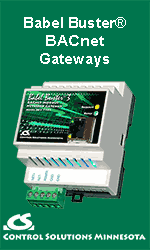 Sinclair: How long will it take to recommission a building and what should be expected during the process?
Wolins: Assuming all required data is provided, the diagnostics data flow will occur almost immediately. Initially the diagnostics will identify very basic issues such as faulty sensors, overlapping heating and cooling and flawed schedules. As the database collects more data the diagnostics engines will continuously tune themselves to further increase the accuracies of the modeling and the identified anomalies. This will assure that maximum operational efficiency is being achieved and maintained.,

Our deployment time is exceptionally fast. Recently, six 150k+sq. ft. retail buildings with different footprints were deployed in a matter of hours without taxing the support staff. SCIwatch is specifically designed to handle a high volume of facilities for rapid continuous commissioning.
Sinclair: Will there be any interruption in normal operations during the recommissioning process?
Wolins: There should be no interruption in normal operations. SCIwatch does not impede normal system operations. One may experience brief, after-hours periods when fluctuations in certain systems occur. For example, this may happen when the diagnostics engine exercises VAV boxes to check proper performance.
Sinclair: In the case of your product, what should one expect when it starts reporting?
Wolins: Initially SCIwatch will identify bad sensors and insufficient data needed to perform analysis on site systems. Once sensors are fixed or replaced it generates faults by priority. The priority is set by the user.
Sinclair: Is anything required to maintain?
Wolins: No. SCI maintains the platform freeing users to leverage the results to fix identifiable system faults and anomalies. We suggest using the priority tool in the user interface to prioritize what, if any, systems require special monitoring. Our dispatch tool allows the user to match the anomaly with the service provider while tracking the status of open service tickets. It is also recommended that if there is a question about an anomaly that the tracking mechanism be used for dispatch to SCI, and our team will respond with technical support.
---


[Click Banner To Learn More]
[Home Page] [The Automator] [About] [Subscribe ] [Contact Us]