---
Demand Management for Facilities Professionals

A demand management strategy is easy to implement and will yield savings on commercial electric bills.


Wayne Wiebe
Senior Vice President,
Kenmark Group
Two buildings set close to downtown San Jose make up the Echelon campus. Echelon is the inventor of a controls protocol called LonWorks. The buildings have extensive control networks which allow fine grain control of building systems. The structures are panel and single pane glass exterior walls; a standard built-up roof and minimum insulation. The buildings are very susceptible to exterior conditions like outside air temperature (OAT) and thermal load. Fortunately, the management team has made reduction of the utility budget a priority and realized fiscal and sustainability benefits. For the last ten years the cost of electricity has remained nearly flat due to innovative energy conservation programs. They have found that participation in incentive programs like demand response, and peak day pricing yields significant cost reduction. A similar way to reduce cost by implementing short term consumption control is called demand management.

All major utilities have demand components in each of the commercial and industrial rate structures they use to charge customers. The demand charge is based on a $/kW rate multiplied by the highest rate of consumption for one 15 minute period during the billing cycle.1 Typically this accounts for between 10 and 25 percent of the bill. The rates tend to be higher where consumption rates are higher; in metropolitan areas, and the Northeast and West Coast.

Demand management is the reduction of demand charges. Control the electric consumption and, over the short term intervals that measure demand, demand charges will be reduced. The system we use relies on three techniques: raise supply air temperature and reduce the load on the compressors; lower duct static pressure and reduce the load on the supply fans; turn off non-essential lights.2 The DCS delivers instant data on consumption and demand. Every weekday the demand curve follows a profile with a peak between noon and 4:00 PM. In a similar exercise that many buildings perform to respond to a demand response event, demand is reduced with minor reductions throughout the afternoon.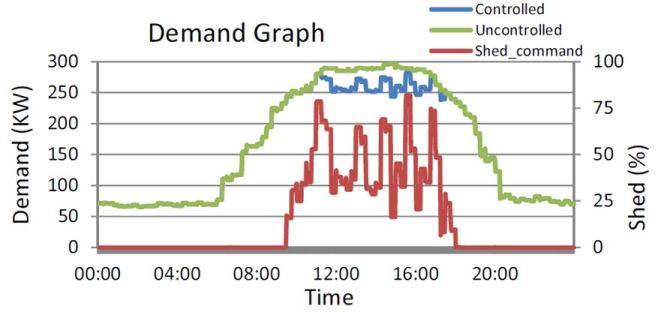 Figure 1 - Demand graph with and without control.
Only a few days in a billing cycle need to be controlled. It is possible to predict these days based on your knowledge of past building performance; however, we use a commercial service called Snapmeter from Gridium.3 At the beginning of each week we received a Snapmeter Email predicting specific days that will have high demand and what the highest demand will be in the billing cycle.

When Echelon started applying demand management we achieved satisfactory results. We saved $100 to $200 per month without any impact to comfort. This phase involved manually setting reductions from about 10:00 to 4:00 every day. After a few missteps involving sauna-like conditions for officers of the company, we were motivated to gain better control to interact with the DCS. We developed an algorithm to automatically hold the demand below a certain cap kW. The algorithm calibrates the same components we use in a demand response event but with a level of control of +/- 1%.

The algorithm takes Cap and Band kW numbers (see Figure 2) and calculates the difference. The difference, or band, is calibrated from 0 to 100. As the demand climbs during the specific day we have set a cap, it generates a "% shed" number. The % shed is used to adjust supply air temperature between 55 and 65 degrees, and duct static pressure between 1.5 and 0.2 inches of water. Additionally, at 90% shed the non-essential lights turn off.


Figure 2 - Flowchart of algorithm.
For example, if Cap is 300 kW and Band is 250 kW then when the demand reaches 275 kW the algorithm will set % shed at 50 and supply air temperature will be set at 60 degrees and duct static pressure will go to 0.85 inches. To further our example, once the demand reaches 295 kW a little while later the non-essential lights will be turned off.
The system Echelon set up has saved $6,806 in six months. This number comes from a comparison of a normalized model using last year's data. The most recent bill has savings of $558 in usage (4.4% of line) and $922 in demand (15.3% of line). This was a reduction of $1,480 or 8.2% of the bill. Demand management is most effective in the spring and fall because of the wider temperature variations during the billing cycle, but we expect stable savings through the summer.

Although we have described a fairly complex algorithm for demand management, much simpler processes have been shown to work. Additionally, the retrofit of a targeted control system for a 10 to 30 ton roof top unit devoted to this algorithm would cost between $5,000 and $8,000 to install. It is a simple exercise to calculate an ROI with the electric bill data. We recommend that all managers responsible for the utility budget line item examine the feasibility of demand management.

Please go to www.kenmarkcontrols.com for more information.
_____________________
1 An interesting history and analysis of how this charge became commonplace can be found in John L. Neufeld (1987). Price Discrimination and the Adoption of the Electricity Demand Charge. The Journal of Economic History, 47 , pp 693-709 doi:10.1017/S0022050700049068. Link: http://www.jstor.org/discover/10.2307/2121336?uid=3739560&uid=2129&uid=2&uid=70&uid=4&uid=3739256&sid=56315069543

2 Another solution is a battery pack which will store energy and discharge it at the consumption peaks. For an example, please follow this link: https://www.google.com/calendar/b/1/render?tab=mc.
3 For more information about the Snapmeter demand prediction service follow this link: http://www.gridium.com/snapmeter/.

---
About the Author

Wayne Wiebe is a Senior Vice President at Kenmark Group, and leads the Controls Division. Kenmark Controls is a LonMark Certified Integrator and has provided installation, management, and consulting on millions of square feet of controls implementations. Wayne has authored articles about managing large controls projects and innovative, cross-functional controls implementations. Please go to http://kenmark.com/team/wayne-wiebe/ or http://www.linkedin.com/pub/wayne-wiebe/0/755/12b for more information.


---


[Click Banner To Learn More]
[Home Page] [The Automator] [About] [Subscribe ] [Contact Us]