---
Strategic Acquisitions

in the Smart Building / Smart Grid Space

Allan McHale,

Director,

Memoori
Summary
Although the Smart Building Smart Grid Interface business is still in its infancy just a quick take on the strategic acquisitions that have been made over the last two years makes a strong statement that the world's major suppliers see this as a great opportunity to extend their business for they have invested heavily in its future.
The major suppliers to the Smart Grid market, whilst confident about its long term future have for a few years realized that there could be some long delays in its development. Their concerns have hinged around the immense technical and commercial challenge that the electrical utility companies face and their capability to finance it at a time when the regulators would be very reluctant to let them increase their tariffs sufficient to even facilitate the borrowings, let alone get a satisfactory return on their investment.
Interfacing Smart Buildings with Smart Grid
The smart ones came to the conclusion that with the aid of Smart Building owners they could circumnavigate some of these road blocks and make a significant contribution to the reduction of CO2 whilst all the stakeholders benefitted. Through interfacing Smart Buildings with Smart Grid, even at the latter's current stage of development, energy conservation and demand control would reduce the electrical load and where the site generated relatively clean distributed power this could be exported to the grid further reducing the CO2 emissions from the fossil fuelled power plants that will soon have to be retired.

All of this can be achieved for an investment of no more than 1% of the total investment needed to deliver a comprehensive Smart Grid and provides a very substantial and quick ROI. More important is the fact that it will not need money from the public purse as private finance will be available for around 70% of the investment.
Most of the major suppliers driving the Smart Building to Smart Grid interface business are manufacturer installers of sophisticated building and electrical network management controls and also offer EMSCo Services. To complete the full spectrum of technical and commercial attributes in order to offer a total solution to their clients they have carefully built up the additional, mainly software, expertise needed through acquisition. Their target is not just to supply and install interface systems but also to wrap this up in an EMSCO building performance contract that will bring even richer rewards.
We have here analyzed the strategies and companies acquired by 4 of the largest and leading companies in Smart Building to Smart Grid technology including Schneider, ABB, Siemens and Honeywell. We also mention but do not detail GE and Johnson Controls both having a strong expertise in this business. It should be noted that the analysis below refers only to acquisitions by the leaders relevant to SB/SG interface business. The portfolio of acquisition of these companies in the last two years extends much further into the Smart Grid arena. The chart below breaks down the acquisitions by business segment and this shows that in Control Management Software and hardware acquisitions grew by a factor of 10 in 2011. Further details on acquisitions and mergers can be found in our report http://memoori.com/smart-grid-2012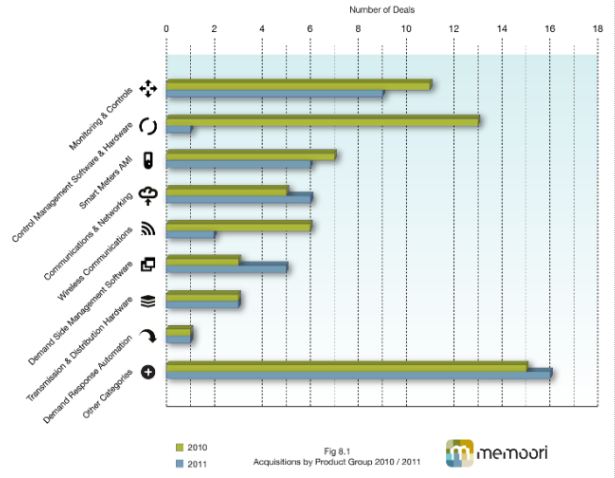 Strategic Acquisitions
Schneider Electric operates leading businesses in building controls, electrical network management equipment and more recently EMSCO services.

Last year Schneider acquired Televent for $2 billion and extended their move into software and real time monitoring and control in 3 key infrastructure markets: smart grid, efficient infrastructures, and smart cities. The company is working on "smart city" projects in the U.S., France and China that link buildings and the grid.
In May this year they purchased M&C Energy Group for an undisclosed sum from owner Lyceum Capital. M&C expects to see about £35 million ($56.5 million) in annual revenues in the year ending in June for its energy procurement and sustainability services business. Last year it purchased Summit Energy, the U.S.-based energy services provider with about $20 billion in energy contracts and 650 customers, for the sum of $268 million.
The combined companies will serve about 4,000 customers, including both large corporations and pools of small to medium-sized businesses. M&C's presence in Europe and Asia-Pacific also serves Schneider's hunt for acquisitions that offer it entry into new markets. This is a sizable new customer base for Schneider's power equipment retrofit and energy services business.
Schneider Acquired Viridity to increase its expertise in Data Centre Power projects through their data centre infrastructure management software, EnergyCenter 2.0, which provides a link between the infrastructure, IT equipment and the applications that run on them.
The investment will bolster Schneider's StruxureWare suite of products for operating data centres. StruxureWare already incorporated facility and infrastructure management for data centres, but Viridity adds the component of allowing Schneider's customers to increase efficiency and manage energy use. The focus on this vertical is not surprising, given that data centres consume around 2% of the electricity in the U.S.
ABB operate leading businesses in building controls and the full spectrum of electrical transmission and distribution equipment.
ABB in 2011 purchased Australian renewable power integration company Powercorp whose portfolio includes automation and control technologies to manage the integration of renewable energy into isolated grids and keep generation in balance with consumption and Minicom leaders in enterprise asset management software. In January 2011 they acquired Obvient Strategies t&d software for managing and monitoring distributed assets. In 2010 they acquired Ventyx for $1 billion leaders in software for real time information on electricity demand, pricing and availability.
ABB says the acquisition strengthens its portfolio of control technologies and brings expertise for the integration of renewable energy into conventional micro and remote island grids.

Siemens operates leading businesses across the globe in building controls and the full spectrum of electrical transmission and distribution equipment and EMSCO services.
The Siemens Building Technologies Division in February this year acquired Pace Global, a U.S. based energy service provider. The acquisition underscores Siemens' commitment to helping customers increase the value of their companies by optimizing energy and resource efficiency. Pace Global's expertise enables Siemens to substantially expand its portfolio of sustainability and energy management services for companies and cities. Pace Global's business model combines strategic corporate consulting with energy procurement and CO2 management. The services offered by Pace Global enable Siemens to build a new customized solution portfolio to support its customers in developing strategies, applying them in daily operations and implementing measures.

Siemens is testing out grid building connectivity in New York City and other places. That's where Siemens has put eMeter, the smart grid software vendor it bought in November last year, as well as grid router and server maker RuggedCom, which it bought for $381 million this year. It's working with New York City utility Consolidated Edison on a grid-building demand response platform, where it already has a lot of buildings running its technology. RuggedCom which had revenues of around $94 million last year and employs 360 people, makes heavy-duty routers and Ethernet cables specifically designed for challenging environments such as those found in electric power substations and smart grids.

Siemens also has a stake in Powerit the not so well known but significant player in industrial energy management and demand response. lt has just launched a new version of its Spara EMS platform that represents the first step in moving to a cloud-based platform
Honeywell operates leading businesses across the globe in building controls and EMSCo services and has more recently bought into the electrical network management controls business.
Honeywell is one of the top 4 suppliers and installers of both domestic and commercial building controls in the world. It also one of the world's leading EMSCO service suppliers. It moved into the Smart Grid business in 2010 when it acquired OpenADR server maker Akuacom. It is now working on ADR projects in the Hawaii, China and the U.K. to connect utilities and grid operators to building control systems, combining with Honeywell's Tridium unit which was acquired some years ago.
Honeywell recently announced the release of the new Attune Advisory Services. This new SaaS offering includes dashboards, reporting, and support services worldwide in an effort to reduce energy and operating costs by up to 20% and at the same time draw new business for Honeywell's international services business. Attune is one more validation point for the importance of analytics & data management for transforming the facilities management industry to support the evolution of Smart Buildings.
The Smart Buildings technology landscape is getting more competitive by the day. This is good news for end users as vendors compete to bring the most productive and cost-effective solutions to the market. Industry heavyweights from information technology and building automation are joined by niche energy management providers in the race to provide sophisticated energy management solutions for transforming facilities to Smart Buildings. Honeywell's new Attune Advisory Service is another bold move by a building automation giant that demonstrates the value of analytics and data management for generating energy and operational improvements.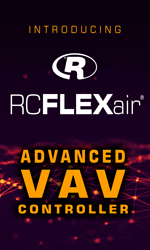 GE is one of the world's leading businesses in electrical transmission and distribution equipment and a major player in all aspects of Smart Grid.

In May 2011 it purchased FMC-Tech a small but leading supplier of real time power line monitoring and earlier in the year, SmartSignal Corporation an analytics software company Specializing in remote monitoring & diagnostics.
In January 2011 it acquired Lineage Power Holdings for $520 m that offers equipment to covert A/C to D/C and power modules for Data Centers and in the same month acquired Remote Energy Monitoring a supplier of software and hardware to monitor energy consumption. In 2010 it purchased Opal Software a specialist provider of SCADA simulation and data migration software. GE is also a leading supplier of HAN.
We should also mention Johnson Controls because it must be the largest operator of EMSCO services and a major supplier of building controls for commercial buildings.

However they have not so far pursued acquisitions on the smart grid side of the interface apart from EnergyConnect Group a supplier of smart grid demand response services which they acquired in March 2011.
The strategic acquisitions made by these six companies will within the next few years be supplemented with others and the possibility of them being successful unions is high. There is an almost perfect case for interfacing Smart Buildings with Smart Grid because all the stakeholders win. Both the technical and commercial risk is minimal and decades of latent potential business is stacked up waiting to be converted.

The driver for this business is "Negawatts", through reducing consumption at the consumer end and reducing production at the central power source through Distributed Energy, a cost effective solution to meet the needs of a low carbon economy in the 21st century is achieved. Intertwined with this is the function of demand control and the cost benefit it can deliver.
Further Research
Our report "The Smart Building to Smart Grid Interface Business 2012 - 2017" provides a quantitative and qualitative assessment of this growing business over the next 20 years. It assesses the potential size of this market and sets out all the important factors that will shape the business in the next 5 years in the leading countries in the world as well as breaking this down by product category and vertical building markets. It was authored by the same team that delivered the first multi client reports on "Intelligent Building Controls" over a 20 year period ultimately operated through a relational database and the first report on IT-Convergence in Buildings and reports on the Smart Grid business.

For more details visit the Website, http://memoori.com/smart-buildings-2012




---


[Click Banner To Learn More]
[Home Page] [The Automator] [About] [Subscribe ] [Contact Us]