---
Intelligent Building Cabling System

Learn more about the structured cabling system and the subsystems that converge over the same cable infrastructure.

Steve C. Paulov Ph.D.
steve.inm@hotmail.com

This article is in response to a question I received.
Seeking Information: Question: I want to learn more about the structured cabling system and the subsystems that converge over the same cable infrastructure generally referred to as Intelligent Building or Building Automation System.

Reply: The information I would like to share with you is information obtained from other contractors who have gotten into this business.

The article will be broken down into three parts - Part 1.

Okay, here we go!
Intelligent Buildings are the ones that use technology to automate the entire operation of building systems to enhance the safety, efficiency and comfort of occupants. There could be as many as 25 subsystems inside the building. Intelligent buildings or Smart buildings or Brainy buildings no matter what they are called, utilize technology to monitor facility systems and make any necessary adjustments. It comes together by using a generic robust cable distribution system, and using a computer with a single interface, integration, convergence and software to control all systems from one control center.

We hear and read all about the many benefits and efficiencies that today's technology is offering to building owners and developers and most will agree with the concept that accurate and timely information regarding their building sub-systems would be a most valuable asset. Enter a consortium of building management companies, users and manufacturers who changed this industry and came up with an industry standard.

Before I start using acronym and three letter words, listed below are words and brief explanations of some of the things I will be writing about.

Local Area Networks, Protocols and Standards:

A Local Area Network (LAN) is a data communications network that connects terminals, computers and printers within a building or other geographically limited areas. These devices could be connected through wired cables or be wireless to other links.
Ethernet is the most commonly used LAN technology.
A protocol is a system of rules that define how something is to be accomplished. In computer terminology, a protocol is usually an agreed-upon or standardized method for transmitting data and or establishing communications between different devices.
Transmission Control Protocol/IP (TCP/IP) is the communications protocol for communications between computers on the Internet. Inside the TCP/IP standard there are several protocols for handling data communications:
TCP (Transmission Control Protocol) communication between applications
UDP (User Datagram Protocol) simple communications between applications
IP (Internet Protocol) is the primary network protocol used on the Internet and many others networks and is often used together with the computers on a network. IP is a connection-less communication protocol.
BACnet™ is the standard communication protocol for Building Automation and Control Networks which provides the communication infrastructure needed to integrate products made by different vendors and to integrate building services that are now independent.
BACnet/IP was the answer for the need to add IP addresses into the BACnet standard.
LonWorks is actually a family of products developed by the Echelon Corporation. At the core of this technology is a proprietary communications protocol called LonTalk.
Interoperability is having protocols that operate across multiple systems.
Convergences as in building automation is defined as the complete integration of building systems with the larger IT systems and connect enterprise applications that exist within most buildings.
Gateway Protocol – If a sub-system cannot integrate to the intelligent building system via the BACnet, the sub-system shall be integrated via a gateway that converts the proprietary protocol to the BACnet protocol.
TIA/EIA-862 standard specifies a generic cabling topology, architecture, design, installation procedures and coverage areas to support building automation systems used in commercial buildings.
(This set of standards is a must to purchase)
The old way – the traditional design for a new or renovated building has always been to design a separate low voltage system using a variety of cables. These systems offer NO single interface for controlling and scheduling or reducing the amount of time that it takes to manage and maintain each system. (Great selling point).
The new way – See drawing.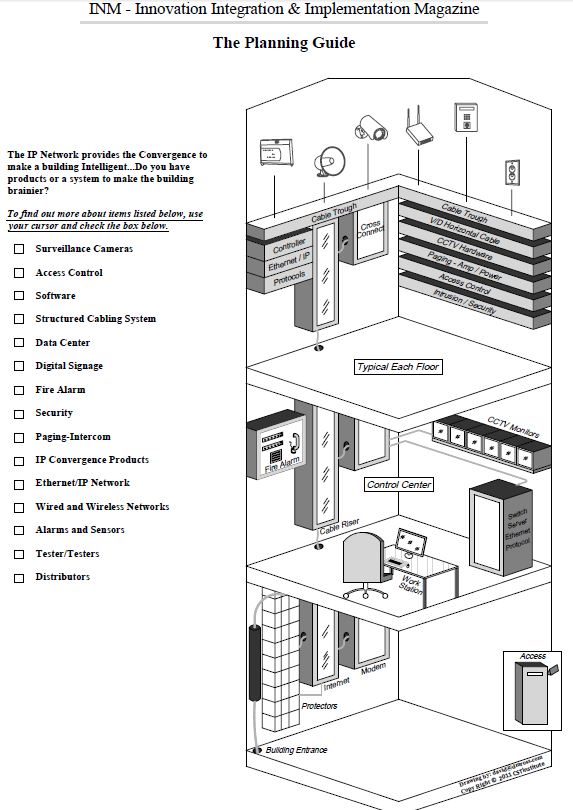 Let's talk about chain of command! When a project is funded, the first step is hiring a consulting engineer, architect and a general contractor.

Who does what? The architect designs the structure, the engineer designs the systems and general contractor is in charge of building the building and hires the many subcontractors who provide the systems, products, labor and installation. Most often the controls contractor (sub contractor) is hired by the mechanical contractor.

The controls contractor has the final responsibility of how systems in the building operate. Additionally, the controls contractor provides the integration of a variety of the buildings pieces that are directly or indirectly interfaced with a Local Area Network like Ethernet belonging to the owner's IT departments.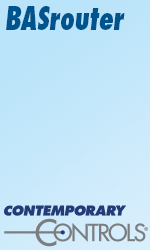 IT on the move: The IT world would never think of developing a separate network for just email or accounting or another network for administration. Years ago this is how it was done but in today's world, the IT has deployed common backbone architecture and how the various subsystems will be integrated. Industry is moving so fast toward Internet Protocol (IP) based networks, resulting in new demands on IT managers and their network infrastructure. Most companies have already developed devices that operate on TCP/IP with Internet IP protocols and will operate on copper or fiber cables.

We will design to two basic systems and the CUBE:
A. System for existing building/renovation
B. System for new construction
C. CUBE - You as the contractor should offer a program with options for modern building projects, new and existing; Hospitals, Schools, Airports, Industrial Plants and Retail Stores all have similar yet different core functions for convergence and integration into one centralized control System. I have designed a cube shape option plan (like a Rubik's cube) to show and explain to your potential customer the many options your planned system can support.

Next month, we will start by properly doing an inventory. This is one of the most important pieces of information you need to obtain from looking in each closet to chasing down a riser.
Additionally, those of you who have a customer base can use this information to provide a complete Design Build Project. This is a good shot at getting business immediately.

---
About the Author:

Steve is a self employed consultant engineer proving services from basic design, develop sales plans, design estimate, mange projects to installation.
He can be reach by emailing steve.inm@hotmail.com or calling 1.469.338.5731.


---

[Click Banner To Learn More]
[Home Page] [The Automator] [About] [Subscribe ] [Contact Us]