---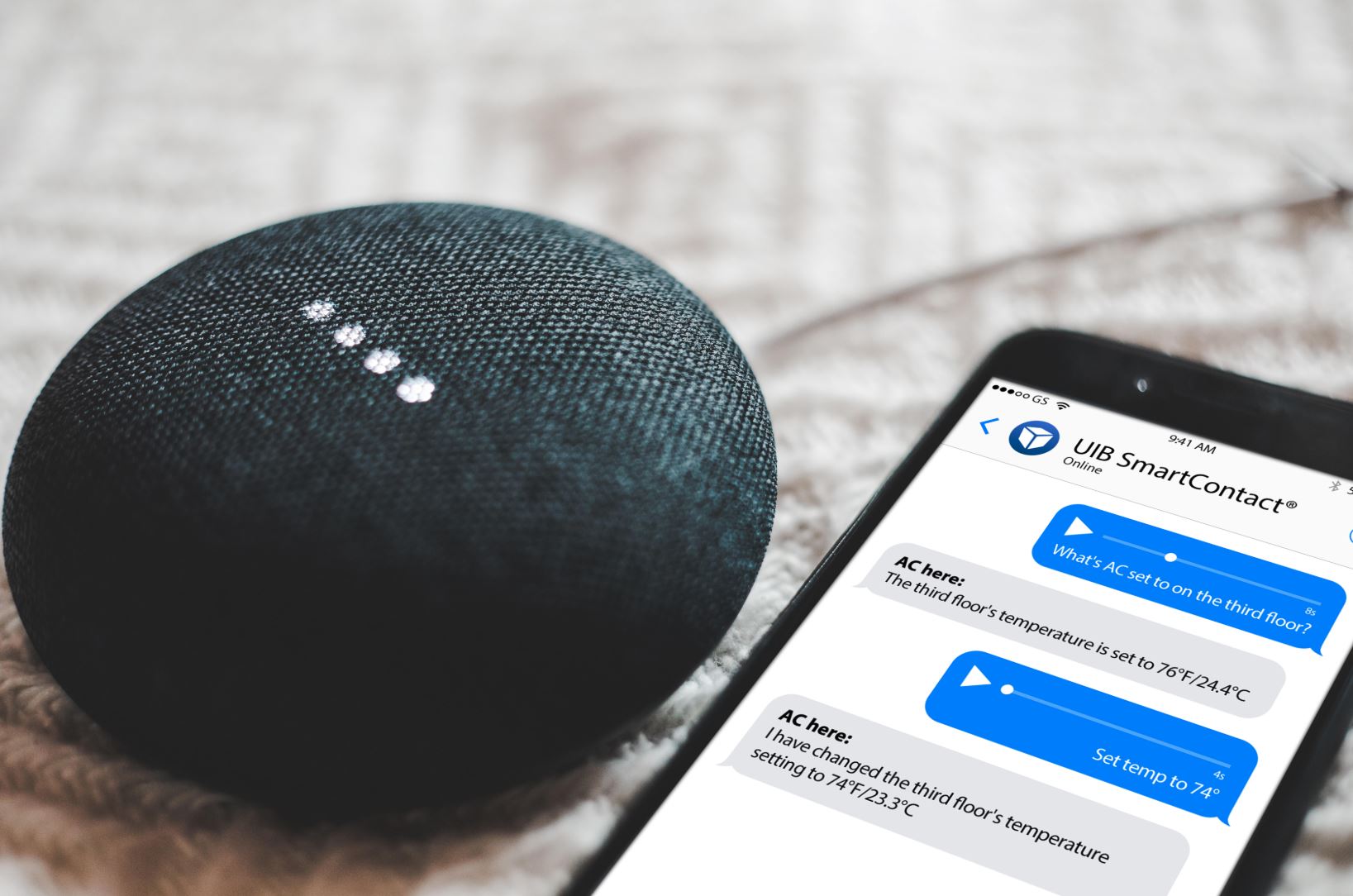 "It all comes down to one word: friction. People will rely on voice for more tasks throughout their day because voice removes friction. As the builders of tomorrow, I urge you to consider daily routines, from the memorable to the mundane, and those moments when you want to take action right now. Which tasks can you make faster, easier, and more delightful with voice? How will your approach build engaging premium experiences worth paying for?"
- Gary Vaynerchuk on July 17, 2018 (source: https://youtu.be/IbX5-t_HUlc)

The answer is voice.

But which of the two major voice solutions — hardware- or software-based — is right for you, your building, and its occupants? And spoiler alert, the best solution for your building may be an integrated solution using both!

About five years ago, your buildings, specifically the devices within them — lights, locks, blinds, doors, and others — and the systems that manage them — fire, water, security, HVAC, and others — became "smart." Connected to the internet. Each able to be controlled, remotely, through its own unique little mobile app. Now, however, the choice is voice. Beyond mere "app fatigue," apps are dead because voice offers a faster and easier way to communicate and accomplish tasks than mobile apps. But there's one more critical decision for you to make that directly impacts your business, your financials, and your building's stakeholders — from tenants to their guests, facility and property managers to investors and owners.

To allow the ability to "talk" to your building, you must meet your customers where they are. Translation? That means you must be on all of the channels, and on all the devices they choose to use (which will vary greatly for residential vs. commercial buildings). Do you go with hardware or software? Smart speakers or intelligent IoT messaging? Or both? What's the right answer for you?

Disclaimer: I work for an intelligent IoT messaging company.

This Buyer's Guide is for building decision makers, including owners, investors, architects, designers, developers, property and facility managers, tenants, and users. It applies equally to greenfield and brownfield, single buildings and global portfolios, and buildings in Singapore and St. Louis. If you are are the decision maker, this voice buyer's guide is for you.

Specifically, this guide was written to help you to decide on the right voice solution. I will share with you an approach, present the market's current options, explain the technologies that make each of them work and encourage you to view this not as a purchase of technology or as just an IT expense, but as an investment in the digital transformation of your business. As my former Realogy colleague and longtime Cushman & Wakefield CIO Craig Cuyar (https://www.linkedin.com/in/cuyar/) always told me, "It's never about the technology. It's always about the people."

Where should I start?

What do you want to achieve with voice? It's not a rhetorical question. Answer the question of what exactly it is that you want to achieve. Happy tenants? Reduced costs? Increased rents or sales prices? This is not a trick question, there is no "right" or "wrong" answer. But it is a question you must answer, thoughtfully. As everyone's grandfather told them at some point — if you don't know where you want to go, how will you know if you get there? Early adopters with money to burn can skip this. But if you're running a business, and you are directly accountable for the ROI of every Dollar, Euro, or Dirham you spend, start with what it is you want to achieve.

Remember that your smart building is just one part of the larger voice ecosystem. It connects to everything else in your smart city's infrastructure — including shopping, transportation, healthcare, education, and housing. People are already beginning to control their lives through voice. While it may have started at home controlling IoT devices, it now extends into your building.

What criteria should I consider?

Here's a worksheet to get you started. Only you can prioritize the list, but it will include the following criteria along with the additional ones which are unique to your building: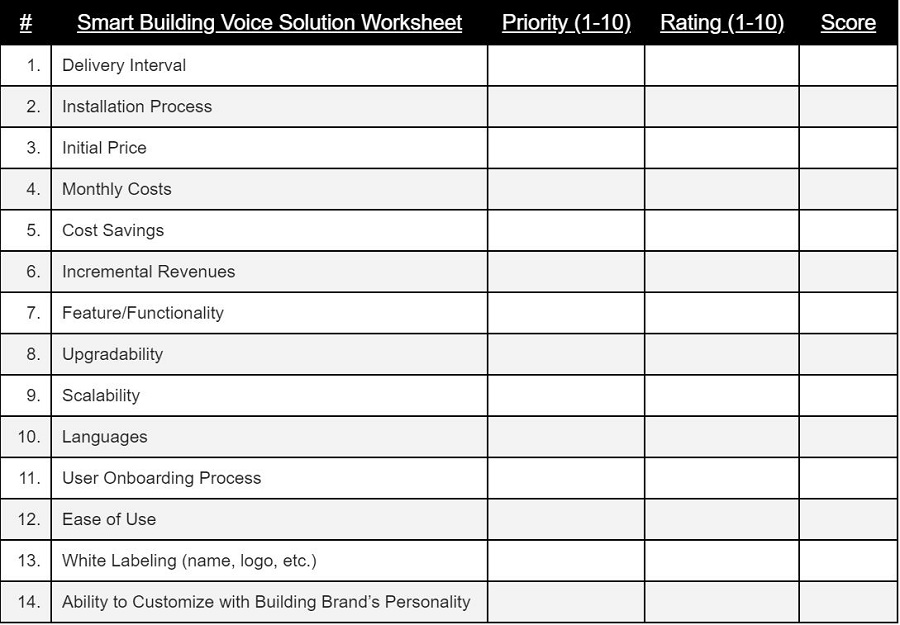 What are the two choices?

To control your building's devices and systems with voice, you can now use a smart speaker (the hardware solution), intelligent IoT messaging (the software solution), or both.

While new smart speakers continue to be introduced at each major industry trade show — meaning this list is constantly growing — the current top manufacturers (in alphabetical order) are:

What are the real differences?

A smart speaker is a piece of hardware. It's a wireless speaker and voice command device with an integrated Artificial Intelligence- (AI-) powered virtual assistant that offers interactive actions and hands-free activation with the use of a "wake word."

Intelligent IoT messaging is a piece of software. Using AI through a SmartContact® added to the user's smartphone, people can talk back and forth with connected devices and systems on their preferred communications channels.

Here's the side-by-side comparison of the two voice solutions. Keep in mind, however, that every smart speaker (hardware) can be a communications channel (i.e., along with SMS, email, chat, messaging, and social media) in intelligent IoT messaging's (software) SmartContact: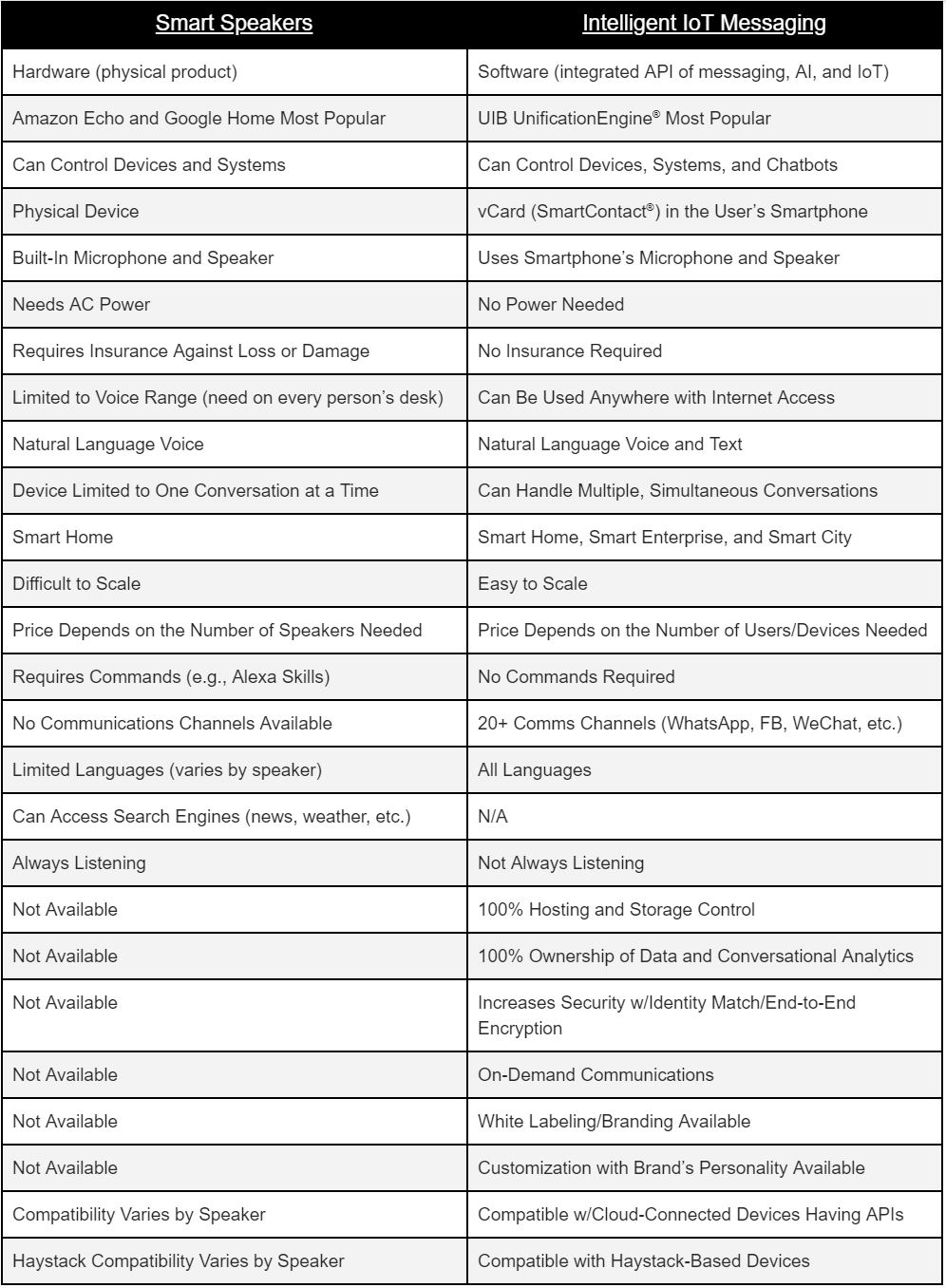 Any final considerations?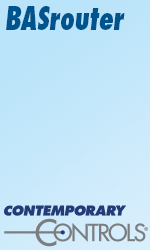 Think about how voice can increase your revenues and profits. Voice is not just about cost reduction. While there's often an extreme focus on how the use of voice can reduce expenses, whether you're doing the math just for yourself or constructing a formal business case for review by others, be sure to include the incremental revenues that can be generated from the new, value-added services your voice solution can provide. The available use cases are limited only by your imagination; your building's specific smart products, systems, and chatbots; and the voice solution you choose.

What's coming next?

Today, voice still has its vulnerabilities (i.e., anyone within voice range can freely control your smart speaker (https://twitter.com/unifiedinbox/status/908643896057573376)). Voice biometrics (see https://www.myvoice.ai and https://www.dspg.com) will make voice the most secure solution to date, replacing our hot mess of passwords. Biometrics eliminates the need for a physical device to verify your identity and permissions. You, specifically your voice, becomes the remote control for everything. Voice biometrics will soon allow us to control our homes, our buildings, and our cars, connecting us to everything. This isn't new. 250,000 years ago, humans co-existed with everything around them through voice and now we've come full circle to once again use our own natural voices to co-exist with everything around us.

Humans have a tendency to jump out of the airplane with new technologies and then build the parachute on our way down. Voice is no different. Humans have always used voice, but now we're creating the components we need to make it safe, secure, simple, smart, usable, and applicable across everything we do. Voice recognition isn't new (https://www.amazon.com/Thumbs-Up-Whistle-Key-Finder/dp/B004R6Z0YE). What is new, however, is that we're now developing the ability for voice to exist in our world instead of the other way around.

So, how will you make voice frictionless and fun in your buildings!

---
About the Author

The #1 Internet of Things (IoT) expert on social media and the fourth most-followed CMO worldwide on Twitter, Ken is the Chief Marketing Officer for Singapore-based intelligent IoT messaging company Unified Inbox Pte. Ltd. (UIB).

A graduate of the Stanford Graduate School of Business' Marketing Management Program, Ken earned his Master's degree in International Management from the Thunderbird School of Global Management.

Ken hosted the award-winning Social Solutions podcast for seven years and is a popular author and frequent speaker on digital transformation and leveraging new technologies to emotionally connect companies to their customers. Follow Ken on Twitter at @KenHerron!


---


[Click Banner To Learn More]
[Home Page] [The Automator] [About] [Subscribe ] [Contact Us]