---

EMAIL INTERVIEW – Scott Cochrane and Clint Bradford

Scott Cochrane is President and CEO of Cochrane Supply & Engineering, a leading industrial IoT and building controls supplier with locations throughout Michigan, Ohio, and Kentucky, as well as President of Canada Controls. Scott earned a Bachelor's Degree in Business with minors in Marketing and Finance from Eastern Michigan University and holds an additional minor in HVAC Technologies from Macomb Community College. In 2000, he took over the business from his father, Donald Cochrane, Sr., who founded the company in 1967. Scott is now an advisory council member for multiple industry manufacturers including Honeywell, Johnson Controls, and Tridium. He is also an IBcon Digital Impact Award Winner for going above and beyond to positively impact the smart building industry, as well as a winner of the ControlTrends Impact Person of the Year Award for his impact on continuing to move the industry forward.

Contributing Editor

Clint Bradford is President of OTI, a dedicated Master Systems Integrator who has spent his career leading projects for enterprise customers in industries that include data centers, government facilities, universities, k-12 school districts, prisons and mixed-use commercial high-rises. Currently overseeing a team of more than 60 people across eight business units, Bradford manages engineers, IT and managed services, projects and operations teams of system integrators, field technicians, designers, programmers, commissioning agents and project managers. He is also responsible for overseeing the company's expansion into Central America.

A champion of OT/IT convergence, system and data security from edge to cloud, new building system products and the evolution of smart buildings, Bradford is a capable leader who has encountered and deftly solved innumerable MSI challenges for diverse clients.
---
Master Systems Integrators (MSI)

They make sure all systems communicate properly, coordinate all project participants, collaborate with building owners to ensure systems information will be accessible and usable, and they develop software layers responsible for integration, aggregation, and communication of the building systems.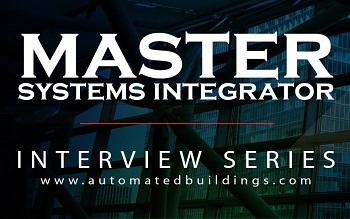 Scott Cochrane of Cochrane Supply & Engineering has the unique benefit of working with 300+ of the best systems integrators in the country. Cochrane recognizes the critical role they have within the building automation industry and is speaking with a different highly-regarded MSI each month with the goal of providing examples of industry trends, best business practices, and the growing value of an MSI. This month, he interviews Clint Bradford is President of OTI.
August 18 Interview with Continual Energy Inc
July Interview with Ian Morse, Division Manager, Building Automation Systems, Conti Corporation
June Interview with Marc Dugré, President of Regulvar, Inc.

May Interview with Rick Gorka, President of the Airon Group of Companies

April Interview with Colin M. Murray, Owner of Solution Control Services
February Interview with Jeff Murphy, President and CEO of ECT Services, Inc.
January 18 Interview with Chris Saltz, Managing Principal of FIX Consulting LLC.
December Interview with Jason Houck from Hepta Control Systems.
November Interview with Geoff Hunter, President and Senior Principal of Palmer Conservation Consulting (PCC)
October Interview with Brian Oswald, Managing Director for CBRE | ESI.
September Interview with Joe Napieralski the Co-Founder and Director of Development of Smart Building Services LLC

August Interview with Sidney H. Blomberg, Jr. the founder and President of K & S Ventures, Inc

July 17 Interview with Scott Cochrane and Ken Sinclair

This month (August 2019), he interviews Clint Bradford, President of OTI
Cochrane: How did you become an MSI?
Bradford: Our evolution into Master Services Integration began in the early 2000s. At that time, we started to see a natural migration of customer requests beyond the standard control services typically offered in the industry. Proprietary systems and expensive long-term maintenance agreements that were once driven by contractors and vendors no longer made sense for building owners. As a result, owners started to approach their building assets differently; data and analytics became more critical to successful operations, technical capabilities in operational building systems became more advanced, and system integration and the creation of energy savings were now being pushed to the forefront of every project.

We saw these trends early on and started making investments in our people, our implementation processes and our technical capabilities. We are now leaders in the MSI industry as a result of forward-thinking customers, our people that are technically unmatched in the industry and an ownership / leadership team willing to make calculated investment decisions that push our business and industry into the future.

Cochrane: Can you explain what some of the characteristics are of a good MSI?

Bradford: We believe the best MSI's start with a proven track record and deep understanding of building controls and mechanical systems. To create successful projects, an MSI must combine multiple disciplines into a coherent execution strategy; project communication protocols, legacy systems, open systems, cybersecurity, open objectivity to manufacturers and brands, customer-driven and solution-focused services. MSI projects require a solid operations team with dedicated project managers, focused software developers, a committed software integration team, and an IT team devoted to maintaining security.

Cochrane: How do you sell Master Systems Integration services?

Bradford: Strategically, our approach to selling MSI services is no different than selling professional services in other industries – we start with establishing relationships and getting to know a customer's pain points before we engage. Early on, we ask the right questions, then prepare creative and executable solutions and finish with fully-delivering on our promises. We approach every potential customer, and the individuals within those organizations, as if they will turn out to be our best reference. Because of this approach, we rarely respond to RFPs or Bid requests where establishing relationships is discouraged; instead, we are pulled into projects because of our reputation of performing and delivering high-quality work.

Cochrane: How do your customers procure MSI services?

Bradford: Procuring MSI services is straight forward. We tend to see two types of procurement; negotiated fixed-price direct to the owner and RFP (bid and spec).

Cochrane: As an MSI, what percent of your time is spent in the following categories? R&D, Consultations, Field Commissioning, and Software Programming.

Bradford:

R&D: We believe R&D is an important part of our future and success and have separated it from MSI project activities. We have a dedicated R&D team focused on cloud architecture, security, integrations, and APIs.

Consultation: On a typical MSI project, we spend 50% of our time consulting, educating and collaborating with our clients. Each project goes through a few distinct phases that we visually describe as a Hill Chart. On the upslope of the hill, we call it the "Problem Solving" phase where we are identifying the unknowns, dealing with uncertainty and designing our plan of action in close collaboration with our client. Once we reach the top of the hill with our customer's project, we can clearly see the path to the finish and all the steps necessary for completion. The downslope of the hill is what we call the "Execution" phase where we are dealing with certainty, confidence and delivery.

Software Programming: Programming and data normalization are inside the Execution phase of our projects and typically comprise about 25% of our total time on a project. We've found three keys that contribute to successful software programming projects; 1) a clear goal with the testing approach and acceptance criteria documented prior to any code being written; 2) a modern programming team with the technical chops to write the code, and, 3) a programming process that includes peer code review and continuous improvement. Shortcutting or eliminating these steps can lead to missed timelines, overrun budgets, and long-term support issues.

Field Commissioning: Field commissioning is also inside the Execution phase of our projects and represents approximately 25% of our total time on a project.

Cochrane: Describe a few challenges that you've encountered as an MSI.

Bradford: It is true that MSIs will need to overcome unique challenges on every project. Any MSI who states differently should never claim to be an MSI. All too often, we see challenges with the structure of how the MSI will be engaged on the project beginning with the construction development team. These teams are commonly focused on budget and schedules and don't properly plan for the uncertainty and problem-solving phase of an MSI. Alignment can be difficult, but all players need to be committed to delivering projects that are robust, sustainable, and secure.

Cochrane: Do you envision Master Systems Integration being a part of your business in the future? If so, how?

Bradford: Absolutely! We evaluate new MSI-specific opportunities weekly and are beginning to see variants of this service in almost all customer requests and engagements. We will continue to see more focus on IoT driven devices and systems, cloud API integrations, Data integrity, IoT security, and energy savings projects. The future is shining bright for MSI's, and we look forward to helping shape what becomes of this industry.


---


[Click Banner To Learn More]
[Home Page] [The Automator] [About] [Subscribe ] [Contact Us]