AHR - Expo 2004 Anaheim Free Sessions

Ken Sinclair, AutomatedBuildings.com
---
Dave Branson and I greatly appreciate the opportunity that International Exposition gives us to "speak out of the box" free of sponsors and associations. We have a lot of fun with this annual event, as do the folks who come out to join us. We talk about directions we see the industry going and look forward to discussions from the floor. To provide some insight I have listed the titles of our previous sessions as a quick overview of the diverse content covered.












Dallas 2000 "State of the Art" Capabilities in Building Automation
Atlanta 2001 A Guide to the Building Automation Industry at AHR Expo 2001 Automation Industry Update for Integration, Protocols, and the Web Evolution Integration Design/Contracting, The Net Effect, and Componentization of our Industry An Open Forum for Automation and the Future
Atlantic City 2002 Building Automation Stabilization - Fact or Fiction? The Indispensable Internet Ease of Use in Today's & Tomorrow's Building Automation Systems An Open Forum for Automation and the Future
Chicago 2003 Improving Occupancy Integration with Web Technology Nurturing the Necessary Network Update on Proprietary Perspectives on Interoperability Implementing Web Based Facility Operations
This year's topics deal with occurring industry trends.
The Building Automation Sessions for AHR Expo 2004 Anaheim include the following:
Mon Jan 26 9 a.m. Planning for Convergence: Plugging In Real Time Information
The Building Automation industry's presence in creating a convergence plan changes everything. We as an industry bring new concepts and tools to the convergence table in the form of "real time information".
Many industries are aggressively participating in the convergence phenomenon. None involve more dynamic data than ours. We cannot wait until a defining framework is completed and then get involved with how it gets marketed, because it will be too late; the marketing plan will not include a functional representation of the Building Automation industry. Our business is collecting, acting on, and distributing real time data; temperature, pressures, energy usage, client comfort, humidity, IAQ, video, security card ID's, etc. As an industry we are just starting to grasp the concept of how this real time data converges with our clients' information enterprise. Our clients are also just starting to discover how information that is presented easily (and anywhere) can be extremely useful for enterprise growth and for staying competitive.
This session will focus on comments made in the Engineered Systems pull-out supplement called Marketing Convergence.
Mon Jan 26 1:30 p.m. Creating Connections - Networking Tools that Connect Directly to the Client's Enterprise
This session is about the tools to connect with and things to connect to as an industry. Tools like oBIX / XML and other IP solutions, BACnet, Lon, DALI, and more all connecting directly to the client's enterprise.
Open Building Information Exchange (oBIX) is on our minds. How will this be achieved? This session is intended as an introduction/overview of present connection trends while providing linkage to the valuable work being done by various committees. We will provide an introduction to the Tuesday XML Summit at the ASHRAE Hotel.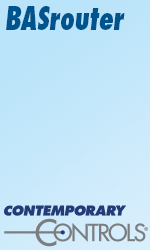 Tue Jan 27 9 a.m. Overview of Automation Tools and Demonstrations Available Online
In this session we will explore how the medium that we have evolved to the "Web" can be effectively used to share information with our new trading partners.
Web tools will be explored and demonstrated. We will view online presentations of our industry's capabilities. Our observations will be generic and focus on form, not actual products. We look forward to good dialogue from the floor to help us as an industry better express our new-found capabilities to the world.
Tue Jan 27 1:30 p.m. Wireless Controls: Real Applications and Evolving Protocols
This session will provide information on real applications of wireless controls, evolving protocols and how to create your own communication clouds
Wireless has become very real in the last few years with much off-the-shelf equipment at low cost providing amazing functionality at both the building and enterprise levels. Are you aware how to leverage the available technology in your projects? Dave Branson has considerable expertise in this area and will explain some very interesting projects.
In Summary
We hope you can make it out to our sessions at the AHR Expo in Anaheim, January 26 and 27, 2004 to share your input on these exciting topics. We are always pleased to carry on discussions after each session to get your candid feelings and possible future topics.
For more AHR information AHRExpo 2004 Preview
---

[Click Banner To Learn More]
[Home Page] [The Automator] [About] [Subscribe ] [Contact Us]