---
EMAIL INTERVIEW John Bishop & Ken Sinclair
John Bishop, Global Industry Solutions - Infrastructure, Invensys
Wonderware
John joined Invensys as a consultant in January 2003 and full-time as a Senior Systems Consultant in July of that year supporting technical sales for the central USA region. He currently manages the Facilities Management and Transportation Infrastructure markets for the Global Industries Solutions business. John started his career in Building Automation Systems working for Robertshaw Controls in their Control Systems Division and has held numerous positions associated with Facilities Management, Energy Management and Intelligent Building Applications. With almost 30 years of global industry experience, and with Engineering, Marketing, Sales and Management positions, his domain knowledge is essential for expanding Invensys technologies into the Facilities Management and Transportation sectors. John has a BSEE from Virginia State University.
---
Achieving "green" building operation
"the complex has become a leader in facilities management system initiatives"















Sinclair: What is the importance of achieving "green" building operation practices?
Bishop: Going "green" is a high priority for most businesses these days. Not only to cut down on operating costs, but to maintain an image of being a good corporate citizen.

The Department of Energy National Nuclear Security Administration's North Las Vegas facilities include Nevada's first government-owned building to earn green status. This goal was met with the help of National Security Technologies, LLC (NSTec) team. NSTec manages the operations of the North Las Vegas facilities complex, where experiments that are vital to the nation's security are overseen.

The company maintains these buildings in accordance with the Energy Policy Act of 2005 and Department Of Energy (DOE) Order 430.2b – regulations which provide incentives and mandate control of vital utility systems such as electricity and water. The ultimate objective of these regulations is reduced energy consumption and increased conservation, resulting in decreased dependency on oil which Federal agencies are required to lead by example in compliance and validation. Additionally, NSTec helps the facility achieve cost reductions by managing energy use during peak demand periods.

To accomplish the goals of conserving energy, observing regulations for compliance, and saving money, NSTec requires the highest possible control of the campus. The diverse environment must meet established standards for climate, air quality, lighting, and all other critical building systems. Reports and records must show that these standards are being met continuously. Additionally, the facilities have to comply with ANSI/ASHRAE Standard 135-2004 (BACnet), the international protocol that ensures interoperability and future flexibility as the operation's building automation system grows.

This is no small task, considering that the North Las Vegas facilities' 18-year-old Building Automation System functioned in standalone mode without a graphical user interface or real-time visibility for management of electrical, lighting, HVAC and other key systems. It lacked a common platform for integrating equipment monitoring, energy efficiency management, alarms and trending that would be necessary for control and compliance.
Sinclair: What lead to management's decision to implement a "green" program?
Bishop: Two and a half years ago, Team NSTec decided to explore opportunities to evolve the existing systems to meet current and future needs. Any new solution would have to regulate the facilities, of course, but it would also have to provide a more strategic approach for critical equipment and systems management. The team partnered with authorized distributor Wonderware West to plan and implement the project.

Team NSTec was looking for a number of important capabilities that would meet the needs of the main building now as well as the other areas of the complex in the future. First, a stable backbone for managing the strategic functions that comprise the new system was essential. The solution would need to be .NET compliant and based on the Microsoft® platform for compatibility with existing systems.

Ease of implementation was a necessity, as Team NSTec hoped to perform all of the integration in-house.
Then there was the desire for an advanced graphical user interface that would map the complete operation. Team NSTec wanted a visual representation that would be flexible, intuitive to use, and that would help staff and management "see" the entire campus.
Sinclair: What solution did they select and how did they implement it?
Bishop: For Team NSTec, preventative maintenance is essential because of the desert environment, especially in the summer. A solution was needed that could provide real-time monitoring and trending capabilities that would fit the facility's requirements. The new solution required tools to enable plant workers to troubleshoot disruptions, study potential operational inefficiencies and eliminate the time-consuming process of locating data.

Finally, Team NSTec wanted the new system to automatically identify possible problems and alert the staff when established thresholds were breached so that corrections could be made rapidly. And it would need to provide all of the reports necessary to track performance and keep the facility within compliance. After evaluation, Team NSTec decided that the Wonderware solution was the right choice.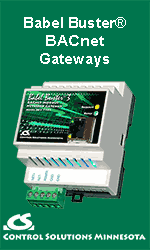 Sinclair: What benefits has NSTec achieved so far?
Bishop: With the new solution in place, Team NSTec quickly began to see the benefits that corresponded to
its specific requirements. First, our solution updated the antiquated drum-based control system. With the new state-of-the-art, object-oriented system, the Team got the improved communications and integration it was looking for. The new solution enables the use of efficiently controlled systems and critical equipment such as power meters across the entire facility. Due to Wonderware software's exceptional scalability, the entire building automation system for the North Las Vegas facilities complex is globally managed from NSTec's central station. The team can trend the equipment performance and monitor the energy that it consumes. Along with equipment health monitoring, they also can see its overall performance, and this solution enables control of data centers, generator sets, substations, transfer switches and phone switches from multiple different vendors.

Another significant benefit – server virtualization – brings added flexibility for management. Now that the servers are virtualized, preparations for integration into a server farm are in the forefront, allowing Team NSTec to control and operate the systems from wherever they are, even outside of the main control room. Additionally, virtualization means that NSTec can maximize server resources and swiftly deploy changes and upgrades.

Dependability and compatibility are also improved. Because it is built on the .NET architecture, Team NSTec can easily integrate our software with other systems. Team NSTec agrees the Software's multiple scripting capability is its best feature. The ability to easily create objects and symbols and to define attributes means that the system is highly customizable. And its templates facilitate accelerated expansion and implementation of changes.

The Wonderware solution also supports preventive maintenance requirements. If there are problems, the central station receives notification, and prioritized pager and mobile phone messages are also sent to staff working elsewhere. This ensures that emergencies and faults are addressed according to severity.

Best of all, real-time reporting, trending and historical reports are easy to access and use. This requires little or no training for the staff. It also ensures that the facility is consistently controlled, and it stays in compliance, which is the #1 goal for Team NSTec.

To take these capabilities even further, our software would permit Team NSTec to develop a system to perform demand-side management, a key element in achieving green building recognition and remaining within regulatory compliance. This software solution will enable the team to monitor and control the facility's systems to decrease electrical energy use during peak periods. To do this, the company will employ many techniques, including raising set points in the building and locking out second-stage compressors or other lower-priority equipment. Rolling outages will enable load-shedding and temperatures will be strategically controlled by cooling the building prior to peak periods so that lower temperatures are experienced during the heat of the day without excessive energy use.
Sinclair: So what's next on the "green" horizon?
Bishop: With the combination of Team NSTec and the our software solution, the complex has become a leader in facilities management system initiatives. By achieving compliance with the rigorous standards of the Energy Policy Act of 2005 and DOE Order 430.2b, Team NSTec and Wonderware have helped the North Las Vegas facilities become a model for environmental best practices and green initiatives. In fact, it is anticipated that one day many more public- and private-sector buildings nationwide will standardize the design of their systems based on the our solution as implemented by Team NSTec. But even with all of this progress, the team breaks their efforts down to a more basic level.

According to Mark Froehlich, NSTec senior operations specialist for automation, "The DOE expects us to set the example for energy efficiency and share our knowledge with the community. We have to be the shining star, and there's a grave need for us to do so. As our population increases, our natural resources are lessening, and we have to make some changes. We're taking little steps and improving our world."
---


[Click Banner To Learn More]
[Home Page] [The Automator] [About] [Subscribe ] [Contact Us]